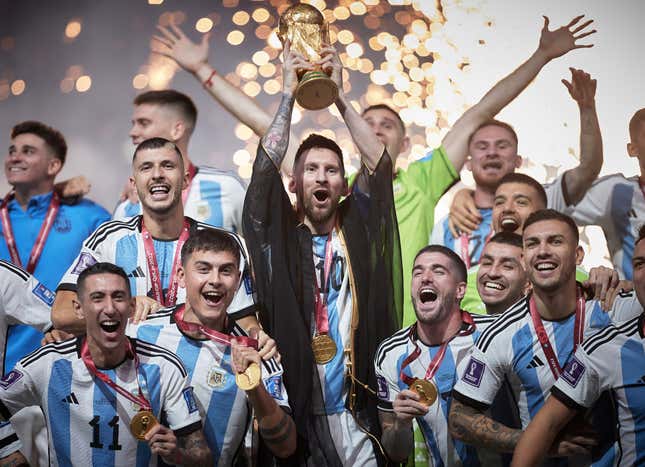 The company managing Lionel Messi's clothing and lifestyle brand was set to mark Nasdaq's first IPO of the year on Friday (Jan. 6), hoping the soccer superstar's dazzling display at the World Cup last month will embolden investors. (Update: the IPO has been postponed, with a new expected date set for Jan. 13).
Why you should keep your own scoreboard at work
MGO Global, which aptly picked MGOL as its stock ticker, plans to price 1.5 million shares at $5 each and raise about $7.5 million at a $66 million market cap.

It's a lofty goal for the company, co-founded in 2018 by Argentina-born Maximiliano Ojeda and US designer Ginny Hilfiger, the sister of famed fashion designer Tommy Hilfiger. MGO currently counts only Messi as its client, which makes its success dependent on the athlete's performance and enduring collaboration. Although Messi is the face of his namesake brand, he is not a shareholder in the business. Instead, their contract stipulates he receives 12% of sales with a minimum guarantee of $4.2 million over three years.

"While it is our intention to pursue growth and expansion of our brand portfolio in the future, we currently are not negotiating or have any probable agreements to add additional assets to the Messi Brand in our portfolio at this time," MGO wrote in a filing to the Securities and Exchange Commission (SEC).

MGO also operates in a crowded, competitive industry. The company itself does not produce any athletic gear, as Adidas holds the sole rights to any Messi-themed footwear or jerseys. In the SEC filing, the company also acknowledges it has yet to be profitable: "We have a history of operating losses and may continue to incur losses for the foreseeable future. We may not be able to generate sufficient net sales to achieve or maintain profitability."
MGO Global's accelerated rise
2018: MGO Global is co-founded by Ginny Hilger and Maximiliano Ojeda, with the aim of leveraging the "fame, celebrity power, and global social media influence of world-class athletes, entertainers, and other cultural icons."
2019: MGO acquires the Messi Brand, a clothing and accessories line inspired by Lionel Messi, currently the company's sole asset.
2022: MGO files an $8 million IPO, backed by Boustead and Sutter Securities.
2024: Messi's current licensing contract with MGO ends, encompassing all of MGO's current products.

Person of interest: Lionel Messi
Messi's star power has surely never been stronger. His Instagram post celebrating Argentina's victory at the Qatar World Cup last month became the most popular photo in the app's history, receiving more than 74 million likes (by comparison, Argentina's population is 45 million people). Messi's home province of Santa Fè saw the number of newborns named Lionel and Lionela increase by more than 50% in December compared to the previous month, and the soccer star is also leading recent polling for the Argentine presidential election scheduled later this year by double digits.

But Messi's future, for now, appears to remain in sports. A free agent this June, multiple outlets have speculated that Messi is headed to the MLS, as David Beckham's Inter Miami FC aggressively attempts to sign the seven-time Ballon d'Or winner. However, after his recent success, some reports say Messi is considering a one-year extension at Paris St. Germain (PSG), his current club, to chase further success in the UEFA Champions League.

Related stories:
🇶🇦 The World Cup final is refocusing the spotlight on Qatar's soccer investments in France

💪 Soccer players are teaching CEOs how to handle this crisis
⚽ Messi and other soccer stars avoid taxes by exploiting a basic human right
This story has been updated with a new date for the IPO, which was postponed after publication.