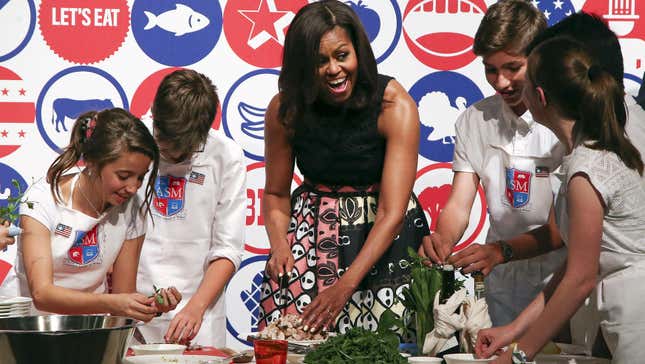 Michelle Obama, who launched the Let's Move! initiative to fight childhood obesity during her time as US first lady, has unveiled another project to raise a healthier generation of children.

How trauma-informed workplaces can support your team's mental health
At the Wall Street Journal's Future Of Everything Festival yesterday (May 3), the former first lady announced the launch of PLEZi Nutrition. The company is "on a mission to create higher standards for how the US makes and markets food and beverages for kids, leading with nutrition, taste, and truth," the press release said.
Obama is the co-founder and strategic partner of the public benefit company, which is a relatively new term in the business world that refers to for-profit enterprises with an obligation to do good for the society. PLEZi Nutrition is backed by Juggernaut Capital Partners, the private equity firm whose other investments include VOSS water and Dwayne "The Rock" Johnson's ZOA energy drinks.
The launch comes at a time when the US is going through an "urgent, nutrition-related health crisis," according to the White House. Kids aren't eating enough fruits and vegetables and drinking too many sweetened beverages.

Quotable: Michelle Obama on changing the kids' food and beverage industry
"I've learned that on this issue, if you want to change the game, you can't just work from the outside. You've got to get inside—you've got to find ways to change the food and beverage industry itself." —Michelle Obama in her remarks at The Wall Street Journal Future of Everything Festival on May 3.
PLEZi Nutrition, by the digits
75%: How much less sugar PLEZi Nutrition's first product, a kids' drink called PLEZi, has compared to average leading 100% fruit juices. It has no added sugar, plus fiber and nutrients, like potassium, magnesium, and zinc.
"Sizeable portion": Share of PLEZi's marketing budget dedicated to creating educational, promotional content around what's best for kids' health. One of the campaigns will be aimed at promoting drinking water as the primary beverage for kids and eating whole fruits and vegetables.
$1 million: Initial donation Obama announced she was making to FoodCorps' Nourishing Futures initiative, which is working to ensure all 50 million students across the country have access to nutrition education and free school meals by 2030.
10%: Share of its profits PLEZi Nutrition will be investing back into "the broader movement to promote kids' health."
One more thing: Obama is a business powerhouse
✍️ In 2019, the Becoming and The Light We Carry author was the third-highest paid writer in the world.
👗In her eight years as the first lady, Obama drove more than $2 billion to the "retail sector" with her fashion choices alone, Vanity Fair reported, and companies saw "a 2.3 percent stock gain when she dons their products—five times that of a typical celebrity endorsement."
🍍To have Obama in the driver's seat, as PLEZi does, could have far-reaching effects given how much her association benefits brands. The Let's Move! healthy school lunches were criticized as unappetizing, but the experience might have helped PLEZi get better results on the taste buds.
Related stories
📚 Michelle Obama is becoming the first lady of memoirs
🥸 Michelle Obama has imposter syndrome, too—and some advice for dealing with it
😊 Michelle Obama's life is a lesson in how to find fulfillment