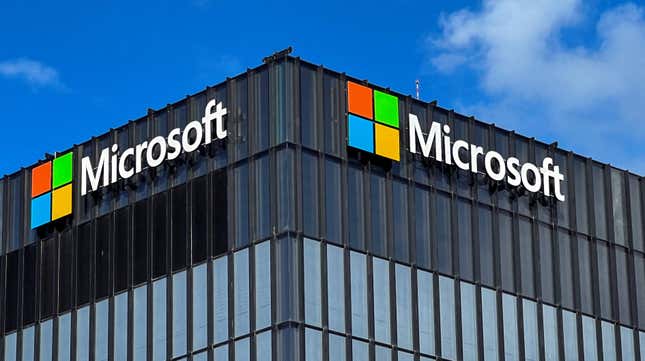 Microsoft announced a deal yesterday (Sep. 7) to purchase up to 315,000 metric tons of carbon dioxide removal over the next ten years. The deal is a bet not only on carbon capture, a polarizing technology, but also on Heirloom, a California startup that captures CO2 directly from the air.

Earnings expectations for Microsoft and other tech giants
Heirloom "harnesses the natural properties of limestone" to "capture CO2 pollution from the atmosphere and permanently store it in a range of ways, including in concrete," a press release stated. Heirloom claims that its technology accelerates limestone's natural ability to absorb CO2 from the air "from years to days."
For Microsoft, 315,000 tons represents just a drop in the ocean when it comes to fulfilling its ambition of becoming carbon negative by 2030—at which point it hopes to remove more CO2 from the air than it produces. (At present, Microsoft emits the equivalent of 13 million tons of CO2 every year.) For Heirloom and the carbon capture industry at large, though, Microsoft's investment could be a game-changer.
In addition to the intangible but invaluable vote of confidence, Microsoft's multi-year investment equips Heirloom—which has the only Direct Air Capture (DAC) facility in North America—with funding and stability to "finance...our rapid scale-up, fueling exponential growth like what we've seen in the renewable energy industry," said Shashank Samala, the CEO of Heirloom.
Other early corporate clients for Heirloom include the e-commerce platform Shopify and the fintech firms Stripe and Klarna, both of which are receiving credits for helping boost the technology in its early stages.
Quotable: Corporates scaling up carbon dioxide removal
"It is incredibly encouraging to see agreements of this magnitude because corporate buyers, like Microsoft, can unlock a significantly lower cost of capital for Direct Air Capture companies that are seeking to finance infrastructure projects, such as future carbon dioxide removal facilities."

—Robert Keepers, managing director, JP Morgan Green Economy Banking. The bank announced it would spend over $200 million on carbon dioxide removal credits to take away and store 800,000 tons of emissions in May.
By the digits: The Microsoft-Heirloom carbon capture deal
13 million metric ton: Microsoft's CO2 emissions in 2022. Given that its deal with Heirloom spans 10 years, according to the Wall Street Journal, Heirloom will on average remove 31,500 metric tons annually—less than 0.25% of Microsoft's total CO2 emissions.
$200 million: The minimum that Microsoft is poised to spend over the 10-year lifetime of the deal, as per current market prices, according to the Wall Street Journal.

$53 million: The capital that Heirloom raised from investors, including Bill Gates' Breakthrough Energy Ventures and Microsoft's Climate Innovation Fund, last March
$600 million: The funding that a consortium of companies was selected to receive under the Bipartisan Infrastructure Law passed under the Biden administration just last month. Heirloom is one of several companies, along with Climeworks—one of JP Morgan's partners—involved in Project Cypress, a DAC hub being erected in southwestern Louisiana. Heirloom will capture CO2 for Microsoft at two new commercial facilities in the US, including the one in Louisiana.
45 metric tons: The amount of carbon dioxide that the carbon capture industry captures annually, according to the International Energy Agency (IEA). The agency's calculations suggest that the number could reach 125 metric tons by the end of the decade—still abysmally below the 1.2 gigatons of CO2 per year required to achieve net zero emissions by 2050.

A brief timeline of Microsoft's recent carbon-mitigating deals
July 2022: Microsoft inks a 10-year deal with Climeworks. The company has one plant in Iceland, and will finish building another second, bigger one there by next year. Climeworks aims to permanently remove 10,000 tons of CO2 emissions
March 2023: Microsoft partners with California-based CarbonCapture, another DAC company like Heirloom and Climeworks. Its Wyoming facility, expected to start operations later this year, will trap 5 million metric tons of carbon emissions annually by 2030.
Also in March 2023: Microsoft signs a deal with an ocean-based carbon removal supplier, Running Tide. The Portland-headquartered company will remove the equivalent of 12,000 tons of CO2 over the next two years on behalf of Microsoft by making biodegradable buoys out of wood and alkaline minerals with algae seeds deployed deep in the open ocean. "The buoy floats, the alkaline minerals dissolve, reducing ocean acidification and removing carbon through a process called ocean alkalinity enhancement," Jordan Breighner, Running Tide's development head, told TechCrunch. "The algae grows rapidly, absorbing CO2. After less than three months the buoy and the algae and the embodied fast carbon sink to the bottom of the ocean, and if they sink below 1,000 meters the carbon is gone for roughly 1,000 years."

May 2023: Microsoft announces a deal with the Danish energy company Ørsted to purchase carbon credits representing 2.76 million metric tons of CO2 captured at Ørsted's Asnæs Power Station over 11 years and stored beneath the North Sea. The deal helps Ørsted secure federal funding from the Danish government to trap CO2 from the biomass-fired power stations.
Related stories
🌳 Tree planting: Sowing complacency
🔥 The EU showed it's possible to reduce carbon emissions while posting economic growth
⛽ EVs are far cleaner than gas-powered cars—even if batteries require more mining