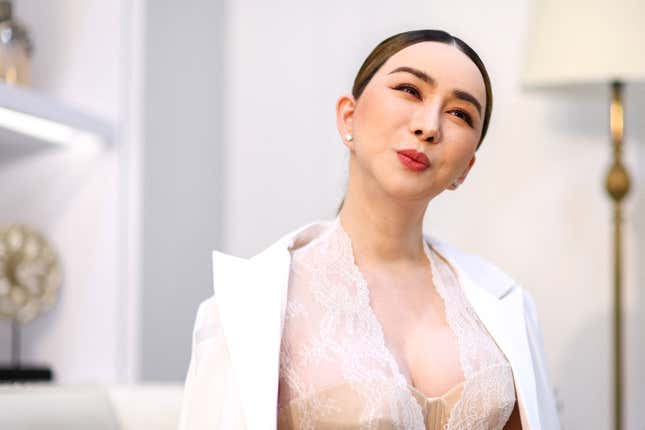 This weekend, a new Miss Universe will arise under circumstances that have, at least on the surface, shaken up the 70-year-old competition: owner, hosts, and viewing platform have all recently changed.

Why a tightening of credit conditions could lead to a weak economy
The prestigious pageant's final will be held in New Orleans, Louisiana on Jan. 14. For the last six years, the show has aired on Fox but, just like Miss USA's streaming rights went to NBCUniversal's platform Peacock, Miss Universe's English-language rights have also gone to a streaming service, Roku.
Steve Harvey, who was the face of the pageant under the Fox deal, won't be returning to emcee. The 71st edition of the pageant will be hosted by Miss Universe 2012 Olivia Culpo and TV personality Jeannie Mae Jenkins, while Miss Universe 2018 Catriona Gray and actress Zuri Hall will serve as backstage commentators.
Both changes were announced after the pageant was bought by Thai media tycoon Anne Jakkaphong Jakrajutatip, a trans woman who is the CEO of Thailand-based media distribution company JKN Global Group. Jakrajutatip has also starred in the Thai version of Project Runway and Shark Tank and is a trans rights advocate.
It's a potential game changer for a competition that didn't allow trans women to compete until 2012, and only made room for them after a contestant won a legal battle to be allowed to compete in Miss Universe Canada after being disqualified for the gender she was assigned at birth.
As part of the acquisition deal, Jakrajutatip's media company also owns Miss USA and Miss Teen USA.
How Miss Universe's new owner defines beauty
"I love strong women. I love when you strive, when you fight for it, when you have the leadership in you and that's how we define beauty. Not the walk, not just the look, but the way you talk, and more importantly the brain behind your talk." —Anne Jakkaphong Jakrajutatip in a speech to Miss Universe contestants this week.
Miss Universe 2022, by the digits
80: Candidates competing in Miss Universe
165: Countries the pageant is broadcast in
$210 million: Estimated net worth of Jakrajutatip, who became the first woman to own Miss Universe. She is thought to be the third-richest openly transgender person in the world
$20 million: How much Jakrajutatip paid to buy the pageant in October 2022 from Endeavor's IMG
Every 3-4 years: How often Jakrajutatip hopes Thailand can host the pageant, making it a "soft power" that attracts tourism and other business
19 years: Donald Trump co-owned Miss Universe between 1996 and 2015, until he was forced to sell it after his controversial comments about Mexicans led broadcasters NBC and Universal to drop the pageant
Person of interest: Reigning Miss Universe Harnaaz Sandhu
In 2021, Harnaaz Sandhu became the third Indian to clinch the Miss Universe title in Eilat, Israel, defeating Paraguay's Nadia Ferreira and South Africa's Lalela Mswane. She'll crown the next winner in New Orleans.
Why Miss Universe 2022 is held in 2023
Miss Universe was scheduled to take place in December 2022 but was postponed to avoid a clash with the Fifa World Cup in Qatar.
The lingering Miss USA scandal
In October 2022, Miss USA president Crystle Stewart and her company, Miss Brand Corp., were suspended from running the pageant as Miss Universe Organization investigated reports of rigging and took over operations.
Crowned Miss USA in 2008, Stewart has been accused of playing favorites and making Miss Texas USA R'Bonney Gabriel win the national pageant. Two of Miss USA's national sponsors—Miss Academy, the pageant school owned by Stewart, and the med spa Mia Beauté—are also state sponsors for Miss Texas USA. Gabriel "had personal relationships with judges who served on the judges' panel during pageant week — an extreme conflict of interest," Miss Illinois, Angel Reyes, alleged.
R'Bonney Gabriel is competing as Miss USA at the Miss Universe pageant.
Watch: 2022 "Force for good" crown by Lebanese designer Mouawad
The next big change at Miss Universe 2023
Next year, the pageant meant for single women will open up to a more inclusive future, allowing mothers and married women to compete. The change was announced in August 2022, before the new owner stepped in.