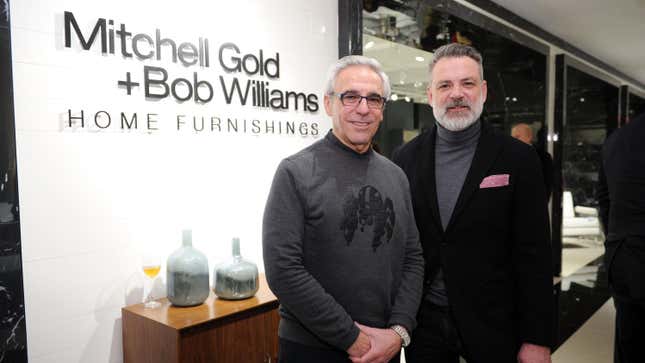 An iconic furniture brand that survived the break up of its two founders, the crippling global recession of 2008, and the 2020 pandemic, has now abruptly shut down.
Why a tightening of credit conditions could lead to a weak economy
"Mitchell Gold + Bob Williams has recently and unexpectedly learned that we are unable to continue business operations," read a sign taped on the factory gate in Taylorsville, North Carolina, as Taylorsville Times reported on Saturday (Aug. 26). Workers were asked not to report to work from Monday (Aug. 28) onwards.
More than 533 employees have been laid off in North Carolina, including around 440 employees at the Taylorsville site, 47 at the Statesville site, and 46 employees at the Hiddenite site, as per the company's Worker Adjustment and Retraining Notification (WARN) notice quoted by the Taylorsville Times.
Laid off employees will be paid wages through their last day on Oct. 25, but health insurance benefits will run out a lot sooner on Aug. 31, according to a letter from interim CEO Chris Moye that, according to the Taylorsville Times, was posted on the office door. Moye had joined the company in April, succeeding merchandising veteran Allison O'Connor.
The 34-year-old company was not only a home furnishings legend, making some of the most iconic sofas, sectionals and club chairs of the 1990s to 2000s, as well as private-label lines for retail bigwigs like Restoration Hardware (now RH), Williams-Sonoma, Pottery Barn, and Crate & Barrel. It was also a trailblazer as one of the first industry stalwarts to elevate workplace rights with airconditioning, health clinic, and child-care centers on site.
Its two gay founders also championed the Democratic Party, women's rights, and of course, LGBTQ+ rights.
Quotable: The furniture industry is falling apart
"As you may know, the current economic climate has presented significant challenges to the furniture industry. While we have been buoyed by the support of our wonderful employees, like yourself, the [company] has recently and unexpectedly learned that we are unable to secure critical financing to continue business operations...Because these events were unforeseen, we were unable to provide you and others with more notice of this difficult decision."

—Excerpt from a Chris Moye's letter taped to the office door in Taylorsville, North Carolina, quoted by the Taylorsville Times on Aug. 26
Mitchell Gold + Bob Williams, by the digits
800+: Company employees 
$60,000: The funding Gold and Williams put down to start the company in 1989
24: Signature stores the company owns, the first of which opened in 2007
$100,000: Money the duo put in to start Faith in America, an organization to fight religion-based bigotry, in 2005
Furniture manufacturers are folding
Several companies have succumbed to the chaotic cocktail of changing consumer demand, which favors experiences like holidays to the detriment of material goods like furniture, as well as supply chain issues over the last year.
Last October, Ashley Furniture Furniture Industries permanently closed its Statesville facility, laying off 111 workers. Right before Thanksgiving, in November, Mississippi-based United Furniture Industries laid off 2,700 workers overnight without severance or benefits.
This month alone two other furniture firms have ceased operations. On Aug. 7, Asheboro-based Klaussner Furniture Industries put almost 900 workersout of a job, according to WARN notices filed with the North Carolina Department of Commerce. Elsewhere, in Fargo, North Dakota, furniture manufacturer Solid Comfort shut down, selling its plant and auctioning its equipment.
As news of the Mitchell Gold + Bob Williams layoffs spread, at least one furniture maker has claimed its business is robust and extended a lifeline to fired workers. "Craftmaster has strong demand for our product and we are in a very healthy financial position," said Alex Reeves, president of Craftmaster Furniture, which is based within a 3 miles radius of Michell Gold + Bob Williams. "We welcome all applications, and we look forward to continuing to provide long-term careers in Alexander County, especially to those who just lost their jobs."
A brief timeline of Mitchell Gold + Bob Williams from start to end
1989: Mitchell Gold, a former furniture buyer at Bloomingdale's, and Bob Williams, a graphic designer, meet in New York and form furniture company Mitchell Gold Co. To start, they buy an existing factory in Taylorsville, the "furniture capital" of North Carolina, which is surrounded by lots of timber and good railway connections
1998: Gold and Williams sell the company to Rowe Furniture in a deal that allows them to keep managing the business. Being a gay couple with little legal protections was a factor in the decision. "[W]e realized if one of us should die, the other would have to pay huge inheritance tax—and may not be able to afford it. So, we decided the only way to protect ourselves was to sell the company which was really emotionally difficult. It was our baby. If we were a heterosexual couple we would not have had to think about that," Gold would then tell Newsweek in 2007.
2001: Gold and Williams amicably split up. They will continue to do business, double date, and even buy a two-bedroom space together several years down the line.
2002: The founders buy back the company with the help of some investors, including Wafra.
2005: Mitchell Gold Co, now a $100 million company, is rechristened Mitchell Gold + Bob Williams on the company's 16th anniversary of its founding
2015: Stephens Group, the Little Rock family-owned private equity firm, buys the company. Williams and Gold remain on the board and in management.
2019: Gold retires, but remains on the board. Williams will do the same in 2022.
Related stories

🇷🇺 Belarus' Swed House has replaced IKEA in Russia
🧹 Modern furniture was once sold as an alternative to hours of tedious dusting
🧠 How to bounce back from a layoff, according to positive psychology