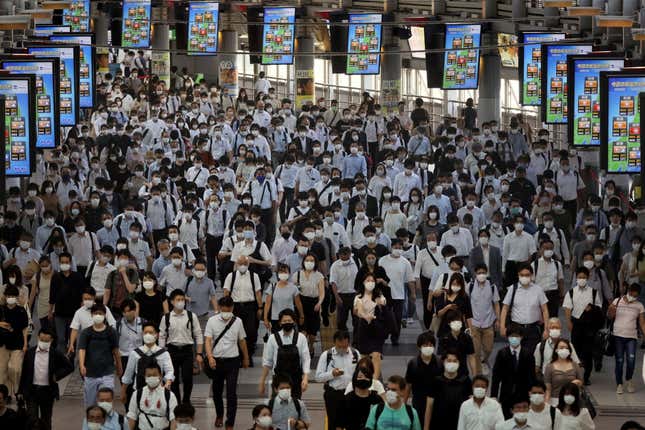 Tokyo is upping a payment it makes to families who leave.

The city, together with whatever region people move to, will jointly pay 1 million yen per child ($7,650) to anyone who resettles away from the massive metropolis of 35 million people. The numbers—the government hopes 10,000 families will move by 2027—aren't likely to make a difference to such a big city, but could help rejuvenate rural areas and places less popular with professionals and young families.
It's just the latest example of a worldwide effort to shift focus away from huge cities that are draining talent and investment from other regions. But even in a post-pandemic world, where remote working is more accepted, there are catches and caveats that prevent the schemes from always flourishing.
Japan's plan
Tokyo increased its per-child resettlement payment dramatically, from 300,000 to 1 million yen. And that's only part of a package of benefits that The Guardian calculated could amount to 5 million yen ($38,200) for a family with two children.

The money, however, comes with strings attached: Families have to live in their new homes for at least five years, and someone in the household has to either work locally or start a local business.

The architects of resettlement schemes like Tokyo's want to disincentivize people acting as so-called digital nomads—those often-moving workers who can plug in a laptop and do their job from anywhere. They are instead putting in place incentives that encourage workers to put down roots, engage locally, and actually help make changes in the places where they arrive.
Other places that pay city dwellers to move
Regions of Switzerland, Australia, Italy, Spain, Portugal, and Ireland, as well as a number of US states, have all developed incentives to lure potential residents away from the big cities.
Many of them are directed only at those willing to put down roots. In 2017 the Swiss region of Albinen, for instance, offered $25,400 per adult for anyone who would move to the village and build or refurbish a home. But those who took up the scheme (who had to be residents of Switzerland) had to commit to staying 10 years. The Italian village of Santo Stefano di Sessanio in 2020 offered a generous grant of €8,000 per year, plus other incentives, like cheap rent, to anyone moving to the village, with the proviso that they stayed at least five years.
Other schemes are designed to entice young people (some have an age limit, usually of 40) and their laptops to new homes, even if they turn out to be temporary. Oklahoma, Minnesota, Vermont, and Kansas all have grants to move that specify remote work as one of the criteria, and some include free co-working space as a perk. Ireland unveiled a scheme in 2021 to move 20% of their public employees out of cities to rural areas, requiring proof as part of any application that the person is able to work remotely