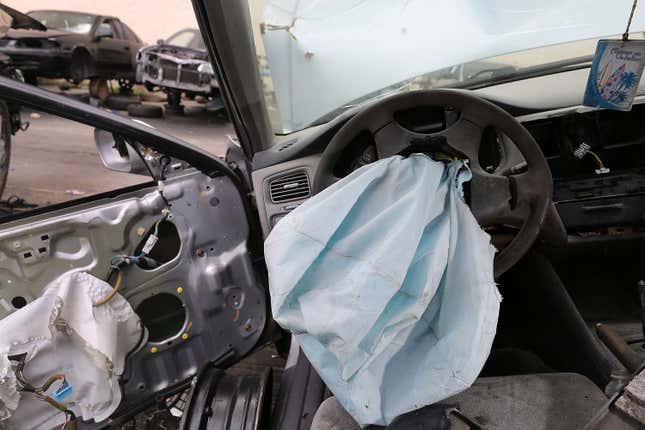 A major Tennessee-based airbag manufacturer is butting heads with US regulators.

On Friday (May 12), the National Highway Traffic Safety Administration (NHTSA) published a letter (pdf) that "tentatively concluded" ARC Automotive Inc—which supplies about one quarter of the airbags in US cars—has produced faulty inflators linked to two deaths and six injuries both in and outside the US.
3 considerations before your company takes a stance
Following an eight-year investigation, the NHTSA found that ARC's products could explode and propel metal fragments into the interior of the car.
"The subject inflators pose an unreasonable risk of death or injury that may result from an item of motor vehicle equipment that, when not defective, is designed to save lives," the NHTSA said in the letter.
Regulators urged ARC to recall 67 million of its inflators, but ARC has refused the order. "We disagree with NHTSA's new sweeping request when extensive field testing has found no inherent defect," the manufacturer said in a statement quoted by the Associated Press.
Should ARC continue its refusal to comply, the NHTSA will next arrange a public meeting. The disagreement could then turn into a court standoff. Quartz has reached out to ARC for comment on the potential legal battle.
General Motors initiated a mass airbag inflator recall
The NHTSA also published documents on Friday that show General Motors is recalling almost one million cars (pdf) installed with ARC's allegedly defective inflators. Three vehicles have been affected: the 2014-2017 Buick Enclave; 2014-2017 Chevrolet Traverse; and the 2014-2017 GMC Acadia.
Dealers were notified of the recall on May 10, while vehicle owners will be notified beginning June 25. Owners will be contacted again when a fix for the faulty part is available.
The GM filing said that in March the company received a report that a 2017 Chevrolet Traverse was in an accident and its airbag allegedly exploded. GM and NHTSA conducted an investigation in April and confirmed the allegation. GM also said that it was aware of two other incidents where ARC-designed airbag inflators allegedly ruptured.
Similarities to the Takata airbag crisis
If history is any indicator, a mass recall could be the writing on the wall for ARC. That was the case for Takata Corp., a Japanese manufacturer whose defective inflators were linked to 11 fatalities in the US.
The company took back over 100 million airbag inflators from 2016 to 2019, marking the largest recall in the automotive industry's history. The company's debt soared into the realm of $30 billion. In 2017, Takata filed for Chapter 11 bankruptcy protection.
Related stories
😬 Toyota has been accidentally sharing personal data for millions of Japanese users over the last decade
🚴 Peloton tried to switch into the right gear—but then seats started falling off its bikes
🛞 US attorneys general are calling for a recall of Kia and Hyundai cars because they're too easy to steal