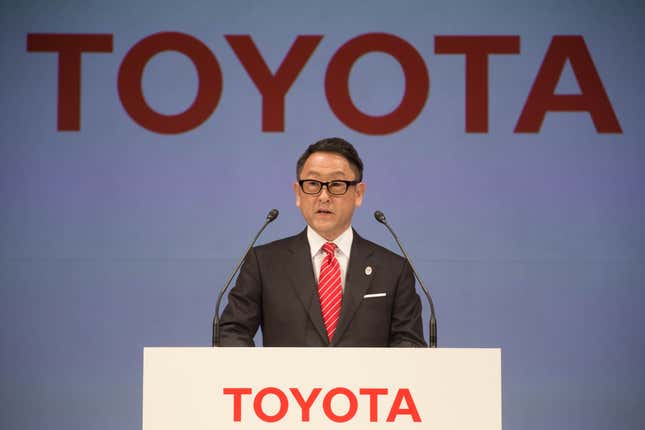 Toyota, the world's largest car manufacturer, said that personal data for more than 2 million Japanese users of its T-Connect cloud service had been publicly available for the past decade. A spokesperson for the company blamed the oversight on human error, according to a report published by Reuters on Friday (May 12).
"There was a lack of active detection mechanisms, and activities to detect the presence or absence of things that became public," the spokesperson confirmed, adding that the issue lasted from November 2013 until midway through last month.
The inadvertently public information included details like vehicle locations and numbers to identify individual cars, but Toyota added there were no reports of misuse.
T-Connect is a cloud-based service that tracks vehicle safety metrics, provides navigation, and connects drivers to a 24-hour operator service. Personal info of G-Link users, a similar tool for the Toyota-owned Lexus brand, was also public.
Toyota vowed to further investigate the leak, as well as audit all cloud-based systems tracking user data.
A new beginning for Toyota's electric vehicle strategy
Akio Toyoda, the current Chair of the Toyota corporation, stepped down as CEO last month after spending his tenure as one of the most outspoken critics of going all in on electric vehicles (EV). In recent years, Toyota has lagged behind rival companies' EV production, despite formerly being a trailblazer in hybrid car production.
Now, with new CEO Koji Sato taking the helm, Toyota is set to release 10 new EV models by 2026, while planning to sell 1.5 million battery-powered cars each year. The company also recently confirmed plans to cut the net emissions of Toyota's fleet by half before 2035 and become completely carbon neutral by 2050.
Sato, the former chief executive of Lexus, has said he plans to start the EV push with Toyota and Lexus luxury cars, setting up a potential showdown with Tesla.
Toyota's initial EV, the bZ4X, debuted last year starting at $43,335. The launch was hampered by the company being forced to recall 2,700 models after finding a risk that the car's wheels could pop off.
Related stories:
The Taliban's new supercar runs like its beloved Toyotas
Tesla slashed prices for a sixth time this year to alleviate the loss of Biden's EV tax credits