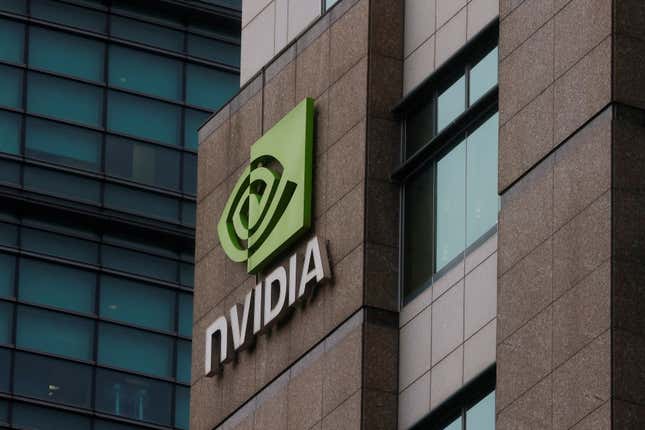 Nvidia may have joined the trillion-dollar league this past May by riding on its successful AI chips and the current AI boom. But the chipmaker's surging profitability can also be attributed to its original bestsellers: the chips it builds for gaming.
Making money investing in Japanese robotics companies like FANUC
In its most recent quarterly earnings, Nvidia topped its earning expectations, posting a record revenue of $13.51 billion, a year-over-year growth of 101%. The company's gaming business generated $2.49 billion in sales, up 11% from the previous quarter and 22% from a year ago. Gaming made up 18% of its total revenue.
Nvidia has dominated the manufacture of the graphics processung units (GPUs) used in PCs and video game consoles practically since the company was founded in 1993. Last year, during a relative slump in the industry, gaming alone earned more than $9 billion for Nvidia—a 27% decline from the previous year.
But in 2023, revenue from the global video-gaming market, recovering after the pandemic, is projected to rise 2.6% to $187.7 billion. The Chinese gaming industry, in particular, is showing a remarkable comeback after the relaxation of a regulatory crackdown on the industry. China, in fact, is one of Nvidia's biggest markets. Chinese tech giants ordered $5 billion worth of Nvidia AI chips to power automation, and gaming revenue in the country rose to $19.3 billion in the first half of 2023, up 22.2% from the second half of 2022.
Nvidia has introduced more chip features to enhance gaming experience
In June, Jensen Huang, Nvidia's CEO, described gaming as a critical pillar of the company's business. Gaming was, in a way, a necessary precusor to the AI boom that Nvidia is enjoying at the moment. The introduction of features like DLSS (Deep Learning Super Sampling) and ray tracing on Nvidia's RTX (Ray Tracing Texel eXtreme) GPUs four years ago gave gaming a much-needed upgrade.
DLSS, a graphics tool, uses AI to improve the quality of images and interpolate additional frames into a stream of graphics. Ray tracing renders light and shadow realistically by simulating beams of light from any source of light, again using AI techniques. "Number one, RTX was invented for gamers, and for RTX...the most important technology is AI. Without AI, we could not do ray tracing in real-time," Huang noted. "And the first AI project in our company—the number one AI focus was Deep Learning Super Sampling. Deep learning. That is the pillar of RTX."

Having employed gaming to augment its AI capabilities, Nvidia isn't ignoring its original constituency: gamers. In May, Nvidia started to ship a new line of its GeForce graphics cards. It also announced the Nvidia Avatar Cloud Engine, a custom model foundry that uses AI-powered natural language interactions to transform games by giving "intelligence" to non-playable characters.