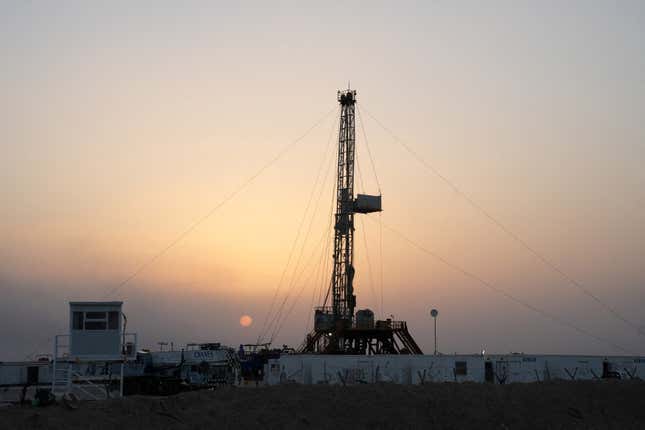 OPEC+ announced it will cut oil output by about 1.16 million barrels per day (bpd) in a surprise move that initially sent crude prices jumping as much as 8%.

Why a tightening of credit conditions could lead to a weak economy
Saudi Arabia, the oil cartel's de facto leader, stated on Sunday (Apr. 2) that it will implement a 500,000 bpd cut from May until the end of 2023, describing the decision as a "precautionary measure aimed at supporting the stability of the oil market." Other OPEC members, including Iraq, the United Arab Emirates, and Kuwait, announced cuts to oil production.
Within minutes of the news, Russia, the leader of OPEC's 10 "plus" allies, also said that it would continue its 500,000 bdp reduction in oil output, the second time it has extended the cut since it was initially announced in February.
The timing of the announcements was unusual, falling ahead of the 23-member alliance's scheduled virtual meeting, slated for today (Apr. 3). It had been expected that the organization would maintain its 2 million bpd cut, which was previously enacted in October, and marked the largest cut to output since the start of the pandemic.
The US criticized the move as potentially driving up inflation, which countries around the world have attempted to counter with a series of interest rate hikes. Geopolitical tensions between the US, Russia, and Saudi Arabia have also simmered beneath the recent oil cut decisions. October's announcement drew US accusations that Saudi Arabia was "aligning with Russia," which continues to face western sanctions following its invasion of Ukraine.
Amid the standoff, the US has pivoted to other oil partners as it seeks to lower energy costs and increase output. In December, US energy giant Chevron sealed a six-month oil contract with Venezuela marking an easing of sanctions.
Quotable
"We don't think cuts are advisable at this moment given market uncertainty—and we've made that clear." —A comment from a US National Security Council spokesperson to The Hill regarding the latest OPEC announcement
Where are oil prices headed in 2023?
The OPEC+ decision to cut output has sent prices surging. At the time of writing, the price of Brent crude, used as a global benchmark, is up 4.5% and trading at over $81 per barrel.
CMC Markets' analyst Tina Teng told CNBC that oil prices could head in the direction of $100 per barrel. Meanwhile, Goldman Sachs increased its December 2023 price forecast from $90 to $95 per barrel.
The latest OPEC+ oil production cuts, measured in bpd
500,000: Saudi Arabia's cut to oil production, and Russia's extended cut to production
211,000: Iraq's cut to oil production
144,000: United Arab Emirates' cut to oil production
128,000: Kuwait's cut to oil production
78,000: Kazakhstan's cut to oil production
48,000: Algeria's cut to oil production
40,000: Oman's cut to oil production
3.66 million: Total supply OPEC+ has now pledged to cut
1.1 million: Expected reduction in global oil supply by next month
1.6 million: Expected reduction in global oil supply by July 2023
Related stories
🛢️ Oil investors could be in for another good year in 2023
🍎 How the US Congress could defang OPEC and keep gas prices low in one stroke
🔋 Mineral-rich countries want to form an OPEC for battery minerals