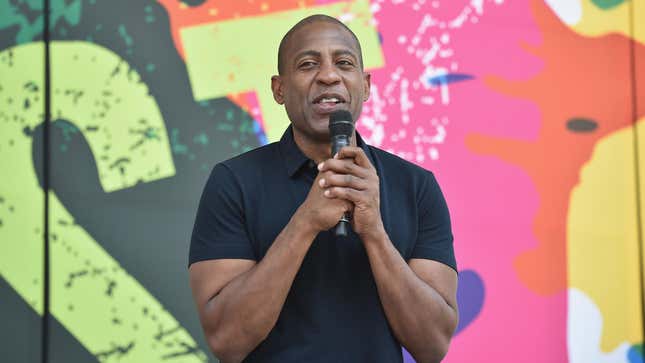 Scandal-ridden Ozy Media finds itself in another bind.

According to an indictment that was unsealed in federal court in Brooklyn yesterday (Feb. 23), the company and its executives have been running a multi-million dollar scheme to defraud investors.
Should you keep investing in Big Tech?
Carlos Watson, a former Goldman Sachs banker and MSNBC host, founded the company that produced left-leaning podcasts, television series, and events in Mountain View, California, in 2013. The charges cover the period between 2018 and 2021 and accuse Watson and Ozy executives Samir Rao and Suzee Han of lying about the company's financial health, celebrity endorsements, and investments, going as far as impersonating other media executives and instructing employees to create fake documents to pass due diligence processes.
On Feb. 23, the Securities and Exchange Commission (SEC) also charged Ozy Media, Watson, Rao, and Han with defrauding investors of "approximately $50 million through repeated misrepresentations concerning the company's basic financial condition, business relationships, and fundraising efforts," adding that Rao and Han have agreed to resolve the charges against them. The SEC is seeking injunctive relief and civil penalties, officer and director bars, and disgorgement with prejudgment interest.
Additionally, the US Department of Justice has launched its own probe into the company.
Ozy founder Carlos Watson's scam, by the digits
$45 million: How much Watson and his co-conspirators attempted to induce a financial institution to invest between November 2020 through February 2021 "by means of material misrepresentations and omissions regarding Ozy's historical and projected financial results, debts, and business relationships," as per the United States Attorney's office for the Eastern District of New York
$6 million: How much Watson would've been paid personally from the $45 million investment
At least 100%: How much the Watson and his co-conspirators "routinely and purposely" inflated Ozy Media's annual revenue by, according to the SEC
$1 million: Bond Watson paid yesterday (Feb. 23) after pleading not guilty at his arraignment
37 years: Maximum sentence Watson faces, if convicted
"Carlos Watson is a con man," says US attorney
"As alleged, Carlos Watson is a con man whose business strategy was based on outright deceit and fraud–he ran Ozy as a criminal organization rather than as a reputable media company. Investment fraud undermines confidence in our nation's markets and investors and makes it harder for honest businesses to compete. Our Office and the Department of Justice have made it clear that prosecuting corporations and their corrupt executives who flagrantly violate the law are top priorities." —Breon Peace, United States Attorney for the Eastern District of New York.
A brief timeline of Ozy Media's undoing
Sept. 2021: A New York Times investigation reveals former Ozy executive Samir Rao attempted to deceive investors by impersonating a YouTube executive on a call with Goldman Sachs. Watson deceptively tries to pass off the professional misconduct as Rao's "personal mental health issue." Days later, a journalist who left the BBC after a 30-year long stint to join Ozy, quits the company. As does billionaire investor Marc Lasry, Ozy's chairman. Separately, media personality Sharon Osborne, rock star Ozzy Osbourne's wife, tells CNBC Watson lied about the couple investing in the business, adding that "this guy is the biggest shyster I have ever seen in my life".
Oct. 2021: Ozy Media shuts down. And then days later, Watson claims it's "open for business" again.
Feb. 8, 2023: Watson tries to stage a comeback, rebranding Ozy as a "fresh," "hip," digital media outlet in a 30 minute presentation to potential advertisers and investors, according to a Semafor report.
Feb. 14, 2023: The company's former chief of staff, Suzee Han, pleads guilty to securities fraud conspiracy and wire fraud conspiracy, according to federal court documents.
Feb. 21, 2023: Rao, Ozy's former chief operating officer, pleads guilty to securities fraud conspiracy, wire fraud conspiracy and identity theft. He also admits to a judge that he made misleading statements to investors and inflated the company's finances.
Feb. 23, 2023: Watson is arrested at a Manhattan hotel and taken into custody. Federal prosecutors charge him with conspiring to commit securities fraud and conspiring to commit wire fraud.
Related stories
📺 Ozy Media's CEO says the company isn't shutting down after all
✈️ A tech founder who didn't pay employees for months but bought a $16 million private jet has been arrested
💡 The Theranos saga is coming to a close, but the tech founder's myth lives on