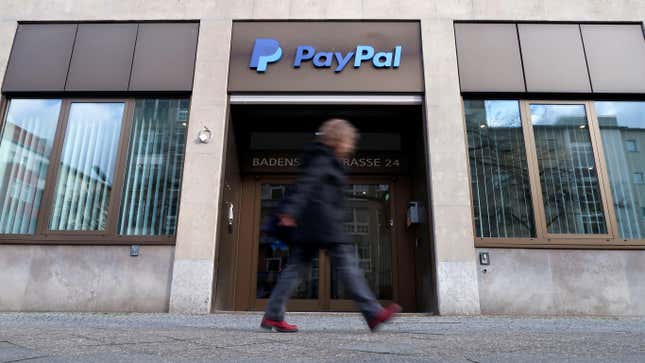 PayPal's new stablecoin (PayPal USD or PYUSD) is more about branding than blockchain.
What's the future of crypto regulation? | Ben McKenzie
The payments giant announced on Monday (Aug. 7) that it's launching a stablecoin with the trust company Paxos. But PayPal didn't commit to making the new currency a valid means of actually settling a transaction with a merchant.
The new coin, which is backed by US dollar deposits and short-term US Treasury notes, will need to be converted to fiat currency before settling because stablecoins aren't widely used by merchants.
PayPal's stablecoin is more of a marketing gimmick than a functional stablecoin. It's mostly a way for a major money transmitter to profit from crypto hype.
PayPal's stablecoin could see a run
The new PayPal stablecoin is particularly vulnerable to bank runs. In March, the popular stablecoin USDC fell below its $1 peg after holders sold it en masse after learning that USDC parent company Circle held $3.3 billion in the troubled Silicon Valley Bank.

If PYUSD gains billions of dollars in deposits, there will be no way the payments company can make sure each of its accounts is insured up to $250,000 per customer, the deposit amount covered by the US Federal Deposit Insurance Corporation (FDIC) in traditional banks. 
Even so, PayPal's only risk in that scenario would be reputational, according to Todd Phillips, ​​a former FDIC lawyer who is now an assistant professor at Georgia State University. Because PayPal is using Paxos as the stablecoin issuer, it isn't exposed to the potential legal risk of stablecoins being deemed securities in the future because Paxos carries that risk.
"It looks like Paxos is issuing it and it's just Paypal branding," Phillips said.
Paypal is offloading all of its risk onto Paxos
PayPal gives stablecoins a closer connection to the banking world, especially for companies like Paxos that want to play a larger role in the payments industry. In February, the US Securities and Exchange Commission (SEC) sent Paxos a Wells Notice, a warning from the federal regulator that the company may be in violation of securities fraud. Paxos told Quartz in an emailed statement that it doesn't think the stablecoins it's issued are securities.

Paxos also touts its limited purpose trust charter from the New York Department of Financial Services (NYDFS), which requires a rigorous level of oversight from the state. The New York regulator ordered Paxos to stop minting new BUSD stablecoins because of "unresolved issues."
"This suggests that Paxos may not be doing the due diligence on its partners it should," said Francine McKenna, editor of newsletter The Dig and a former accounting lecturer at the University of Pennsylvania's Wharton School.
Who gets to regulate stablecoins?
The US government is currently in a tug-of-war with itself over stablecoin regulation because stablecoins are designed like money market funds. Bank and securities regulators have butted heads in the past about who has oversight over money markets, and thus stablecoins, with securities regulators usually winning. Until Congress passes a law or federal agencies duke it out in a courtroom, the battle over stablecoin regulation will rage on.
While many perceive stablecoins as a niche within crypto, experts like Rohan Grey, an assistant professor at Willamette University's College of Law and co-author of the stablecoin legislation STABLE Act, see it differently. To him, it's not just about crypto but also a push by non-banking money transmitters to advance their technology.
More often than not, firms that experiment with payments technology end up trying to enter into banking, Grey said. PayPal itself offers working capital and business loans. While most US regulators and policymakers are focused on how US securities regulators will rein in crypto, the use of stablecoins in payments and lending shows that banking regulators need to get involved in crypto regulation, Grey said. If they do, banking regulation would come for other money transmitters like PayPal.
Correction: A previous version of this article mentioned that Paxos possesses a BitLicense, which is inaccurate. Instead, the company holds a limited purpose trust charter.