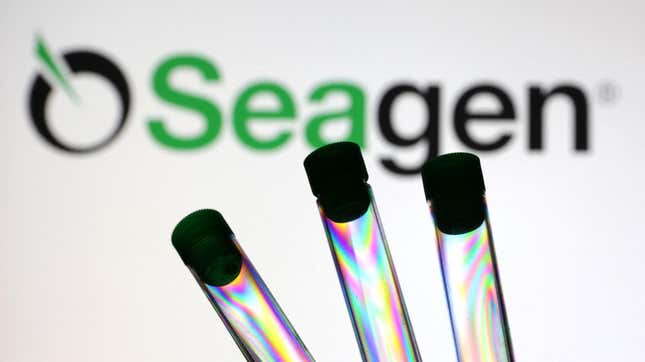 Pharmaceutical giant Pfizer is buying Seagen, a biotech company making a novel type of cancer treatment. Pfizer has agreed to pay $43 billion in cash, or $229 per share, making the transaction one of the largest pharma deals in history.
The price includes debt, as the biotech company was not turning a profit. In 2022, the total losses for Seagen were $610 million, despite revenue of $2 billion.
Pfizer, however, expects Seagen's products to make significant revenue soon. Seagen makes antibody drug conjugates, or ADC, a targeted cancer treatment that attacks cancer cells with toxins. This year, Seagen's revenue is expected to grow to about $2.2 billion—a growth of 12% since last year—and Pfizer plans to make $10 billion from ADCs by 2030.
"We are not buying the golden eggs. We are acquiring the goose that is laying the golden eggs," said Pfizer CEO in a call with investors today (Mar. 13).
Pfizer has a lot of covid money to spend
The merger is largest pharma deal since before the pandemic, when Bristol-Myers Squibb acquired Celgene for $74 billion. Merck tried to acquire Seagen last year, but the two companies could not reach an agreement on the price.

The acquisition is part of a long-term strategy for Pfizer, which is expecting to lose market from some of its best-performing drugs that are scheduled to see their patents expire in the coming years.
But the company has resources to invest, fresh off the windfall of covid-19 vaccines, the drugs with the biggest annual sales in history. The drugmaker made more than $70 billion in revenue from covid-19 vaccines in 2021 and 2022, and had overall revenue above $100 billion in 2022. Revenue from the vaccine is expected to drop sharply, though Pfizer is trying to maximize profit by increasing the price to $130 in the US—a markup of 10,000%.
ADCs are expected to become an important part of cancer treatments, making up nearly 10% of the global cancer drug market (an estimated $375 billion) in 2028. Pfizer currently has a revenue of $12 billion from its cancer products, including renal cancer drug Inlyta ($1 billion revenue).
This is the third big oncology acquisition for Pfizer since the onset of covid. In 2021, it paid $6.7 billion to purchase biotech company Arena Pharmaceutical, and $2.3 for Trillium Therapeutics, an immunotherapy drug developer.