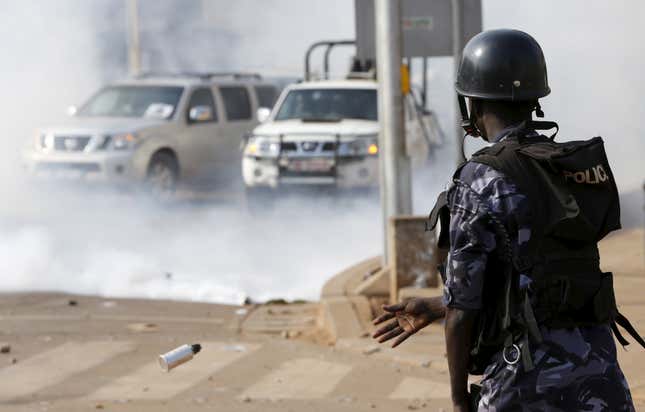 On the eve of New Year's Day, a stampede at Kampala's Freedom City mall led to the death of ten people according to police records, but the Daily Monitor newspaper counted 16 bodies at the Kampala Capital City Authority (KCCA) mortuary.
Eric Beiley Part II: Where rates are heading
Uganda's president Yoweri Museveni has ordered speedy investigations into the deaths, a move largely seen as only reactive and hypocritical, given the country's poor state of public safety.
Following Museveni's directive, police were quick to arrest Abbey Musinguzi, the promoter of the event dubbed "party after party," an east African slogan that translates to "partying to the fullest." Musinguzi was arraigned in court and charged with nine counts of negligent acts causing death contrary to section 277 of Uganda's Penal Code Act. The mall owner John Sebalamu was also summoned for questioning.
But a lack of proper coordination between the police and event organizers, who were in charge of inner security, resulted in the tragedy.
What happened at Kampala's Freedom City mall?
Police officers had inspected the venue and ascertained that it passed all public safety and security tests including having multiple entry and exit points. Counter terrorism police officers were in charge of the fireworks display.
But the same police, tasked with ensuring law and order during the event, were too slow to guide a crowd of 500 revelers to move in an orderly manner after the event's emcee asked them to move to a section of the mall so they could view New Year fireworks.
Police say the crowd forced their way through a narrow passage into the parking yard, causing mass trappings and trampling through the small corridor. But after witnessing the need for more passages, police failed to order for the opening of four other exit gates that were locked by the organizers to keep away non-ticketed partygoers.

Police could not control the crowd
"Police and management failed to sit down and plan how the revelers were going to move out and watch fireworks. People were going out [of the venue] and moving back [in a rush]," says Juma Balunywa, head of the National Promoters Association.

But more blame has been piled on the police, who were mandated to ensure the revelers were safe before, during, and after the event, besides carrying out a risk assessment in and out of the venue. In 2009, a stampede at Kampala's Kansanga amusement park caused the death of one person while three others were injured.

Uganda has a police force of 52,000 officers for its population of over 42 million people. This translates to 123 officers for every 100,000 people, almost a third of the UN global recommended average of 340.
While stampedes are not uncommon during celebrations, the last one leaving 153 dead during a Halloween festival in South Korea last October, the Kampala deaths could have been proactively prevented through a well organized public security plan.