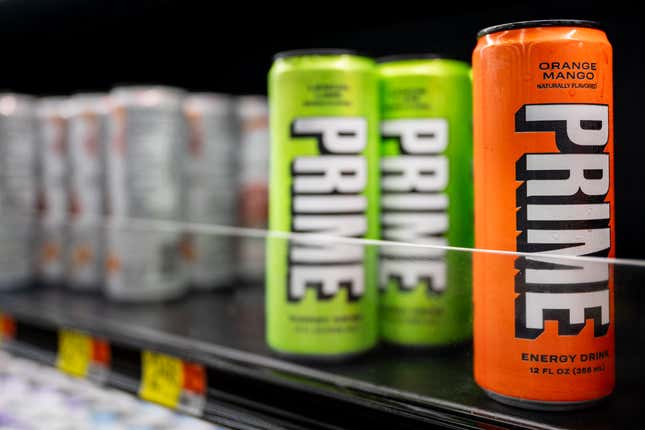 Prime Energy drinks are under the spotlight in a second country in North America over their labeling and caffeine content. The beverage backed by social media influencers Logan Paul and KSI was among six energy drink brands that the Canadian Food Inspection Agency included in a recall notice yesterday (July 12).
Why a tightening of credit conditions could lead to a weak economy
Prime Energy has yet to be launched in Canada, but the drinks were nonetheless being stocked on shelves in at least three provinces, according to a CBC report. The drinks contain 200 mg of caffeine per serving, which exceeds Canada's regulatory limit of 180 mg. The Canadian version, once launched, will contain 140 mg of caffeine per serving, the BBC reported.
The five other recalled drinks include 3D Alphaland, 5-hour Energy, Celsius, GFuel, and Sting, which are also being pulled "due to various non-compliances related to caffeine content and labeling requirements," the agency stated.
The US Food & Drug Administration is investigating Prime Energy
Prime Energy is also facing potential regulatory headwinds in the US. Senate majority leader Chuck Schumer held a press conference on July 9 to call for a Food & Drug Administration (FDA) investigation into the brand due to its levels of caffeine content. The agency has since confirmed it is reviewing the senator's concerns, according to Reuters.
"One of the summer's hottest status symbols for kids is not an outfit, or a toy – it's a beverage – but buyers and parents beware because it's a serious health concern for the kids it so feverishly targets," Schumer said at the press conference, as quoted by USA Today. The senator called the drink's caffeine levels "eye-popping."
Prime Energy states on its website that the drink is not recommended for those under 18 or sensitive to caffeine, though the drink has exploded in popularity among teens.
Prime Energy's caffeine content, by comparison
2: Cans of Red Bull that contain the same amount of caffeine as one can of Prime Energy
6: Cans of Coca-cola that contain the same amount of caffeine as one can of Prime Energy
Logan Paul and KSI ignited a Prime Energy-craze
YouTubers Logan Paul and KSI, occasional rivals in the boxing ring who combined have a following of 47.7 million on the platform, became the face of Prime Energy when the drink launched in January 2022. Since then, Prime has become the official sports drink of the UFC, the Los Angeles Dodgers, Arsenal Football Club, and FC Barcelona.
The brand has also amassed millions of followers on social media—the main avenue where Paul and KSI carry out promotions. The drink has become notorious from viral videos depicting customers scrambling, and sometimes even fighting, to get their hands on a bottle of the drink.
One app, Prime Tracker, is devoted to reporting when more of the beverage is in stock in the UK, Australia, South Africa, Norway, and Denmark. According to one of its Twitter posts, in June an Aldi in the UK had to ration out Prime, limiting it to one bottle of each flavor per person.
Paul and KSI's devoted following, the drink's brand deals, and scarcity of the drink has only ramped up the Prime hype. The drink made over $250 million in retail sales in just over a year, Paul claimed in an interview in February. He added that the brand made $45 million in the month of January alone.
Related stories
😟 The dangers of energy drinks can be fatal—especially for teens
⚡ Drinking vinegars, from shrubs to sekanjab, are the original energy drink
🍷 My favorite beverage is a 2,000-year-old energy drink from ancient Rome