In New York City and other fashion capitals, one unusual breed of shoe is turning up over and over: Sock sneakers.
Typically just a minimal, stretchy knit upper and a sole, sock sneakers originated with big athletic brands. But luxury labels have since eagerly taken up the thread, pushing the form to deliberately emphasize the resemblance to socks. In the normal course of fashion's trend cycle, mass-market brands have begun copying them and producing their own versions too. They now exist in seemingly endless iterations across a variety of price points, and embody some of the big currents moving fashion today.
Right now the style is exemplified by Balenciaga's Speed Trainers. The shoe is basically an elastic ankle sock, mounted to a sole. They cost $595 to $695, depending on the version, and are currently sold out in popular sizes on a number of sites.
"No. It's virtually $500+ sock [sic]," sneaker blog Kicks On Fire wrote when they appeared last November. "I may not know fashion, but I do know I would not rock these regardless of who or what brand made them."
That opinion isn't exactly the consensus though. They're popular enough that fast-fashion chain Zara has introduced a pair that looks unmistakably like Balenciaga's, except they cost just $70. Free People has its Astral Sock Sneaker Boot, which retails for $138.
"Just from taking a glance at the market, I would have to use the word 'tremendous' to describe it," Brian Trunzo, senior menswear editor at WGSN, a trend forecasting and analytics agency, says of the sock sneaker's ascent. He hasn't analyzed the data, but points out that "from accessible sportswear brands, such as Nike and Adidas, straight through to high fashion brands like Balenciaga, pretty much every brand has a knitted sneaker in its range." They appear to be selling very well.
Sock sneakers are basically yoga pants for your feet. Unlike the pieced-together panels of leather and other materials that form other styles of sneaker, they conform to your foot without confining it. "It's undeniable how comfortable they are," Trunzo says. "It's really not like anything else."
Allbirds, which uses merino-wool to make the sockish uppers of what it calls "the world's most comfy shoes," have become the footwear of preference in Silicon Valley.
Just as importantly, the look is just right for the present moment, when all things athletic continue to have a major influence on the look of clothing. "Sock sneakers have the athleisure market to thank for their increasing popularity," says Katie Smith, senior retail analyst at Edited, a retail technology firm.
In fact, the high-fashion versions costing several hundred dollars evolved out of a process started by sports brands Nike and Adidas years ago. Nike had experimented for decades with soft, mesh uppers, dating back to examples such as the Bermuda in 1979, the Sock Racer in 1985, the Presto in 2000, and the Sock Dart in 2004. But it was the launch of Flyknit in 2012 that arguably marked the start of the current era of sneakers with knit uppers.

They were a major new technology for Nike, made with an innovative knitting process that produced a nearly seamless, lightweight upper. Nike introduced it as a performance product for running, but Flyknit quickly became a hit because of how they looked.
"The design was something completely new with the innovative knit structure and original colorways being appealing to the masses," Viktor Ekblom, a stylist and product manager at fashionable Swedish retailer Très Bien, told Complex. "I think that Nike realized the potential of the style outside of the sports arenas pretty quickly and started to focus a lot of resources in that direction."
The first Flyknit styles didn't look strictly sock-like, but that same year, Nike also debuted the zen-inspired Roshe, a minimal sneaker stripped back to just a mesh upper and a plush sole.
Adidas put out its own knit technology, Primeknit, just after Nike released Flyknit, and the following year, its line in collaboration with designer Yohji Yamamoto, Y-3, released the Qasa.
The soft, sleek shape has proliferated since then. Nike has done just about every silhouette in Flyknit at some point, it has pushed the Presto again, and in 2015 it rebooted the Sock Dart, which Complex named the best sneaker of that year.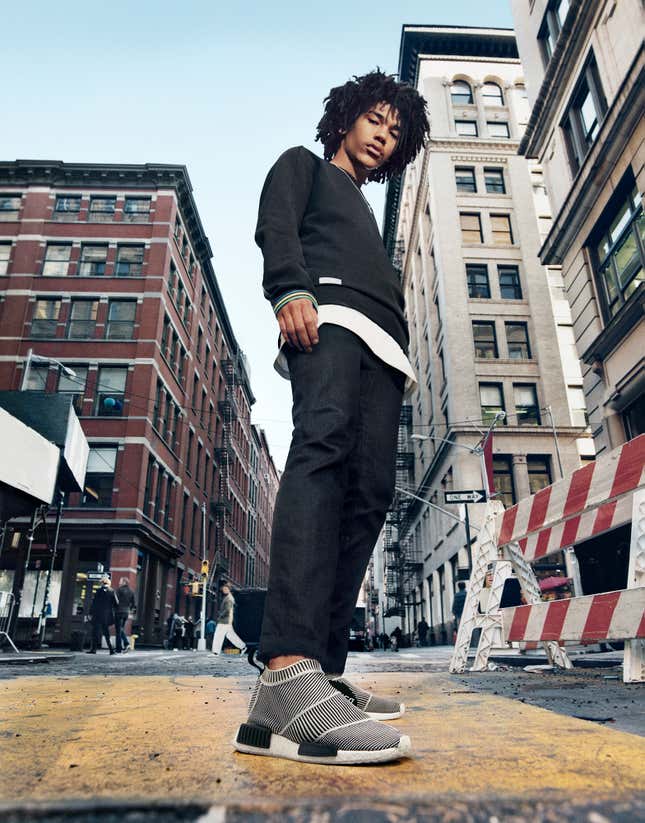 Adidas has probably been even more on top of the trend, helping it take the lead on style over Nike in the past couple years. Several of its most popular new shoes are knit sneakers, including the NMD, which has been a hit with sneaker fanatics; the Tubular, which offers a more accessible variation on the Qasa; and the Yeezy 350, the most sought-after shoe it created in collaboration with rapper Kanye West.
Some of these athletic shoes played into their sock-like quality, such as the NMD CS1, which stands for "city sock." Often, though, they kept it subtle—until recently anyway. Adidas is currently pushing the sock sneaker in a number of styles.
The high-fashion houses lagged behind on the trend, Trunzo says. But last year, they seemed to pick up on the sock sneaker all at once.
"They arrived online in December 2016, opening the floodgates to other collections," Smith explains, pointing to examples from Marni and DKNY. While a few designers, such as Rick Owens, had used the sock silhouette previously, many now embraced the look all the way. Fendi's, for instance, "look very much like sports socks," Smith says.
Based on its tracking of fashion products across e-commerce, Edited found that, from the first quarter of 2017 to the most recent quarter, the number of sock-like sneakers on the market grew 220% among luxury retailers. The average price among last quarter's new arrivals was $410. What's more, only 5% of new arrivals in 2017 have been discounted by more than 20%, according to Edited's data, suggesting a healthy level of full-price sales.
Balenciaga's take is probably the most popular, at least on Instagram. The brand is currently a trend leader, thanks to its creative director, Demna Gvasalia, who also heads the much-hyped label Vetements. Another of its popular sneakers, the Triple S, is steering a different trend in fashion sneakers right now: clunky, ugly monstrosities.
Keep your eyes on the ground. There are strange things afoot.