Dee Rees's new film Mudbound follows the intersecting lives of white landowners and black sharecroppers in post-World War II rural Mississippi. Based on the 2008 novel of the same name by Hillary Jordan, it spares none of the realities of the 1940s American South, showing the extreme racism of the time in chilling, often gory detail.
"Other studios were scared to touch it," Rees said at the New York Film Festival last month, explaining why she ended up making it independently.
But by the time the film played Sundance, it was clear Rees had an Oscar contender on her hands, and plenty of major distributors appeared keen. Fox Searchlight and Focus Features, regulars during every awards season, were both reportedly interested in Mudbound, but Rees went with Netflix as her distributor. The streaming service spent $12.5 million for the rights to the film, outbidding proven indie players such as A24 and Annapurna.
That decision paid off, Rees told a crowd of film critics at the festival, calling Netflix executive Ted Sarandos a "visionary."
Rees could not have been more complimentary of Netflix if she were a company spokeswoman. In addition to specifically praising Sarandos, who as chief content officer leads Netflix's ventures into original TV and film, Rees applauded the streaming service for giving her as much creative freedom on the marketing of the film as she desired—a luxury filmmakers usually must give up.
If she wanted all seven main cast members (most of them not especially famous) on the official poster, Rees recalled, then Netflix would be all for it. And, indeed, all seven of them appear on the film's poster.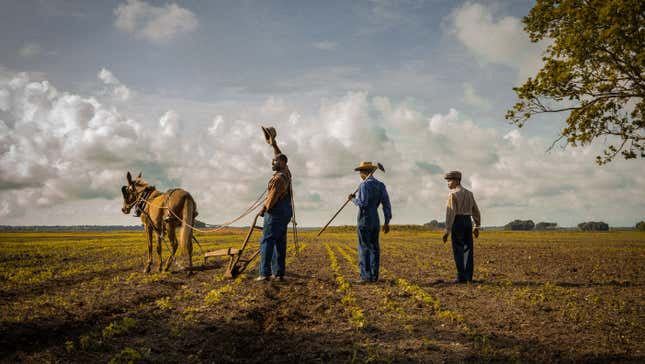 The Academy of Motion Picture Arts and Sciences, the nearly 7,000-member body of film professionals who vote on the Oscars, has made it abundantly clear that, as a whole, it doesn't much care for Netflix. Then again, the Academy doesn't much care for anything that upsets the century-old Hollywood order, and Netflix, the disruptive new kid in the class, is high on its list of problems.
Unlike its streaming competitor Amazon, Netflix releases films globally on its platform the same day they release in a very small number of theaters (just enough to qualify for awards). Theater chains have boycotted that approach in the past, arguing that it depresses the turnout when consumers can just watch a flick on their couches instead of schlepping to the theater.
In preparation for the 2018 Oscars, Academy members met last month to discuss Netflix's eligibility. According to Deadline, one member implied that movies on Netflix are not even real movies, and another said that Netflix winning an Oscar would be represent a "cheapening" of the prestigious film award.
Be that as it may, Netflix's release strategy is actually part of the reason why a talented filmmaker like Rees chose the streaming service to distribute her film to the world. She said she loved the idea of Mudbound coming out everywhere at the same time, which means people from everywhere would get to experience it simultaneously—a globe-spanning, communal cinematic experience. Rees also credited Netflix with increasing the longevity of her 2011 film Pariah, which Focus Features originally distributed but now gets a second digital life as part of the streamer's movie library.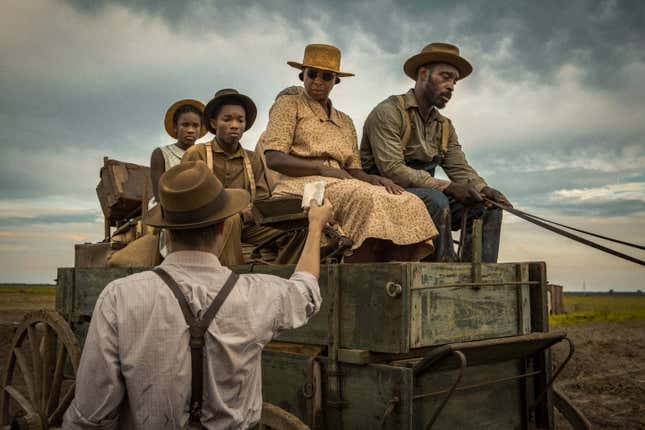 Despite the Academy's skepticism, Netflix is planning a major awards push for the film—and Mudbound is, without question, the streaming service's best chance to date of receiving an Oscar nomination for best picture. According to awards predictor Gold Derby, the film sits just outside the top 10 in terms of best picture odds.
And if Rees were nominated for best director, she'd become the first black woman to do so in the award's 90-year history (Gold Derby currently gives her 66-t0-1 odds, tied for 10th).
Rees and Virgil Williams' screenplay, too, has a great shot at a best adapted screenplay nomination, while stars Mary J. Blige and Jason Mitchell are solid bets for best supporting actress and actor, respectively. But those clamoring for Mudbound should not underestimate the Academy's pettiness. For his mesmerizing role in the 2015 Netflix film Beasts of No Nation, Idris Elba won the Screen Actors Guild award for best supporting actor and was nominated for a Golden Globe award in the same category—but he was laughably ignored at the Oscars that year.
Still, Netflix is going to break through on Hollywood's biggest night sooner or later. (It's been nominated in the documentary categories several times, but has yet to receive any recognition for its feature films.) Rees's timely, stirring period piece, replete with great performances, is as good a bet as the streaming service has ever had since it began releasing original movies in 2015.
If Rees's Mudbound isn't the one to break through, her unabashed admiration for Netflix could signal to more talented filmmakers that the streaming service is a good home for their awards-caliber films, in spite of the Academy's resistance. Hollywood legend Martin Scorsese recently inked a huge deal with Netflix to distribute his next feature, a mafia movie called The Irishman. It represented Netflix's biggest film coup yet, and Scorsese's comments on Hollywood's studio system don't bode well for an industry so afraid of change.
"[Studios] make you believe you have the freedom, but they can make it very difficult to get the picture shown, to get it made," Scorsese told the Associated Press in January. "The cinema I grew up with and that I'm making, it's gone."