It's a well-known fact that sardines are good for your health. What's less well-known is that they're good for your style.
Last autumn I visited the legendary Printemps department store in Paris, and was cajoled into buying two sets of Velcro-adhesive patches in the shape of silver-and-blue sardines. "Very stylish," the gamine sales associate told me. "You can wear them on your felt hats." I didn't—and don't—own any felt hats, but at that very moment, I realized the French were ahead of trends again: sardines are chic. You shouldn't just be eating, you should be wearing them.
To start, you could buy this cotton sardine sunhat by Brooklyn-based milliner Lola.
Soon afterwards at a Parisian chocolate shop by the Seine, I bought several tins of sardine-shaped chocolates from Michel Cluizel. These will make hilarious gag gifts, I thought, though I never found out because I ate them all before I got home.
Palm-sized, glistening, sustainable, full of omega-3s: sardines are delicious and healthy whether you're scooping them straight out of the tin or picking them fresh off the grill. They also have a rustic appeal in a culinary climate obsessed with Instagram-friendly notions of authenticity, Anneliese Griffin, Quartzy's resident food writer, tells me.
In Portugal, where sardines constitute a significant portion of the fishing industry, they're not just affordable sources of protein. They also inspire local culture. In Lisbon, sardines are the main attraction of the Feast of St. Anthony—aka the Sardine Festival. Vendors set out makeshift grills on the street to sell roasted sardines seasoned with fresh basil and served with ice-cold beer. But the city isn't just an enthusiastic consumer of the fish—Lisbon is a pioneer in sardine-inspired design.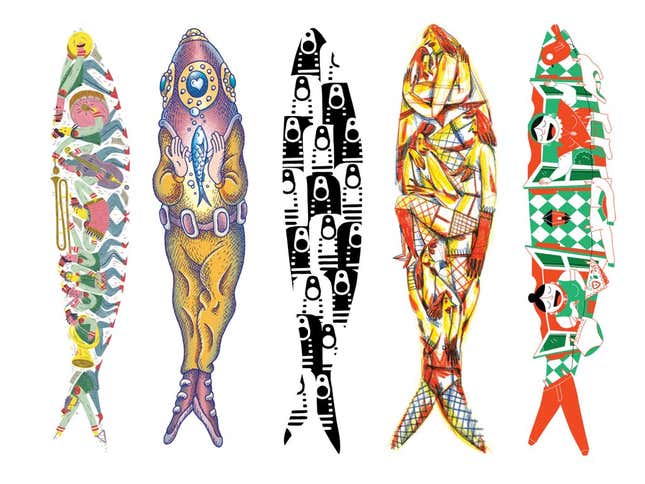 Since 2011, Lisbon has hosted an annual international competition to find an interpretation of the sardine to use as the festival's official logo. The fish must be clearly distinguished as a sardine, not any other fish. This year, proposals came from 60 countries. There were five winners, one of which was an illustration called "Lisbon women" by Miguel Angel Camprubi, in homage to Lisbon's prostitutes, who are usually hidden from view.
If you can't book a trip to Lisbon for the festivities, no worries—Portugal wants to bring its sardines to you. My personal favorites are the sardines from  José Gourmet. The sustainable Portuguese brand's illustrated tins sell for less than $5 but make chic stocking stuffers—and delicious toast toppings when you need a quick meal.
And if I've convinced you that sardines are your new aesthetic, you can buy a scented candle in a ceramic vessel decorated with sardines by Piero Fornasetti for $155. Don't worry—it doesn't smell like sardines. We're not there yet.