New Yorkers who are fanatics about sneakers probably know Stadium Goods for its small storefront on Howard Street, a quiet side lane branching off from the retail frenzy of Broadway in Manhattan's Soho district. People venture to the 3,000 square-foot space for the sneaker resellers' dizzying collection of sought-after shoes, styles such as Yeezy 350s, Jordans, and rare Adidas NMDs, which can fetch prices well into the thousands. Stadium Goods has quickly expanded online, too, since its launch in 2015, through its own website and via partnerships with companies such as eBay.
You'd think, given its roots in the US, its biggest sales events would be days like Black Friday, or maybe Cyber Monday. Yet Stadium Goods' biggest day is Nov. 11, or 11.11—also known as Singles Day, the Chinese shopping bonanza created and aggressively pushed by e-commerce giant Alibaba.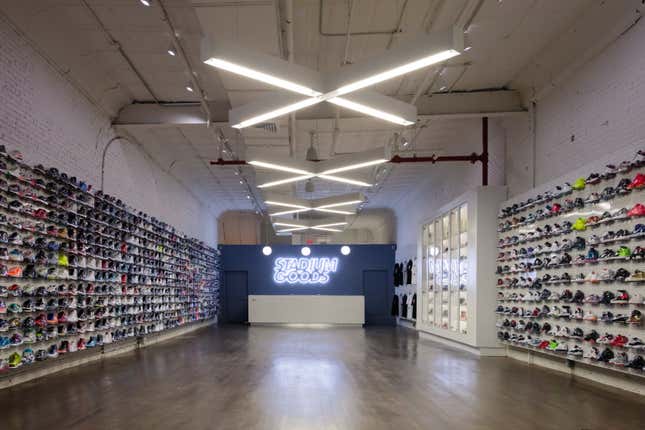 Since Stadium Goods partnered with Alibaba to sell on its business-to-consumer marketplace, Tmall, in August 2016, it's been an example of how small businesses everywhere are finding ways to connect with China's growing population of shoppers eager for international goods. This June, when Alibaba held its biggest-ever public event in the US, trying to convince small US businesses to sell through its channels, Stadium Goods was one of the success stories in attendance.
Last year marked its first-ever Singles Day, and it was instantly its biggest shopping holiday. As it participates in the discounts again this year, with a much more established foundation on Tmall, Stadium Goods expects even better results. Singles Day dwarfs the busiest shopping days in the US in sales volume, of course. Alibaba claims it topped $1 billion in sales in two minutes this year. So it has an advantage in any comparison.
But the store's sales aren't restricted to 11.11. "By far it's become our biggest channel in our omnichannel business," Jed Stiller, cofounder and managing partner of Stadium Goods, says of Tmall. That's compared to the business Stadium Goods does through partners such as eBay. In fact, Stiller says sales through Tmall make up 15% to 20% of the company's total sales, including those from its retail store in Soho and its website. New Yorkers are still sleeping on Nov. 11, Chinese shoppers will be awake, and buying up Stadium Goods' sneakers.
Stadium Goods hired Chinese-speaking staff to manage its Tmall business, and used blog posts and videos to introduce itself to unfamiliar Chinese customers. Stiller adds that "the Jack [Ma] cosign" helped build trust, too. Sales started slowly, and then took off.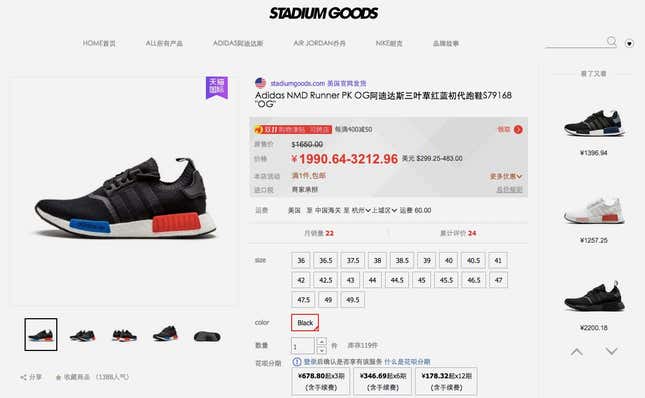 An important ingredient in that success is that Stadium Goods is selling a product Chinese shoppers want. "Stadium Goods' ranking has increased in recent months because they are meeting our customers' needs, particularly as consumption in China increases and the younger demographic of Chinese consumers is looking for diversity and individualism in the products they buy," says Qian Yi, global business development director at Tmall Global.
Sneakers and athletic wear are growing rapidly in the country as its booming middle class heads to the gym. Though that isn't the only factor at work. "Sneakers are becoming a big part of the fashion and footwear market—especially high-end and designer shoes," explains Brian Buchwald, CEO of consumer-intelligence firm Bomoda. "There are a number of elements to it: the rise of 'fresh young meat' influencers who are steeped in hip-hop culture, the burgeoning athleisure market, and the support of the Chinese government in a more healthy lifestyle."
Except for the government involvement, it sounds a lot like what's driving sneakers in the US. At the high end, according to Stiller, the products they're buying are the same, too: "the Yeezys, NMDs, and the [Adidas] Boosts," he says. The only big difference is that Chinese shoppers are also buying more lower-priced shoes from them, such as Nike Huaraches and Dunks.
Nike and Adidas are doing more and more of their own sales in China, including on Tmall. But they don't always offer Chinese customers the same assortment they sell elsewhere, and they aren't selling a reliable stream of rare and deadstock sneakers. Stadium Goods has found a way to meet some of that growing demand, all the way from New York.