If you've looked into flying transatlantic recently, chances are you've come across the seemingly too-good-to-be-true fares of Norwegian Air. I know this because I often get texts from American friends planning trips to Europe asking: "Hey have you flown Norwegian? Should I do it?"
My answer, in short, is yes—but with some caveats.
But first, it's worth knowing just how Norwegian—recently named the "world's best long-haul low-cost airline," a thoroughly post-recessionary distinction—manages to offer flights so cheap. Contrary to the assumptions of some less-frequent travelers, cheap flights do not necessarily mean they are less safe. In fact, Norwegian ranks ahead of both American Airlines and United Airlines on the safety index of JacDec, an independent source for aviation safety.
Norwegian's price competitiveness is due to several factors. First, its fleet of Boeing 737 and 787 Dreamliners means it has one of the youngest—and most fuel efficient—fleets of aircrafts in the industry, with an average age of just 3.6 years. This gives it a massive edge when it comes to fuel costs, as it's not phasing out gas-guzzling dinosaurs like many legacy carriers are.
Secondly, Norwegian and other similar carriers like WOW Air are essentially running a social experiment to find out just how many services and amenities customers will forgo in the name of flying long-haul on the cheap. Norwegian offers five ticketing levels, ranging from LowFare (no checked baggage, no meal, no seat reservation—and no free drinks, headphones, or blanket either) to PremiumFlex (2 checked bags, seat reservation, premium meal, complimentary amenities throughout the flight, as well as free re-booking and refunds). This model of pay-as-you-like ticketing will be familiar to short-haul passengers on budget carriers such as Ryanair and easyJet—the former once toyed with the idea of charging for using the lavatories—but is a relatively recent concept on long-haul flights.
Lastly, and most importantly, in 2011 Norway and Iceland were incorporated into the Open Skies Agreement, which minimizes government intervention in international aviation. This change allowed both Norwegian and WOW Air (which is Icelandic) to serve as competition on these routes for the first time, essentially creating a price war with legacy carriers.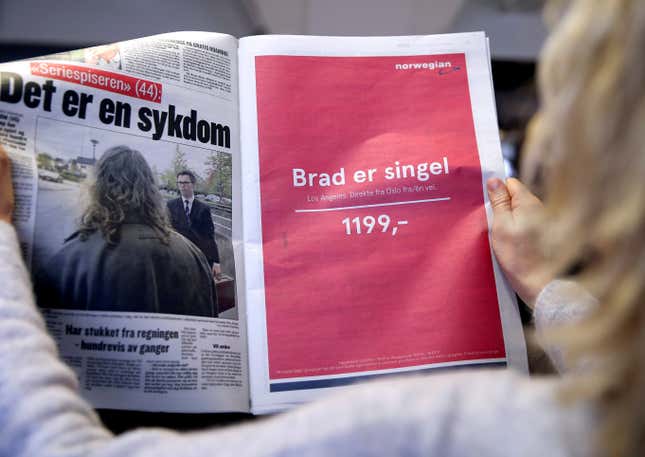 This combination of factors—along with frequent promotional offers, which sell out fast—has worked wonders for Norwegian's ridership rates.
Three years ago, few had heard of the airline. Since then it's become the 10th-largest trans-Atlantic airline by percentage of seats offered. This past summer, according to aviation industry analyst CAPA Centre for Aviation, "Norwegian had 2.8% of all scheduled seats between Europe and North America, compared with 1.8% in summer 2016."
But what's it like to fly Norwegian? Romantic these flights are not. But they're not horrible either. (I've flown enough to know the difference.)
No matter what level your ticket is, there are some baseline perks that go above most legacy aircrafts': all the planes are new, with big windows and pleasant ambient lighting; the well-designed overhead bins are big enough to actually contain everyone's luggage; the in-flight entertainment is free; the legroom isn't any worse than a Virgin or BA Flight (I'm 5'11" so I know); there are USB ports and charging sockets in every seat; and the air circulation on board is far superior to older aircrafts.
In fact, I dare say with some hacks and pre-planning, they can be a better experience than your average Virgin or Delta flight across the Atlantic.
Here's how to do it right:
During booking:
Make sure you pay attention to the airports you're flying in and out of. Another cost-saving measure for Norwegian is to fly into far-flung airports. If the transportation on the other end is going to add to your costs (or aggravation) considerably, don't bother.
Assuming you want to fly economy—we're trying to save money here, after all—think about what you actually need in-flight. If a checked bag and in-flight food and drink is important to you, you'll need to book LowFare+, which includes those things as well as a seat reservation for $90 (£50) extra.
Personally, because I'm a passionate carry-on only traveler and would rather spend my money on food bought on land, I forgo food and checked baggage fees. But I do pay the $45 (£25) for a seat reservation on international flights, especially if I can reserve a bulk-head seat, which unlike other airlines, costs the same to reserve as every other seat. Note that you have to reserve a seat ahead of time, preferably at the time of booking. The system often holds seats back in the 72 hours before the flight, meaning it's only possible to book middle seats (which, of course, is pointless).
If you book on Norwegian's website in the local language (Norsk) and currency (kroner), rates are known to be considerably lower—up to 20%. This isn't an official policy, but numerous people I know have done it. You just have to be willing to use Google Translate.
Unlike many other airlines, Norwegian doesn't charge you more for booking one way. So if you want to fly into Oakland and fly back out from LA, you have the option to book two separate legs at no inflated cost, a nice perk.
During packing
If you haven't checked a bag, know that Norwegian weighs carry-ons at check in (10kgs, or roughly 22lbs), so pack wisely. In addition, don't forget to bring a blanket or warm clothes aboard. It's usually freezing, and the blankets they charge for aren't much help. Ditto to headphones for the entertainment; bring your own if you plan to watch movies.
If you haven't booked a meal, and you don't want to deal with inflated airport prices (or America's diabolically bad airport food options), then bring some snacks. Though there is a decent snack and drink selection for purchase via slick touch-screens, you will be charged a premium for everything on board compared to prices on the ground (from $4 for a chocolate bar to $11 for a sandwich, and $7 for an alcoholic drink).
At the airport:
If you haven't reserved a seat, get there unreasonably early. The later you arrive, the more likely it is you will get a middle seat, which no smart traveler should ever have to endure.
Buy water (or fill up your reusable bottle) once you're past security. While Norwegian doesn't officially say they won't give you water on board, they certainly dont make it readily available. This is good advice no matter what airline you fly: Dehydration is the worst after-effect of a long-haul flight, so don't come unprepared.