In late August, Hurricane Harvey swept through homes and businesses in and around Houston, Texas. As the city works to repair the estimated $80 billion in damage, the tiniest members of its community are recovering, too.
Seven of Houston's public library branches are still closed from the storm, and may stay closed for another year to 18 months. In lieu of a place for kids to borrow books, JetBlue has installed a book vending machine in a community center in northeast Houston to try and fill the void. The company will give away 25,000 new books via the machine over the next month for kids reading in the 1-14-year-old age range. The books don't need to be returned.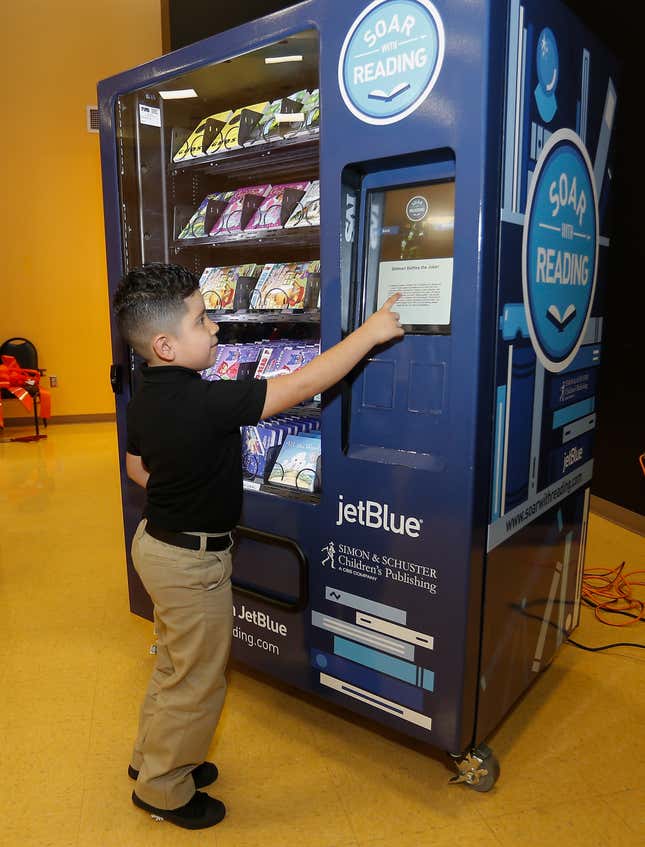 Photos from local news outlets show just about 12 different available titles, including new YA, like Jason Reynolds's Ghost, and a YA classic, Gary Paulsen's Hatchet. For younger readers, there's a Candy Fairy book, a Daniel Tiger book, and Blanket of Love, by Alyssa Satin Capucilli. JetBlue says the selection won't change.
Books for kids are indeed only one important service of public libraries, and the vending machine is not a permanent fix, of course. Library director Rhea Lawson told the Houston Chronicle in October that the biggest service libraries provided for the Houston community the days after the storm hit was an internet connection. The second, she said, was a sense of normalcy.