This past weekend, I saw announcements like this all over my friends' Instagram stories: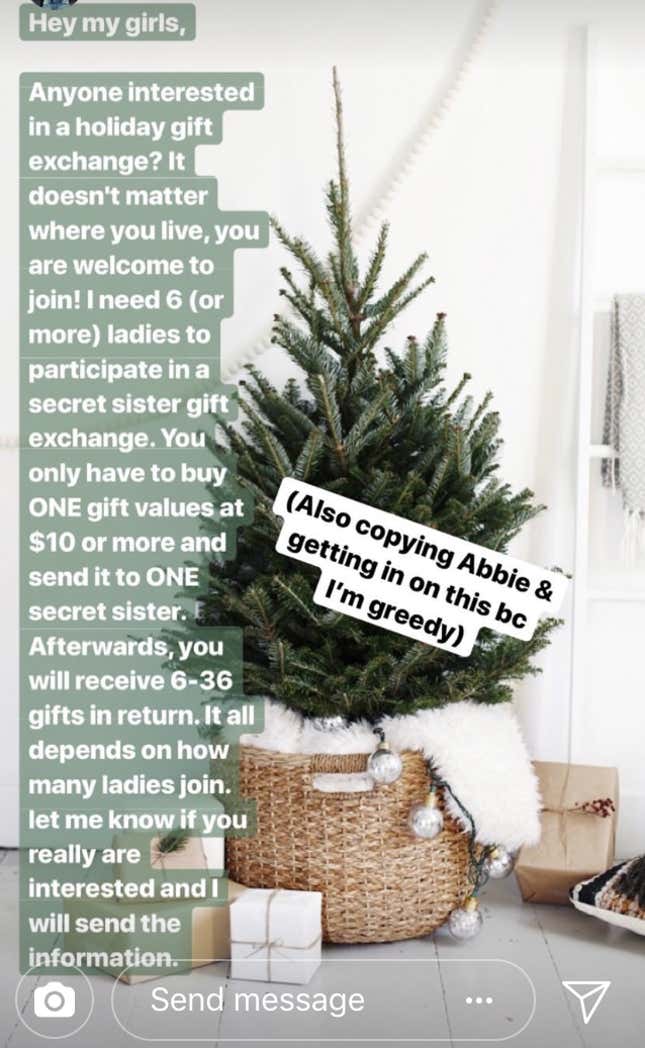 Er, that might be a pyramid scheme, according to the Better Business Bureau. But the Secret Santa gift exchange, which I thought had long become a remnant of my childhood, is a real thing—and it's being revived beyond work and family holiday parties. Why not? Turns out, as with the popularity of the adult advent calendar, grownups also really like surprises, and probably need something to look forward to over the holidays. The tenets of Secret Santa for adults are simple:
You are exchanging gifts with strangers, or at least anonymous people, or at least family members or co-workers you don't want to displease.
Each gift must cost at least $10, so no, you can't just wrap up some office supplies from your office. But you also don't have to order something from the Tiffany & Co. catalog. Remember: the best part of these gifts is the surprise.
No baked goods or homecooking of any sort (pickles, jams, etc.). The homemade edible gift is lovely if you're directly gifting a friend or relative who appreciates your secret ingredient of "love," but not so much if your walnut double fudge brownies end up in the hands of someone who is allergic to nuts.
Don't spend too much time shopping for this one gift. Again: the best part is the surprise. You're not actually Santa Claus.
Let me, someone who loves hoarding $10 trinkets too much, be your personal shopper. Here are 10 gifts under $10 for your Secret Santa gift exchange or as last-minute stocking stuffers: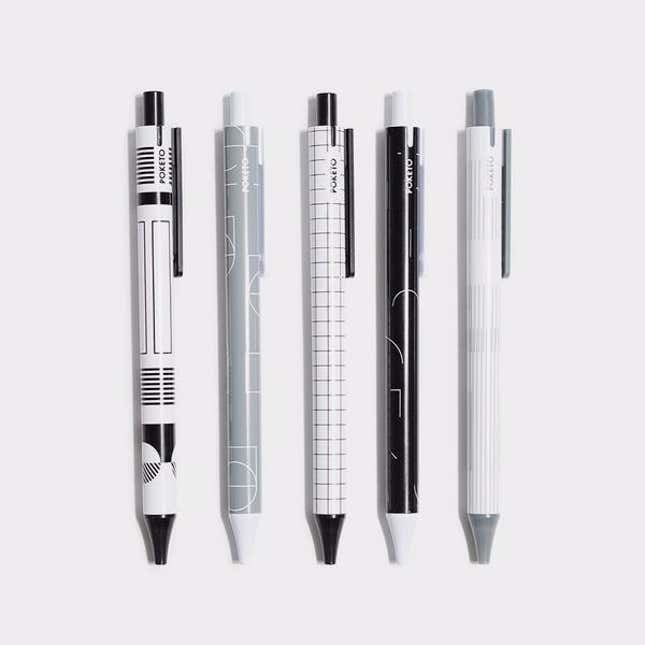 Poketo Linework Gel Pens ($4 each)
As a kid, I took gel pens for granted. As an adult, I'm always searching for a pen in the abyss that is my bag. Give your co-worker what they really want: pens that write smoothly and look great on their desk.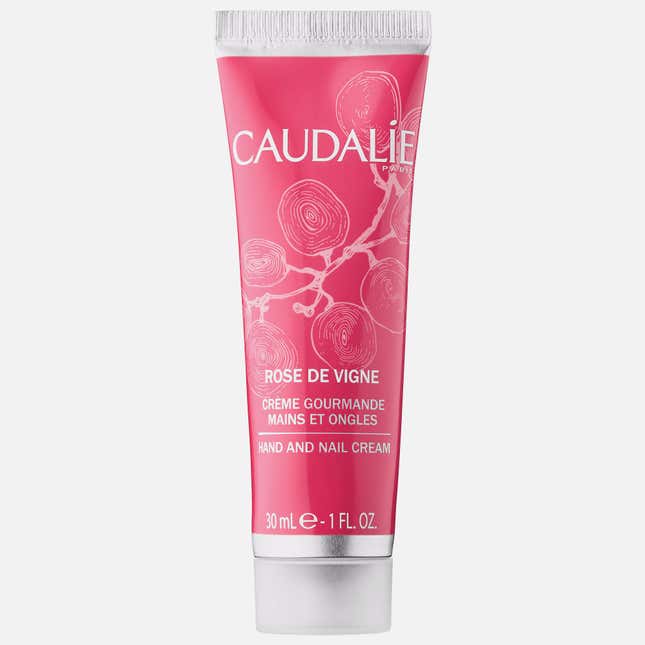 Caudalie Rose de Vigne Hand and Nail Cream ($10)
It's the perfect gift to show a stranger that you care without being creepy: a luxurious tube of hand cream to prevent winter chafing. This shea butter, antioxidant-infused formula is good for all skin types.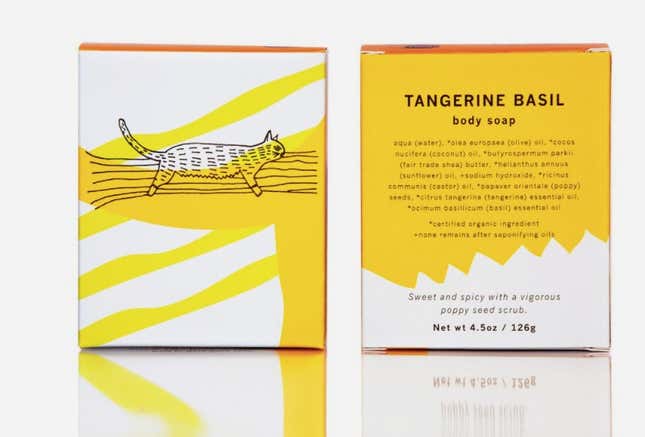 Meow Meow Tweet Tangerine Body Soap ($10)
You must be joking, you're thinking. A bar of soap sounds more White Elephant than Secret Santa, but hear me out: like an expensive Diptyque candle, a fancy bar of soap is greatly appreciated by everyone who receives it because they'd never buy it for themselves. And yet, it makes everyday rituals much more magical.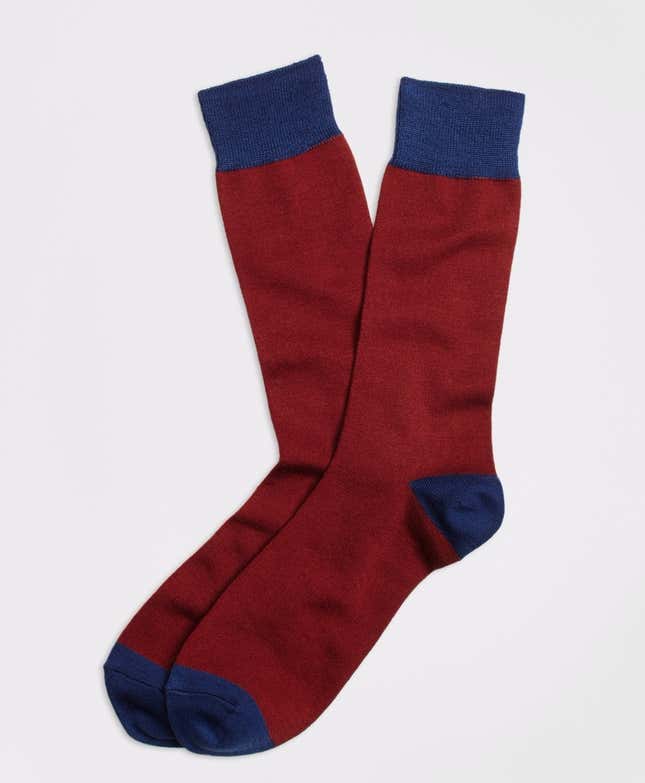 Brooks Brothers Color-Block Wool Crew Socks ($9)
A warm pair of wool-blend socks is the gift you dreaded as a kid, and the gift you desperately need as an adult too ashamed to admit that you're always wearing mismatched pairs.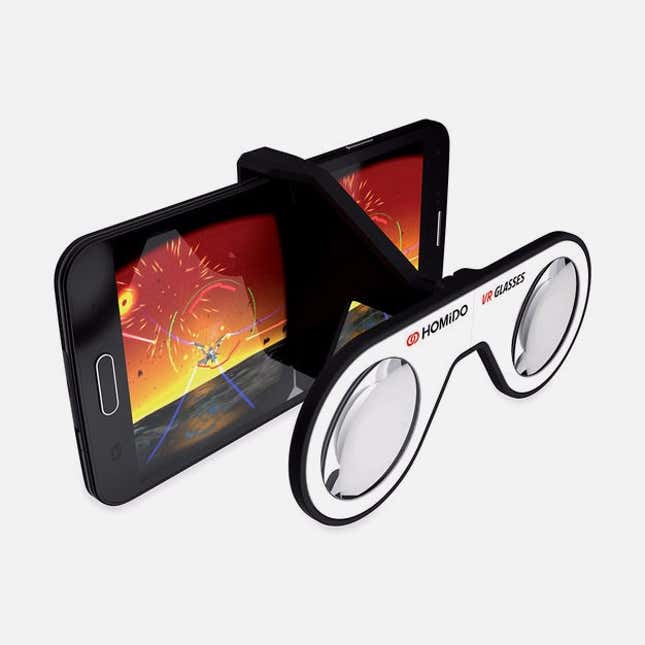 VR Homido Mini Glasses ($10)
It's the gift that keeps on giving, especially as virtual reality apps get better and better. These glasses clip onto your smartphone so that you're always ready for a great escape.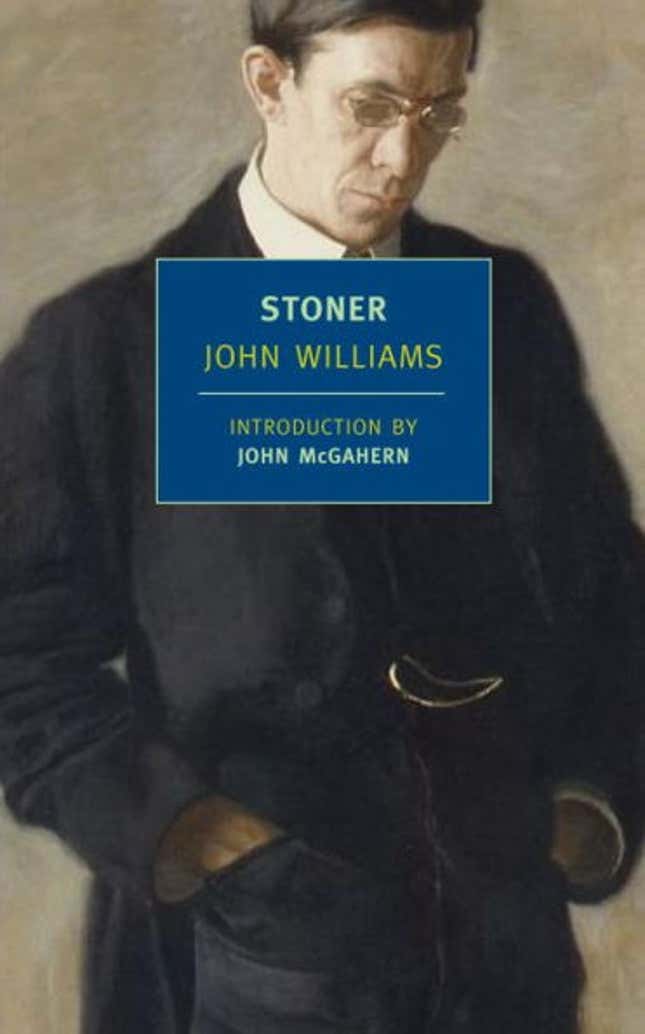 Stoner by John Edward Williams ($9)
As recommended by Quartz's resident bookworm, Thu-Huong Ha, and by the New Yorker as "the greatest American novel you've never heard of," this 1965 novel is a novel about labor: physical, emotional, and intellectual. No one in your Secret Santa exchange—unless Ha's part of it—has read it, which means it's a safe bet to introduce them to a cult-favorite classic.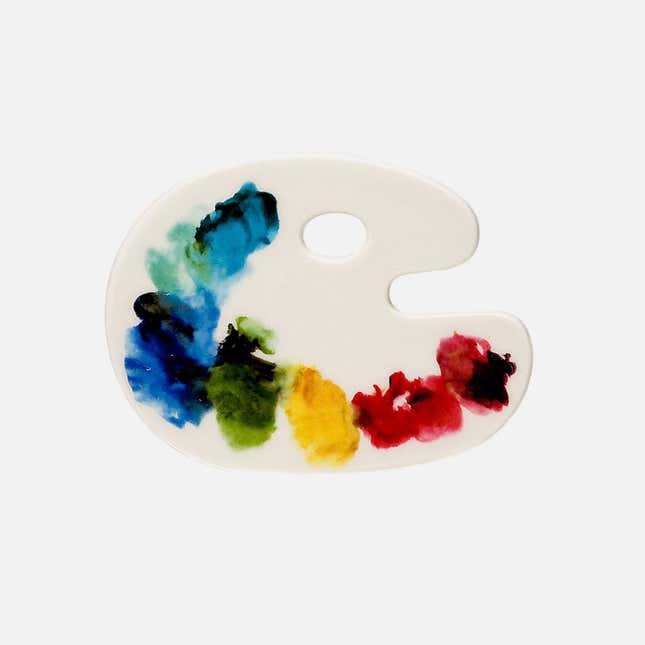 Fishs Eddy Artist Palette Coaster ($10)
Here's the least expensive way to gift china—a beautiful, microwave-safe artist palette-inspired coaster for your recipient's coffee mug.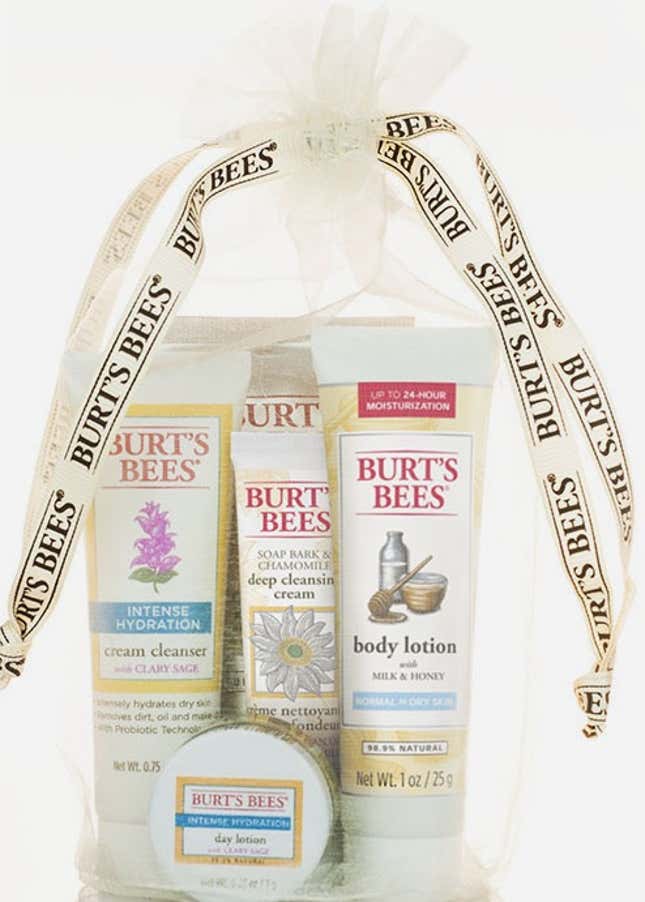 Burt's Bees Fabulous Mini's Gift Set ($10)
There is something very frustrating about getting a toiletry confiscated by TSA because you didn't pay attention to the liquid limits. Your Secret Santa recipient will cherish this compact, travel-friendly set the next time they board a plane. It comes with six products, from face cleanser to body lotion to foot cream.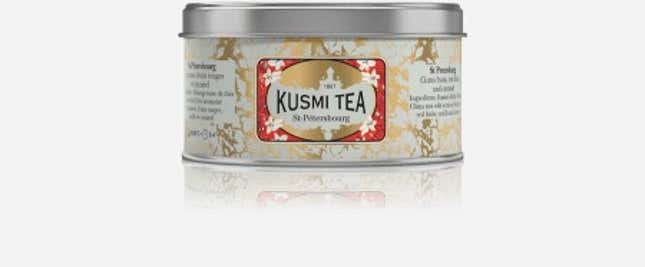 Kusmi Tea St. Petersburg Mini Tin ($7)
Oh, this is far from Lipton tea—Kusmi Tea is the Diptyque of tea brands. It's expensive, but it's a thoughtful everyday indulgence that comes in seasonally appropriate packaging. Every cup of tea made from this batch is like celebrating the holidays year round.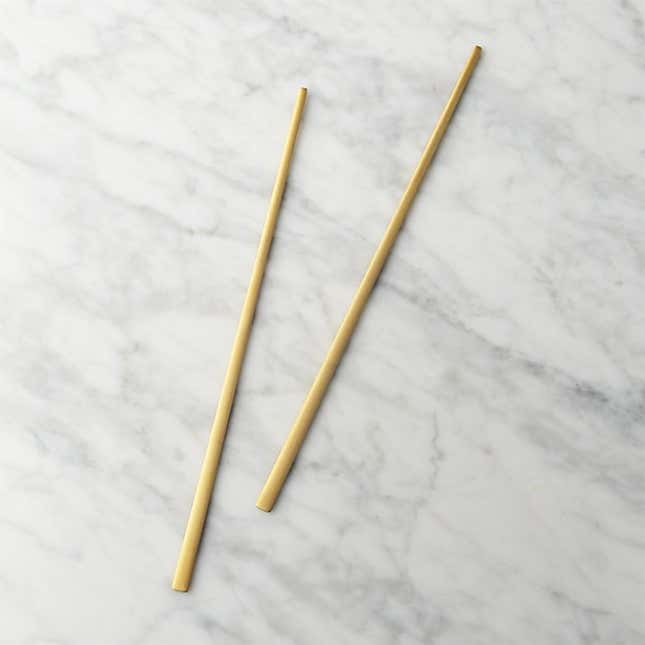 CB2 Brushed Gold Chopsticks ($6)
Take heed of this advice from me—if you are not blessed to have learned how to chopsticks during childhood like me, these stainless steel chopsticks (brushed with gold, because why not) will change your life. You will slurp your noodles more efficiently. You will flip your bacon like a pro. You will Instagram every meal. Oh right, better buy a pair for your Secret Santa exchange, too.