The buyer of the most expensive piece of art ever sold at auction—Leonardo da Vinci's "Salvator Mundi"—is no longer a mystery. The New York Times reported that Bader bin Abdullah bin Mohammed bin Farhan al Saud was the person who foot the $450.3 million price tag for the masterpiece at the Christie's auction in New York last month.
While the buyer may curiously be described as "a little known Saudi Prince" with no history as an art collector, the painting's new home will thankfully be public to all. The Louvre Abu Dhabi announced on Twitter that"Salvator Mundi" will hang on its walls—a da Vinci in the Gulf to rival the "Mona Lisa" back at the Louvre's Paris home base. The painting's acquisition fits nicely with Abu Dhabi's larger attempt to assert itself as a cultural hotspot for international tourists. What's more, it's helping prove that there are far more reasons to visit the UAE than luxury shopping malls and the skyscrapers of Dubai.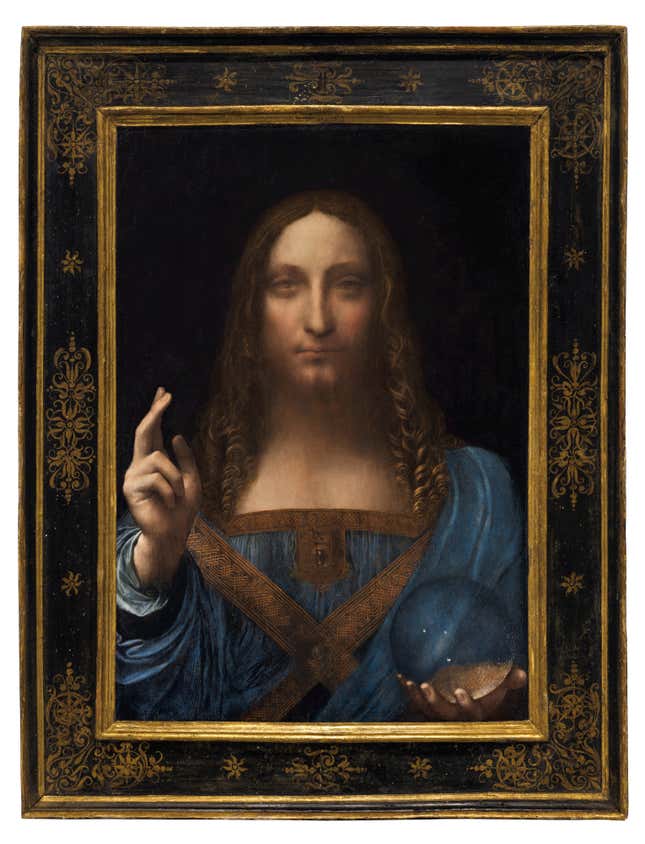 In addition to the Louvre franchise—which opened in November in and already features an impressive permanent collection of over 600 pieces—Abu Dhabi also has an outpost of New York University and plans to open a branch of New York's venerable Guggenheim Museum. The UAE's national museum, The Zayed National Museum, is also slated to open in the city (though it is fraught with delays and a recent falling out with the British Museum, who was meant to co-curate its collection). All three museums feature serious architectural bona fides: The Louvre was designed by master French architect Jean Nouvel; Frank Gehry is behind the Guggenheim; and Norman Foster is the name behind the Zayad Museum.
For such a young country, the UAE's creation of a robust tourism industry is impressive. Data from the World Travel and Tourism Council (WTTC) shows that out of 186 nations, the UAE places 26 in terms of the relative importance of the tourism industry's total contribution to GDP. But as Abu Dhabi works to position itself as the center of the arts and culture in the Gulf—and the Middle East at large—it faces problems of perception typically not found in other culture capitals like Paris or New York.
It's no secret that the UAE is embroiled in a simmering geopolitical conflict, having recently cut ties with neighboring Qatar as part of a plan to isolate the gas-rich nation in partnership with other Arab countries like Saudi Arabia, Bahrain, and Egypt. While this instability may not necessarily affect daily life for Emiratis, studies show that regional instability can impact tourism numbers—particularly if tensions (or headlines about those tensions) peak during a prime booking season. According to 2015 data from the WTTC, political instability can take the largest hit on a nation's tourism arrivals, with an average recovery time of 26.7 months, compared to just 13 months for terrorism, 21.3 months for disease outbreak, and 23.8 months for environmental disaster.
There is no question that the acquisition of Salvator Mundi will help boost Abu Dhabi's cultural cachet—and that having it on public display, rather than languishing in a private collection, is a boon for the art world. However, when it comes to where people travel, the perception of risk and uncertainty is often more important than the attractions—no matter how glossy—on the ground.