Of all the travel apps that exist to improve any trip, Google Maps isn't normally one you hear people raving about.
After all, Google itself is so embedded to our quotidian tech lives, we scarcely think of it as having a specialist application to something as exciting as travel. But when you go overseas—and your mobile data situation suddenly becomes scarce, more expensive, or nonexistent—there are a slew of Google Maps features that help you navigate a new place using minimal to no data at all. In a sense, when you go abroad, Google Maps actually begins to shine in a way it doesn't at home.
It's true that Google has a separate app entirely built for travel, called Google Trips. If you're looking for an all-inclusive travel app with recommendations, ways to keep track of your confirmations and itineraries, reservation functions, and a bevy of offline features, then this is worth a download. But if, like me, you are an app minimalist who isn't a huge fan of pre-made or suggested itineraries, then Google Maps actually has many Google Trips' best features built in.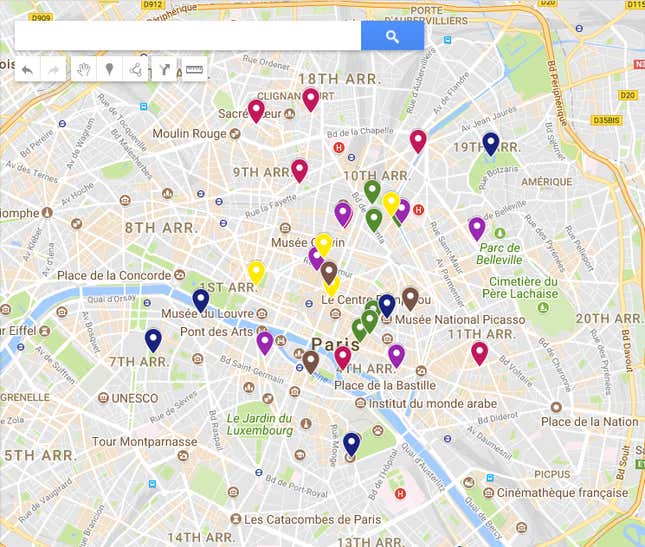 Indeed, I'm not the only frequent traveler who swears by good old Google Maps. As Lucas Peterson, New York Times Frugal Travel blogger put it in a recent round-up of his favorite travel tech tools: "I wish I could tell you there was some secret maps app nobody knows about that's way better than Google Maps. There isn't." And, of course, if you're logged into your Google account when using it, Google Maps integrates your entire Google identity (which is scary but, alas, useful), so your flight information, any Google Docs containing trip information, and past searches are all easily at hand.
Which is why I love Google Maps—and am offering some handy tips to make the most of its better (and lesser known) features when you're far from home.
Take advantage of offline functionality: Your first port of call before you even go to the airport should be to download an offline map of the city or place you're traveling to. This will allow you to navigate any area using the little blue dot that shows you where you are. Helpfully, this shows up even if you're offline or in Airplane mode, as GPS still works without a data connection. Even if you have mobile data when you're abroad, downloading the map of the place you're going to will use less data and/or load the map quicker when you're out and about, so it's a good thing to do either way.
Pre-load directions: If, say, you arrive at your accommodation and find the wifi signal is too weak for a full map to download—or you don't have enough room on your phone for downloaded maps—have no fear. If you load the walking or public transport directions to your next destination when you're on wifi, those directions will still display once you've left your hotel or Airbnb wifi (as long as you don't quit the app). Then, you can follow your little blue dot's progress along your journey until you arrive. When you're next on wifi, load your next destination. I've traveled the world using this hack—from Japan to Madagascar to France—and it works like a charm.
Make use of the custom Google "My Maps" feature: Next time you do one of those Facebook posts asking your friends for recommendations for your upcoming trip to Reykjavik, your next step should be to immediately load all of the responses into a custom Google map using the My Maps feature. You can plot places you might like to visit based on what you see on blogs, recommendations, and Instagram posts in the run up to your trip. Then, when you're wandering around a neighborhood wondering where is a good place to get a drink within walking distance, you've got a phone full of recommendations.
I find this is a great way to let a travel day unfold with a bit of magic and serendipity, rather than plotting every drink, pastry, and meal of your day in fear of having no idea where to go. If you use an iPhone, you have to create your custom map on desktop (log in to Google Maps, click the menu in the top left, click on "Your Places," then "Maps," and "Create map") where you can customize and color code to your heart's content, and then view the map on your phone. Android phones have a dedicated mobile app to build maps.
Share the wealth: Helpfully, My Maps are shareable if the creator makes them public. So, add your own favorite spots and discoveries throughout your trip so you can share the wealth with your friends once you return.  This is helpful if you're the kind of person who is constantly being asked for travel recommendations from your friends. Instead of racking your brain to write an email of spots, you can simply send them a link. (Here is my map for one of my favorite cities to visit, Paris.) Equally, if you have friends who are particularly in-the-know, ask them to share their maps instead of relying on guide books or TripAdvisor.