For the next six months, overnight crews will be giving Amtrak's dingy train interiors a much needed design makeover. The $16 million refresh involves swapping out seats, carpets, lighting and upholstery as well as scrubbing the grime off 450 commuter trains servicing the US east coast.
The highlight of the renovation is the seating. New grey synthetic leather passenger chairs offer more lumbar support and cushier seating explains Duncan Copland, director of industrial design at Amtrak's inhouse design department in Delaware. From 50 sketches and 10 prototypes, Copland and his team arrived at a rather retro looking design that looks like it's been in place for years. Eschewing sleeker models and new color palettes, Copland explains during a Dec. 14 preview in New York City that they had to find a design that would suit the 1970s Amfleet cabins and match the blue and grey corporate color palette established in the 1990s.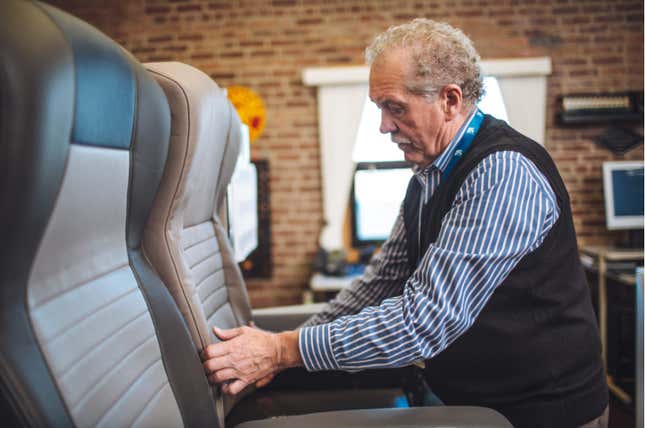 "I think it coveys comfort and style," says Copland, an industrial designer who has previously designed Cuisinart home appliances.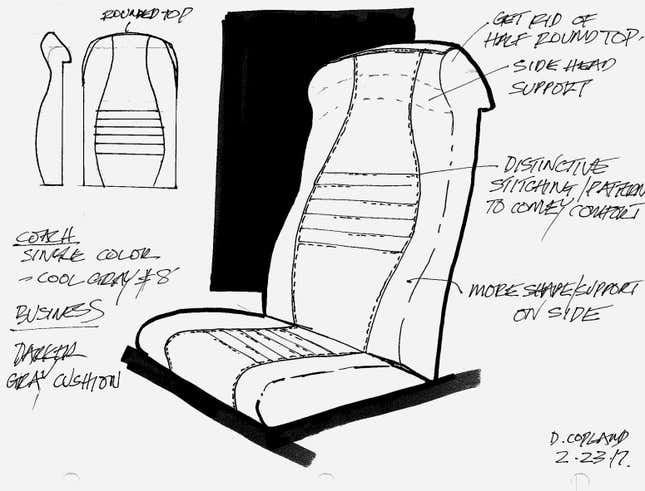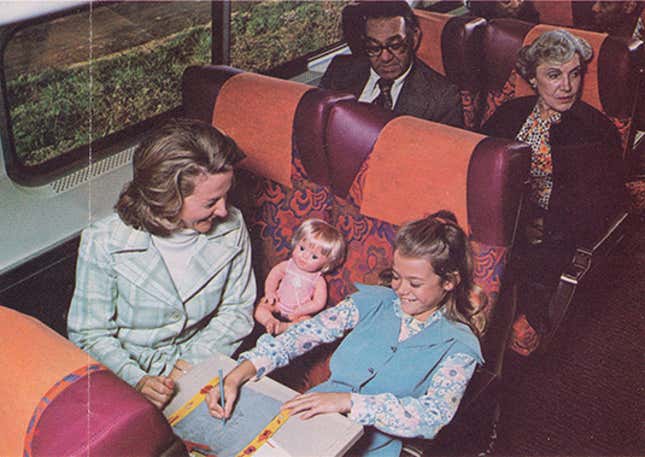 Amtrak's design team also fussed over the flooring. In consultation with the aptly-named Carpet and Rug Institute, they tested 20 prototypes for durability and arrived at a subtly pattered blue nylon carpet.
Aside from providing a more comfortable experience for 31.3 million riders, the update will also help Amtrak lower cleaning bills. With the current design, Amtrak spends up to $1 million a year to spot clean its cushions and replaces the carpeting in passenger cars every three months. "Even though it looks like we haven't changed them in years, I guarantee you it's been changed in the last year," says Amtrak spokesperson Alison Simon, pointing to the sad, worn-out grey carpeting. "It's just the nature of the business. In the winter, things get very dirty."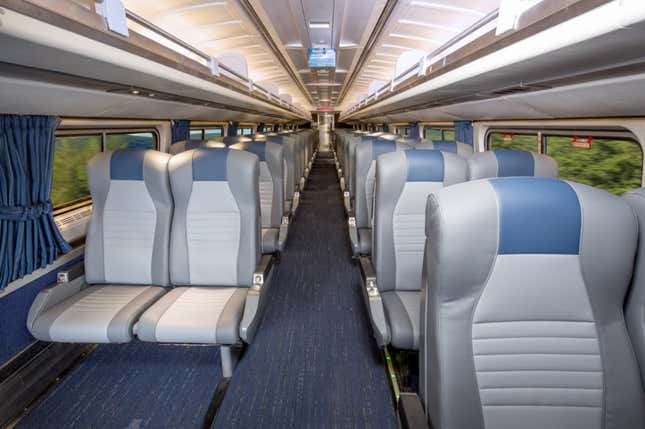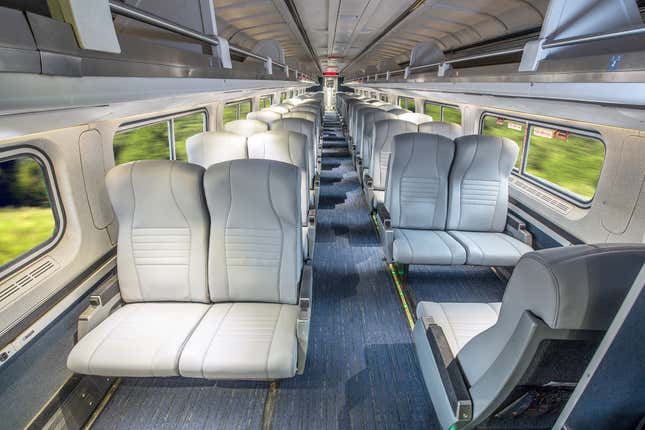 Copland says he's itching to address the trains' very dated and poorly-laid out restrooms. The current updates are minimal—new LED bulbs, removing a seam on the vinyl floor and eucalyptus-scented air freshener.
The last time Amtrak renovated its interiors in the late 1990s, it gave itself 9 years to complete the project. This time, they're racing to meet a 9 month deadline. This meant that its designers were limited to upgrades that can be implemented swiftly overnight. Here's a behind-the-scenes video showing those overnight makeovers:
Simon assures that the makeovers will not cause any train delays. The refresh is expected to be completed by June 2018.
Copland says he's delighted to see people's reaction to his team's work. "The great thing about working for the railroad is that designers typically see their concepts in the world. It can be very frustrating to work on concepts, concepts, concepts," he said. "It's really nice to see it materialize."
Amtrak says that it has partnered with a recycling center to make sure the 133 tons of out-of-date seat cushions, carpets and curtains don't go to landfills.
Along with a new find-your-gate app designed to lessen the queuing mayhem during boarding, the design refresh is part of the beleaguered company's effort to improve its customer service. Former Delta Airlines CEO Richard Anderson, who has an ear for customer experience and design systems thinking, will take the helm as Amtrak's CEO next month.