If you judged solely by the major fashion players ditching fur, you might think the fur industry was collapsing.
On Dec. 15, after years of pressure from the animal-rights group PETA, Michael Kors and its subsidiary Jimmy Choo became the latest to announce they would no longer use fur. Gucci had made the same decision in October, just a few months after Yoox-Net-a-Porter group, fashion's largest luxury e-tailer, declared it would no longer sell fur products. These companies added their voices to an anti-fur chorus that already included businesses such as Armani, Selfridges, Stella McCartney, Ralph Lauren, and more.
Today, thanks to developments in materials, brands attracted to the look and feel of fur no longer need to risk alienating customers who reject it on ethical grounds. "Due to technological advances in fabrications, we now have the ability to create a luxe aesthetic using non-animal fur," Kors said in a statement.
But while sales of real fur have slumped lately in some Western markets, such as Germany, they're still comparatively booming in China. In 2015, the most recent year with full data available, retail sales of fur in China were $16.9 billion, according to the International Fur Federation (IFF), which represents a variety of member associations in the fur trade, from trappers to auction houses to designers. By contrast, sales in 2015 didn't pass $1.5 billion in Germany, Russia, or the US, which are some of the world's other big fur markets.
The imbalance isn't just due to population. For perspective, the US market for personal luxury goods was three times larger (pdf, p. 10) than China's and Hong Kong's combined in 2015, according to figures from Bain & Company.
"Certainly in the last 10 years, there has been a huge growth in fur in China," says Mark Oaten, CEO of the IFF. "It's been phenomenal."
Fur sales in China have dipped slightly over the last two years, due to a government anti-corruption campaign that put a halt to lavish gifting among officials, coupled with a broader decline in spending on luxury goods as the economy stumbled. Some young Chinese, who tend to be more concerned about sustainability and environmental issues than older generations, are turning away from fur, too.
But the long-term expectation of the IFF is that fur will continue to thrive in China and other parts of Asia more broadly, such as Korea. In cities including Beijing and Shanghai, luxury shoppers are still buying up furs as status symbols. Oaten says these customers skew a little more youthful than the demographic buying fur in Europe, and wear fur more casually, with jeans and high-end sneakers, for instance. Even off the mainland in balmy Hong Kong, shoppers are eagerly spending on lighter furs, as the South China Morning Post recently reported.
But one of the big reasons for the size of China's fur market is only evident when you look to people living in the smaller second-tier and third-tier cities in China's brutally cold regions, where it can drop below -20 degrees Celsius in the winters. In these areas, fur is practical, and popular with shoppers for its warmth and durability, explains Sander Jacobsen, executive vice president of animal health and public affairs at Kopenhagen Fur. It's "nature's own outerwear material," he says.
Kopenhagen Fur is the largest fur auction house in the world. Like any raw material, fur skins are a commodity, and fluctuate in price. Fur producers, including farmers and trappers, generally sell their pelts through auction houses to buyers and brokers, who supply fashion brands. Kopenhagen Fur, Jacobsen says, exports more than 95% of the skins it sells to Asia, particularly China—which is also the primary customer for most of Denmark's large fur industry.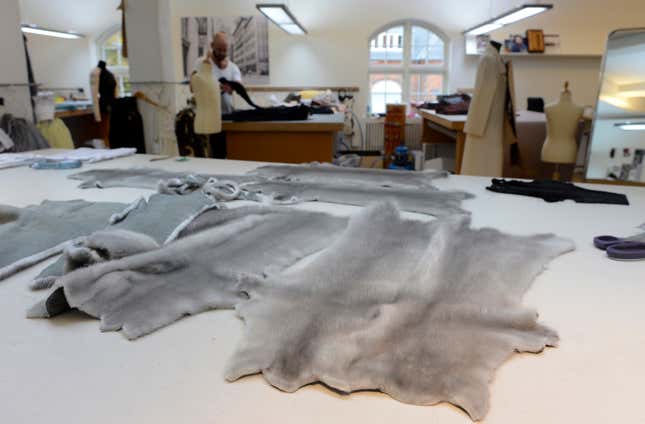 Though demand for fur may be healthy, fashion brands nonetheless risk a backlash when they sell it. Of Gucci's fur ban, CEO Marco Bizzarri told Business of Fashion, "I need to do it because [otherwise] the best talent will not come to work for Gucci." Millennials, who make up a large share of Gucci's customers and prospective employees, tend to demand more environmental and ethical responsibility from companies than older generations.
Consumers in the West haven't exactly shunned fur either. Despite Gucci's recent decision, one of the brand's biggest hits in recent years was a loafer lined in kangaroo fur. Fur trims, like those on Canada Goose coats, continue to draw buyers. Still, there's often a tangible stigma against wearing ostentatious fur items, such as full-length coats.
The ethical debates over fur that have raged in the West haven't been quite so loud in China, where associations around animals can be very different, particularly in more rural, farming areas. You don't really see the same "Disney-fication" of animals that you often see in the West, Oaten says.
But concerns over animal welfare are certainly present in the country, particularly among younger generations. Chinese fur farms are largely unregulated, and videos of animal cruelty occasionally turn up. As the Global Times reported, a 2005 video showing a raccoon being skinned alive at a fur farm in Suning county, in Hebei Province, has recently started circulating again in China. "In random interviews recently conducted by Southern Weekly, more than half of all interviewees said that they had seen similar videos of Chinese furriers or leather workers mistreating animals," Global Times wrote, citing the regional newspaper. "One woman in her 20s said that she stopped wearing fur coats after seeing that Suning video clip."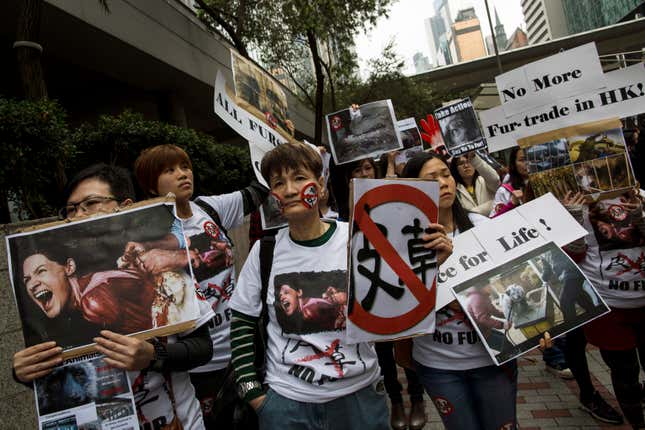 An analysis (pdf) of the global fur trade by Henning Otte Hansen of the University of Copenhagen earlier this year estimated that China produced about 32 million mink skins in 2015, roughly double what it produced in 2010. Denmark was the next largest producer, with about 17.8 million skins, an increase of about 24% over its 2010 production.
Oaten says the actions of brands such as Gucci do influence ethical choices in China, too, since shoppers there—like those across Europe and the US—often take their fashion cues from the major Western fashion houses. "Any decision that Gucci or another brand makes in relation to fur does have some impact in China," he says. "They want to buy fur, and they want to buy Gucci fur."
Of course they won't be able to beginning in 2018, when Gucci phases it out of its clothes and accessories. Meanwhile, the appetite for fur is projected to increase in China, as the country's middle class expands and wealth flows to new, young consumers, including in those second-tier and third-tier cities. "The last 10 years, the retail sales have been growing," Jacobsen says, "and due to beneficial socioeconomic factors, we only have reason to believe that this growth will continue."