WWD confirmed this morning that Phoebe Philo, the British designer at the helm of Céline, will depart the label after presenting her final collection, for Fall 2018, in March. While the game of designer musical chairs between fashion labels has become commonplace, Philo's exit after a decade marks the end of an era at the LVMH-owned fashion house, and for the world of women's fashion overall.
LVMH doesn't disclose revenues for individual labels, but Céline is widely understood to be a powerhouse, which Philo roughly quadrupled in size over her tenure, buffeted by a host of hit handbags.
But Philo's legacy at Céline will go far beyond her impacts on LVMH's bottom line.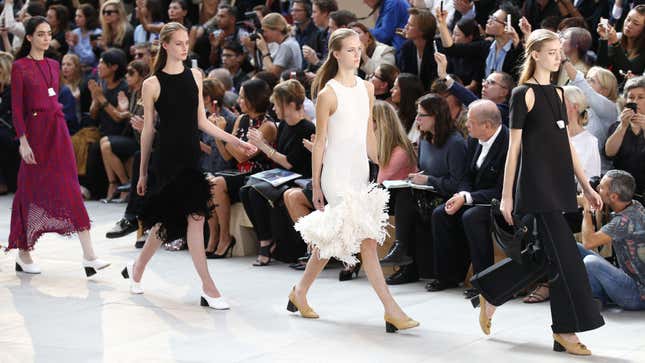 At Céline, she changed the way women dressed by recognizing and respecting that women don't have to wear their power in a way that's loud, or overtly sexual. The oversized camel coats, lofty turtleneck sweaters, modern jewelry, and white Stan Smiths that have become a uniform for urbane women globally? That's all Philo. Her looks on the runway—and the outfits she wore to take a bow after her shows—were widely imitated by admirers and fast-fashion imitators. It's hard to imagine that the accessible, menswear-inspired looks that have filled Zara's women's department over the last several years would have existed without Céline's influence.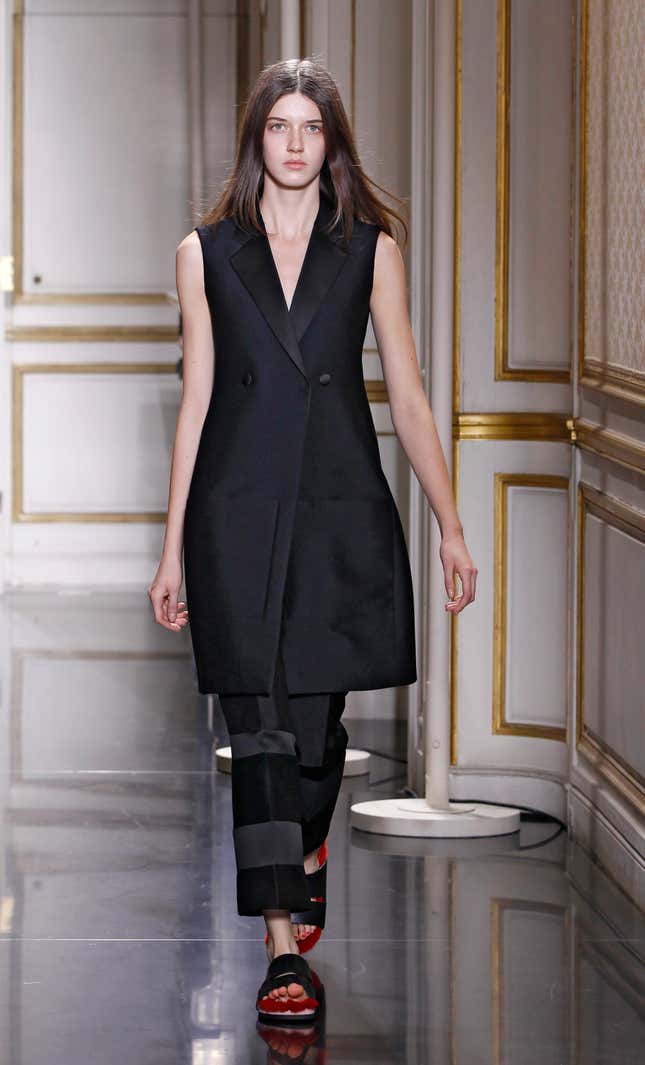 And the shoes! In addition to Céline's oft-imitated block-heeled pumps and Philo's own white Stan Smiths, the designer showed sandals and heels covered in fur that looked shorn from the back of a very luxe Muppet. They were funny—but they were also kind of fabulous. And without them, I might not be leaving the house today in burgundy shearling-lined Birkenstocks.
While Philo created clothes that powerful women—gallerists, bankers, and editors among them—long to wear, she herself became a role model for self-assured (and stylish) feminists who won't apologize for putting themselves and their families first. (Philo shied away from the spotlight herself, but gave "Philophiles" everywhere something to swoon over when she put Joan Didion in her ads in 2015.)
As a designer at Chloé in 2005, Philo skipped a season for maternity leave—a phrase not commonly uttered then in the high fashion world—and then left altogether in 2006, for a two-year hiatus before joining Céline. With Céline, she moved the headquarters from Paris to London, where her family lived, and forewent a runway show in 2012 when she was expecting her third child. No word on Philo's next moves, but WWD reports that she has no immediate plans to work for another label.