The red carpet at the Golden Globes wasn't supposed to be about fashion today. Instead, the spotlight was on the #TimesUp campaign, which some 300 women in Hollywood launched to raise awareness—and funding—for blue-collar women who have suffered sexual harassment and discrimination. They asked that women (and men) show their solidarity on the red carpet by wearing black, instead of the usual array of jewel tones, dazzling metallics, princess pastels, and blazing reds and yellows.
I love fashion, and I relish the semiannual unscripted inanity of E! Live from the Red Carpet at the Oscars and the Golden Globes. This year, I expected the tensions to be higher and the fashions to be, well, lower. I was afraid that, as the Washington Post's Robin Givhan predicted, a sea of black dresses would function as "social camouflage."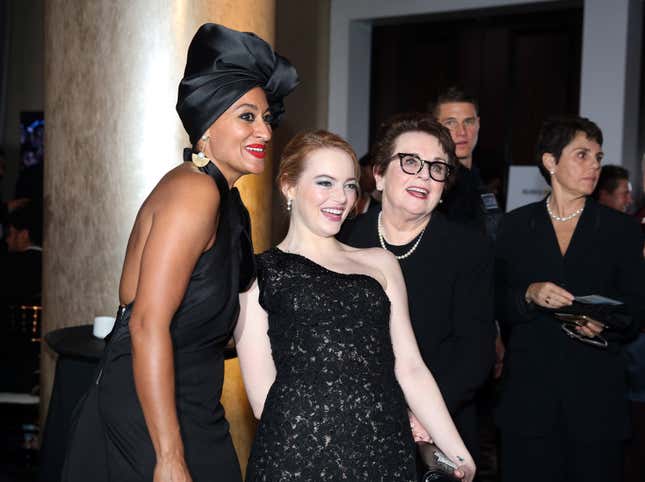 Instead, the activist-driven dress code—and the informal embargo on the fashion media asking actors "Who are you wearing?"—didn't just amplify the message that "time's up" on gender-based violence and inequality. It also seemed to amplify the brilliance of the messengers themselves, who dazzled with confidence and individuality (not to mention diamonds). For once, no one looked like their dress was wearing them.
"[Black] can be construed as a somber color," said Alison Brie. "But actually the atmosphere is so celebratory and powerful."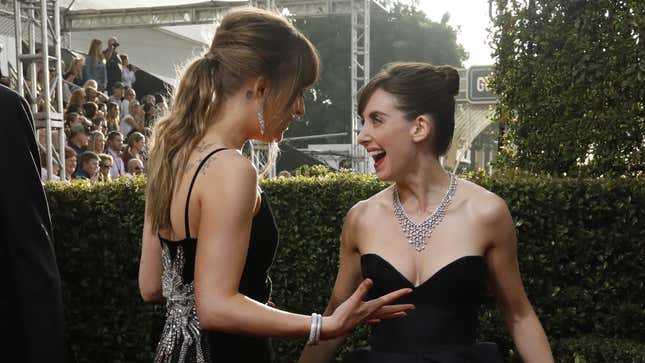 To be sure, the fashion designers whose work the actors are wearing deserve credit for their work—and are already receiving it on fashion-focused websites such as InStyle, where it's relevant. But the truth is, watching women talk about their work, and issues that are important to them and society at large, makes for better television than hearing them rattle off, again and again, "Atelier Versace, Armani Privé, ForeverMark, Lorraine Schwartz," etc, etc.
Instead, we got to hear Viola Davis tell viewers at home that women are "born worthy," and that abuse is not their fault. We heard Jessica Biel take credit for role as an executive producer on The Sinner and thank her husband Justin Timberlake for helping to hold their family together. We watched Sarah Jessica Parker admonish Carson Daly for failing to wear a "Time's Up" badge, Debra Messing call out E! for failing to pay former cohost Catt Sadler a salary equal to her male counterpart's, and Michelle Williams expertly ignore a question about learning she was nominated for best actress, and turn the attention to her activist companion on the carpet, #MeToo founder Tarana Burke. Burke was one of several activists and organizers who arrived on the arms of A-list actresses on the red carpet—spots usually reserved for a spouse, sibling, or proud parent.
No one looked less beautiful for wearing black, sharing the spotlight, or for talking about something other their gowns, tuxes, or the contents of their handbags. Quite the contrary. It might just be the beginning of a new era for the red carpet.