The largest consumer electronics trade show, formerly called Consumer Electronics Show and now solely known as CES, is happening in Las Vegas this week, with Quartz reporters reporting for a special edition of the Daily Brief—but it's not just robo-cars and virtual reality. CES is an opportunity for companies in the cosmetics and skincare industry to unveil their latest innovations, which often involve both Instagrammability and biomedical engineering.
These prototypes, from a disposable wearable that tracks your UV exposure to an appliance that customizes your skin serum every day, rely on Big Data to optimize your skincare routine. It makes sense: even without fancy apps, the most precision-oriented beauty devotees are updating spreadsheets to chronicle the pH balance of their products.
Here are some innovations planned for your bathroom counter:
Amazon's Alexa is your new dermatologist and makeup artist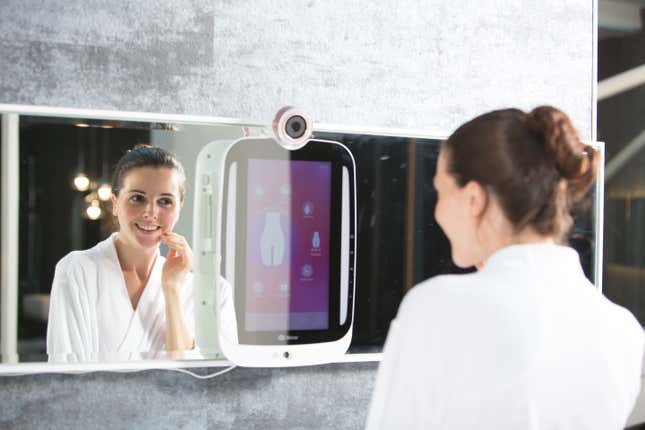 She's not just your personal weatherman. The HiMirror, a countertop bathroom mirror which relaunched with Alexa built in, will give you makeup tutorials and skincare advice based on your actual face. There is a camera that can count your wrinkles and blemishes, too. There is also a bathroom mirror by Kohler which is equipped with motion sensors and Amazon Alexa. And Amazon just patented its own in-house smartmirror.
Adjust your beauty routine based on the effects that products have on your skin over time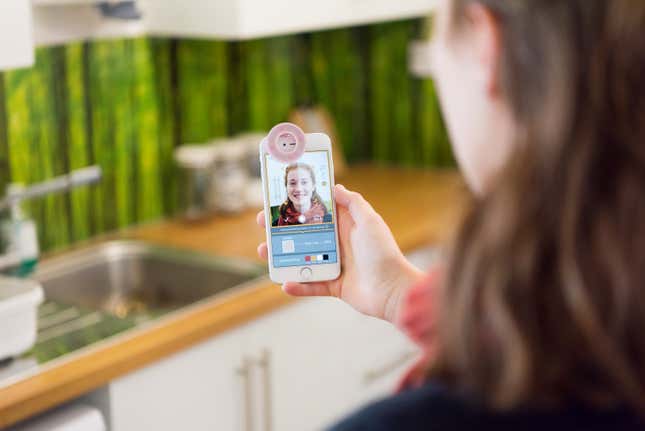 Product design firm Cambridge Consultants came out with the Skintuition skin diagnostics platform today, which comes in two models: a smartphone clip-on, and a tabletop tablet for brick-and-mortar stores. Here's how it works: take a selfie of yourself using the smartphone app. The clip-on is a circle of LED lights surrounding your camera, which is a low-cost way of optimizing your image for analysis. "Current solutions either involve expensive hardware, or are limited in the quality and accuracy of the data they can obtain," Edward Brunner, head of Asia consumer business, explained. From the app, you can measure the progress of the effects of your skincare products or identify the exact shade of foundation you need under disco lights, fluorescent lights, or natural sunlight.
LVMH-owned beauty retailer Sephora has already pioneered a similar in-store technology called Sephora + Pantone Color IQ, which takes a photo of your skin in-store and allows you to shop foundation and concealer shades online based on this skin analysis.(I've tried this, and it's great. It solves the problem of buying matching skin makeup online without the convenience of testing the product.) And at CES 2018, Neutrogena also came out with a similar "skin scanner" technology.
Never again forget to re-apply sunscreen with a wearable that measures UV exposure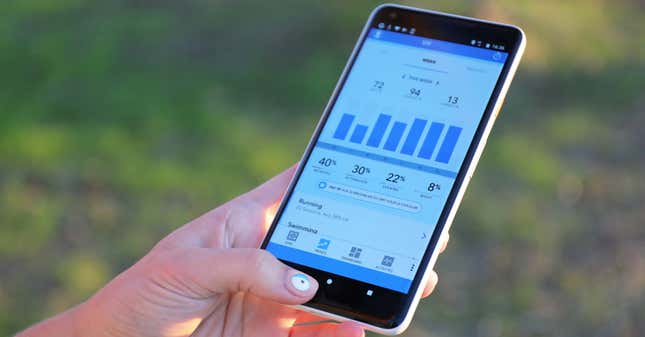 L'Oréal USA is launching a battery-free wearable under the La-Roche Posay brand, maker of award-winning sunscreens, later this year—just in time for summer. The waterproof wearable, UV Sense, is less than two millimeters thick and worn on your thumbnail because your hand is one of the parts of your body that receives the most sunlight. Unlike your typical wearable, the UV Sense is not battery-operated. The con is that the adhesive has to be replaced every two weeks of use. The pro is that you never have to worry about losing power. Here's how it works: put the UV Sense, which looks like a piece of nail art, on your thumbnail using included adhesives. Sync it with the smartphone app, which transmits the data via Near Field Communication (NFC)-enabled technology. The app will map and chart your UV exposure throughout the day, as well as providing accompanying environmental concerns like air pollution based on geospatial data. And, of course, it will recommend La-Roche Posay products, like anti-aging products.
"The reality is that people want precision for their day-to-day lives." Guive Balooch, the global vice president and head of L'Oreal's Technology Incubator, explained on the phone. The company is rolling out the products with dermatologists first, before working with beauty bloggers and influencers. With UV protection, after all, credibility comes before Instagrammability.
Make a new skin serum every day based on your individual skin concerns, environmental factors, sleep habits, and lifestyle
If you're juicing, you'll want to try this—according to the team at Romy Paris, this $800 countertop appliance uses similar technology to what you'd find in the infamously failed and pointless Juicero, aka squeezing pre-packaged ingredients. Except this time, the technology might actually make sense: you're not picking fresh hyaluronic acid from your orchard, after all. Based on your individual skin, environmental aggressors like pollution, and lifestyle factors like sleep habits, this "skin juicer" makes a custom cocktail for your skin every morning, using an app, of course. (Note: WWD likened a prototype of this appliance to Nespresso for your face, which, as my colleague Rosie Spinks explains, might not be so flattering after all.)