If you've ever made, or dreamed of making, a trip to Paris, chances are the Latin Quarter was on your list of places to see.
Located across the 5th and 6th arrondissements on the Left Bank, it's famously steeped in culture, once home to painters and philosophers, and frequented by generations of students attending the Sorbonne. In the 1920s and 1930s, Hemingway haunted its bars and bookstores, and in May 1968, it was the locus of the student protests that racked the city.
But like bohemian enclaves all around the world, this legendary neighborhood is undergoing dramatic gentrification. The latest victim of the trend is a 157-year-old fine arts supply store that has been selling colorful paints to artsy customers since 1861.
On Jan. 20, Dubois Beaux Arts, located just steps away from the Panthéon and the iconic Luxembourg gardens, will close its doors for good. Marked by its dark green facade and an antique sign in the shape of a painter's palette, the store was already an anomaly on a road dotted with banks, designer clothing stores, and fast-food restaurants.
This road, Rue Soufflot, was once full of bookstores, but rents have risen in recent years and the increasing tourist traffic hasn't done much to help niche, family-run businesses survive. Millions of tourists come to Paris every year to enjoy its unique artistic and cultural heritage, attempting to follow in the footsteps of the famous writers and artists. And yet you'll see long lines outside the nearby outlet of the gelato chain Amorino, but very few out-of-town visitors wandering into Dubois—and even fewer who buy something there.
When I was a journalism student in Paris back in 2014, I lived a few streets behind Rue Soufflot, and walked past Dubois everyday. For one of my very first TV journalism assignments, I was lucky enough to film the colorful store, and interview the wife of its third-generation owner, Brigitte Dubois.
The story of Dubois (link in French) began in 1861 at a slightly different location. It was then the glory days of painting and fine arts in Paris, marked by the rise of Impressionism, and the original store, then called Merlin et Denis, produced and sold paint on the nearby Rue de Médicis. In 1919, the grand-father of the current owner bought the business, which then included the store on Rue Soufflot, and expanded its production and range of colors. Over the coming decades, the business changed its name to Dubois Beaux Arts, and was passed on to his son and then his grandsons. Still, it continued to sell fine art supplies to a loyal clientele.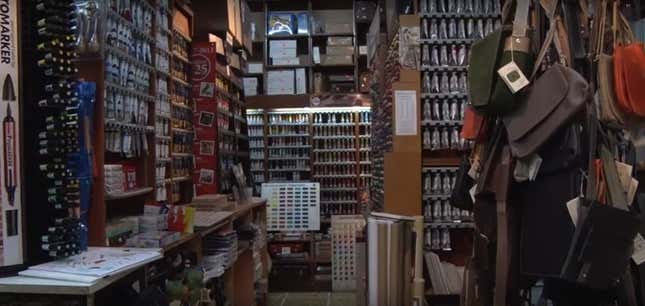 But in recent years, it became clear that specialty art supplies alone wouldn't keep the business alive. So Dubois added a few Paris-themed notebooks and other souvenirs to cater to the thousands of tourists walking by. Ultimately, though, its owners knew that the golden era of art & culture-related small businesses was coming to an end in Paris. Even beloved bookshops such as La Hune, which once counted Jean-Paul Sartre and Simone de Beauvoir as customers, couldn't last.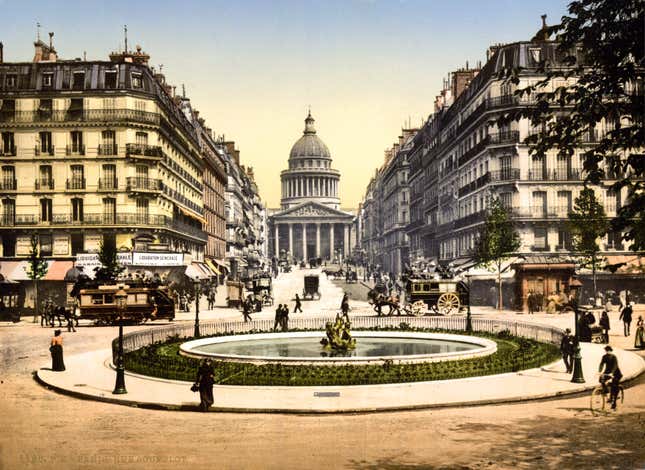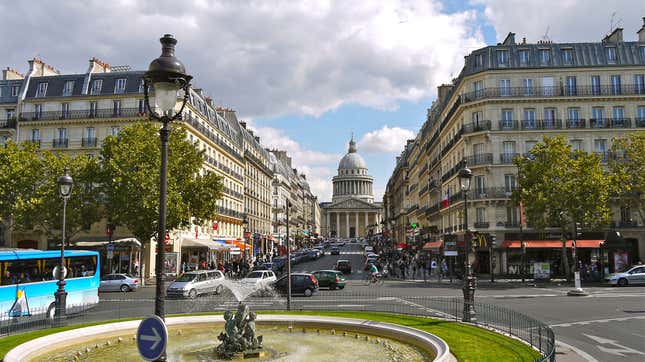 During our conversation, Brigitte Dubois told me about the changing nature of Rue Soufflot, and the Latin Quarter itself. She also told me I was recording a place that wouldn't exist in just a few years. "The Latin Quarter is disappearing," she said then.
Four years later, it seems like it's already gone.
Image of Rue Soufflot today by Marie Thérèse Hébert & Jean Robert Thibault on Flickr, licensed under CC BY-SA 2.0.