It's not uncommon for museums to loan art to the First Family. The Obamas preferred a modern, abstract aesthetic (paywall) with the likes of Mark Rothko from the National Gallery of Art, while the Kennedy's opted for a more romantic vibe with works like Delacroix's The Smoker from the Smithsonian American Art Museum.
But when the Trumps asked New York's Guggenheim Museum to lend them Vincent van Gogh's' 1888 Landscape with Snow—a quaint portrayal of a man walking his dog in the French countryside—to decorate their private living quarters, the emailed response from the museum's chief curator was firm: A van Gogh original wasn't available. But they did have an 18-karat, fully functioning, solid gold toilet (paywall) available on long-term loan.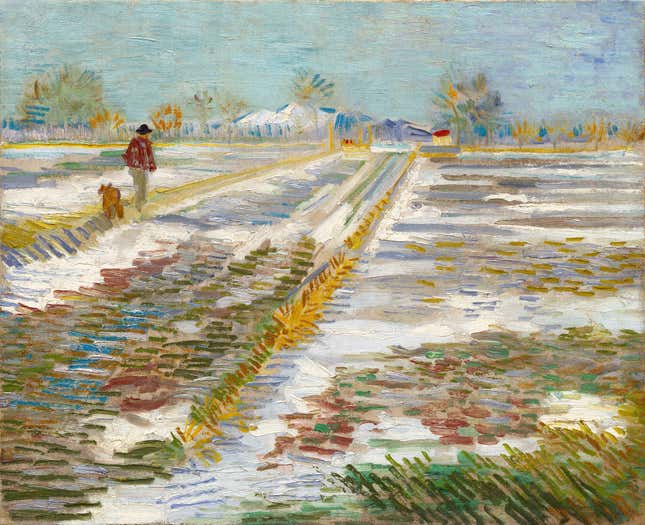 The piece, by satirical Italian-born artist Maurizio Cattelan, is titled "America" and is thought to be a commentary on excessive wealth in the US. The toilet had just been retired from a yearlong interactive exhibit on the Guggenheim's fifth floor, where visitors were able to use it high above Central Park.
In a 2016 blog post last year, Spector wrote that over 100,000 had waited in line to commune with the toilet. One visitor described the experience, explaining that the seat "wasn't cold, because the line to use it is so long. And you have to wait awhile between uses because they have people clean it before it's your turn."
"It is, of course, extremely valuable and somewhat fragile, but we would provide all the instructions for its installation and care," wrote Spector in her email to the White House (the toilet itself is rumored to cost over $1 million). When asked why he would offer the pricey piece to the White House, the artist gave a predictably artistic answer: ""What's the point of our life? Everything seems absurd until we die and then it makes sense."
The museum has been accused by some as taking a cheap shot, and offering the toilet as press bait. But the irony is that the work is not outside of the Trump aesthetic. The president's affinity for gold fixings has a well-documented history, especially when it comes to bathrooms and elevators. The toilet, which allows regular people to interact with  "an extravagant luxury product seemingly intended for the 1%," is undeniably in Trump's wheelhouse.
But while Trump is known for trimming furniture in gold, he's is also a self-described germaphobe, so it is not yet clear if he will accept the previously used toilet. His three-story, $100-million penthouse in New York City is decorated with 24-karat gold and marble features in the style of Louis XIV, but Snopes says rumors that the president already has an actual gold toilet are not true.