If you want to know who's likely to win a major sporting event, it might be wise to look at who fashion designer Vera Wang is dressing. Last night, the cheerleaders of the 52nd Super Bowl's surprise champions, Philadelphia Eagles, wore uniforms designed by the New York City-based designer, who is best known for making coveted bridal wear. The Eagles cheerleaders have been dressed by Wang since 2013, and she is the first prestige designer to collaborate with an NFL cheerleading team. This year, the team wore tri-colored boy shorts and bra tops underneath their satin jackets and leggings, along with sparkly black sneakers also designed by Wang, in the climate-controlled stadium.
Wang, however, is not just a one-sport wonder—this former ice skater has a long history designing Olympic figure skating outfits.  At the upcoming 2018 Winter Olympics, for instance, she will dress U.S figure skater Nathan Chen. She also designed several iconic costumes for Olympic silver medalist and figure skater Nancy Kerrigan—from a neon yellow dress with a pink beaded bustline to a delicate white dress worn at the 1994 Olympics, which has become legendary lore compared to archrival Tonya Harding's homemade costumes. Wang has also dressed other figure skating champions—male and female— like Evan Lysacek and Michelle Kwan.
Wang is a former competitive athlete herself—she competed at the 1968 U.S. Figure Skating Championships but failed to make the U.S. Olympics team, which led her to pivot her interests to fashion. For 17 years, she was an editor at Vogue, leaving in 1987 when she was passed for the position of editor in chief. (Anna Wintour was appointed, instead.) Like Giorgio Armani, Wang didn't launch her eponymous line until age 40. In 2009, she was inducted into the U.S. Figure Skating Hall of Fame not for her athletic achievements, but for her contributions as a costume designer.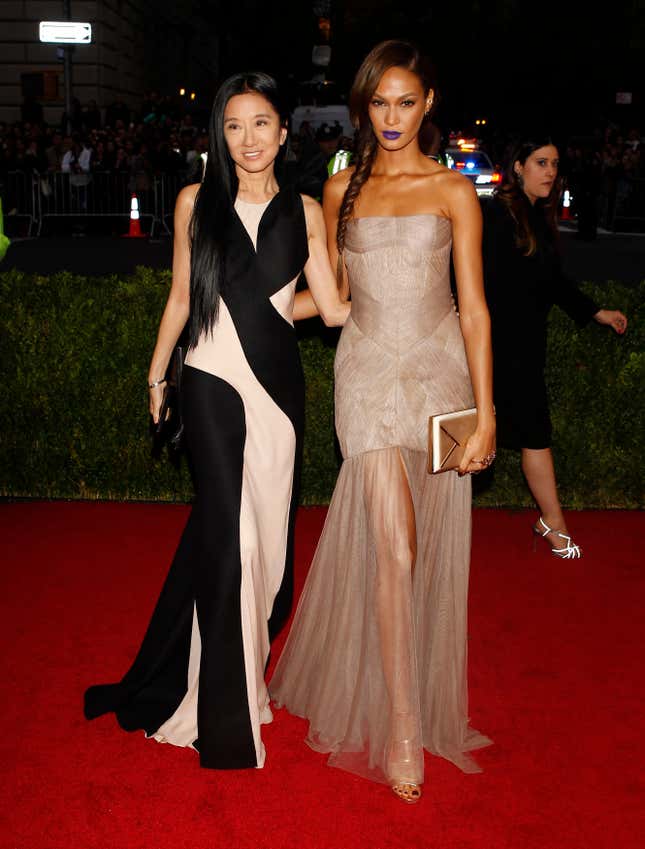 Few modern-day fashion designers are as versatile as Wang is: in addition to her custom designs for athletes, she is arguably the only fashion designer who has become a household name in wedding gowns. Her designs have been referenced and worn in shows like Sex and the City, Buffy the Vampire Slayer, Gossip Girl, and The Simpsons. (Yes, it was a cartoon illustration.)
She has a cheaper ready-to-wear line licensed by Kohl's. She has outfitted celebrities such as Selena Gomez, Kim Kardashian, and Viola Davis on the red carpet, and former First Lady Michelle Obama wore a gown of hers to the 2015 China state dinner.
Perhaps what makes her designs so desirable to blushing brides, red carpet A-listers, and Olympian champions alike is that she is trusted to not sacrifice functionality for style: "I know that my own years of training on ice and off, made me painfully aware of the need for comfort, ease, and stretch," Wang told WWD. They're three attributes that Wang-wearers will hopefully take with them from Minneapolis to PyeongChang.