I, like many 20-something-year-old women who have Instagram, would like to be a Glossier girl: clear-skinned and bold browed, maybe a statement red lip when I feel like it. Doesn't sweat off her makeup because she barely needs makeup in the first place. The millennial favorite beauty company whose motto is "Skin first, makeup second" made its name in "cool girl" minimalist branding, imploring you to wear less makeup because you, Glossier girl, are already beautiful—which is easier to say when you haven't had two decades of cystic acne like me.
But in January, the brand came out with its first product that blatantly acknowledges the existence of acne: Solution, a daily face exfoliating tonic. I eagerly got my own bottle to see if this $24 pink-packaged wonder would finally turn me into an Instagram-famous Glossier girl.
But the launch of Solution didn't happen without controversy. Glossier isn't particularly concerned with explaining the science behind the products. "[Glossier CEO Emily] Weiss chooses not to share the details of her products' formulations," Amy Larocca noted in a recent profile in The Cut. "She just doesn't think her customers care about ingredients if they're happy with the results."
The new Solution, for example, contains a proprietary blend of alpha hydroxy acid (AHA), beta hydroxy acid (BHA) which includes salicylic acid, and polyhydroxy acid. This blend makes up 10% of the formula—but you don't know the exact ratios of the active acids, which are used to exfoliate and brighten your face. Salicylic acid, which makes up 0.5% of the solution, is the only labeled active ingredient. But perhaps that doesn't matter because it works, at least for some people: Glossier's only marketing campaign photos for the product were before-and-after photos of people who used Solution for four weeks.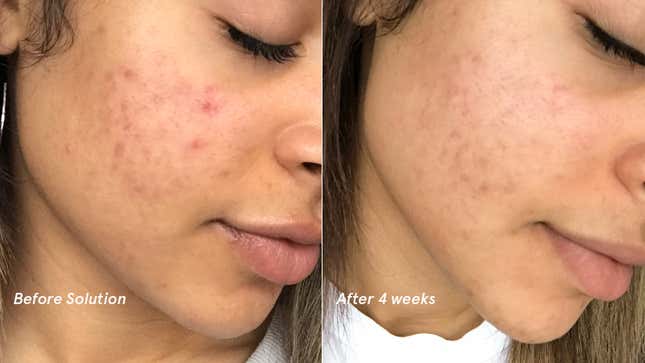 "I think people do care about what, exactly, go into their skincare products," New York City-based dermatologist Sejal Shah, MD, said. She uses Solution herself, but questions the lack of transparency around the formulation. "With acids, the exact ratio of each ingredient makes a difference to every individual's skin," she said. We know that 0.5% of the formula is salicylic acid, and that the other 9.5% of the acid blend is a company secret—and to Shah, that's not enough information.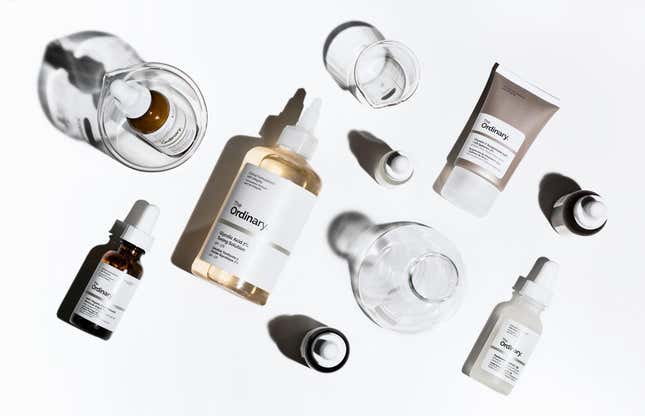 For those who want radical transparency in their beauty products, there is The Ordinary. In June 2017, Estée Lauder Companies invested in its parent company, Deciem, a no-frills vertically integrated beauty company founded by Brandon Truaxe, a former computer programmer who realized that consumers were overspending for the cost of raw ingredients in their products. Unlike most beauty companies (including Glossier), Deciem keeps costs down through ownership of the entire production process, from manufacturing to laboratories to e-commerce to production development.
As noted by Rachel Syme in the New Yorker, Deciem—and its most iconic line, The Ordinary—markets itself as the opposite of snake oil: you know exactly what the ingredients are, and you know exactly what you're paying for. "No one in the world would pay $50 for aspirin when you can purchase it for $5 but in the world of beauty, you can easily find virtually the same formulations ranging from $5 to $500+," Nicola Kilner, co-CEO of The Ordinary, explained over email. Glossier is a case study in beauty marketing; Deciem recently announced that it would cut all marketing costs. The brand came under fire when Truaxe reportedly fired the marketing teams, posting social media updates on the company's Instagram alluding to internal conflict in the company.
But Glossier claims that its subtle lack of transparency is a matter of safeguarding business assets, not conspiracy. "The reason why we don't get into specific percentages for each [acid] is because we'd be giving up trade secrets," a spokesperson for Glossier explained over email, noting that ingredients are chosen for 1) efficacy and 2) "sensoriality," which is the ineffable quality that makes a product feel good when you put it on. For example, Solution contains fragrance, which is an unnecessary ingredient that may make the formula smell more pleasant and less like nail polish remover, but can also irritate sensitive skin.
Glossier Solution is not unique as an acid exfoliator—you have options. There is Biologique Recherche Lotion P50, the fabled chemical exfoliator that smells like formaldehyde. It is such a cult favorite, it can only be purchased through authorized spas and aestheticians in 72 countries.  There is also Pixi Glow Tonic, which is 5% alpha hydroxy acid only. The products' price points rank in the same order as the strength of their acid formulas: Biologique Recherche Lotion P50 > Glossier Solution > Pixi Glow Tonic.
In fact, in spite of my best efforts as a beauty writer armed with a Rolodex of dermatologists to treat me, my skin is still covered in cystic acne, hyperpigmentation, and scars. Does Glossier work? I can't answer that question. Three weeks into using Glossier Solution, Glossier Milky Jelly Cleanser, and Glossier Priming Moisturizer, I look exactly the same. The products did what they were supposed to do: the Solution exfoliated, the Milky Jelly cleansed, and the Moisturizer hydrated. The problem was me: I never had Instagram-ready skin in the first place, and products designed for the genetically gifted won't transform the rest of us.
Which is why when a product finally "works" on my skin, I want to know exactly why it works—because it happens so infrequently. Sure, beauty brands need to protect their formulations. But in cases like Glossier, it comes at a disadvantage to consumers with serious skin issues to address—and a lifelong quest to address them.