There are a handful of things Taylor Swift makes headlines for: New boyfriends, new music, and now, new property buys.
The New York Post reported that the pop star has spent a cool $47.7 million snatching up properties on a single New York City block in Tribeca. Her most recent purchase is a nearly $10 million second-floor apartment at 155 Franklin St, a building where she already owns a duplex penthouse, which she bought for $19.95 million in 2014. What's more, Swift also owns an $18 million townhouse next door at 153 Franklin St.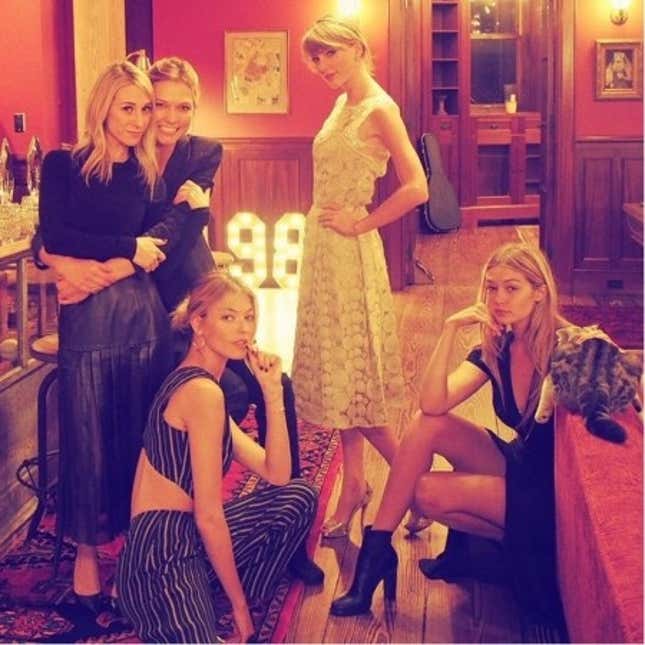 So what's the deal, Tay Tay? 155 Franklin is a popular spot with young celebs: Aziz Ansari is an occupant, as was recently noted in a young woman's account to Babe.net of her terrible sexual encounter with the comedian. And Tribeca itself is a favorite neighborhood for celebs, attracting the likes of Kanye West and Harry Styles.
But the singer's properties—which combined give her nearly 17,000 square feet just to herself—follow a greater trend of what rich millennials are demanding in homes today: Elbow room.
The 'New Aristocrats'
Rather than voice-powered refrigerators and glass elevators, the new generation of affluent homebuyers have somewhat surprising requests: Massive homes close to good restaurants and family. Oh, and a jacuzzi.
These young buyers, unlike the self-made Swift, are primarily powered by a surge of inherited wealth.  Most are receiving an inheritance of nearly $4 million, which they'll get their hands on earlier thanks to a Bush-era tax law that makes inherited wealth available sooner to heirs, and see more of thanks to Trump's tax bill.
Dubbed "the new aristocracy" in a report by Luxury Portfolio International, wealthy buyers ages 25 to 49 will power the luxury real estate market for the next three years, and nearly a quarter of them said they want at least 20,000 square feet in their next home.
BIGGER IS BETTER
Source: Luxury Portfolio International
Security cameras (54%), commercial-grade kitchen appliances (52%), hot tubs (45%), and, surprisingly, a formal dining room (41%) were also deemed "essential." As for style, Victorian (28%) homes beat out modern pads (27%).
The generation of excess
Even though she wasn't born a millionaire, Swift's townhouse features the same classic trappings demanded by the new aristocracy: The multilevel unit (in addition to a paparazzi-proof garage) has a kitchen with premier appliances, a great room with large skylight and fireplace, bedrooms with walk in closets, and a dining room.
New York-based interior designer Sasha Bikoff—a favorite of the young and wealthy—says that she's not surprised that deep-pocketed millennials are upsizing. She notes that in cases like Swift, people assume that because she is a young, single woman, she would seeks modest digs to better manage her own property—but that's not the case. Bikoff says her younger clients are interested in more space to better entertain guests and show off possessions.
"We're living in the generation of excess," she adds, "It's a materialistic generation. Young people collect art, have a lot of clothing…They want their possessions on display."
"Your home is a reflection of who you are as a person," she concludes, "You flaunt your success through your home."