Once a year, Google turns over its homepage to one brilliant young artist. Now in its 10th year, the Doodle 4 Google art contest invites primary and secondary school students to submit their most creative rendition of the Google logo. But budding Picassos should get working, as the deadline for this year's contest is Friday, March 2, at 8pm PST.
This year, Google wants kids to honor the people, places, or things that inspire them. "We're excited to have kids (and parents) reflect on what most inspires them by creating a unique, uplifting doodle using any medium—crayon, paint, silkscreen, wood, computer chips, chocolate chips…," reads the description of the 2018 theme.
Google Doodles started as a jokey out-of-office message scrawled by co-founder Sergei Brin and Larry Page who were signing off to go to Burning Man in 1998. ("Just in case the servers crash.") Today, a team of illustrators, graphic designers, and engineers work year-round to "surprise and delight" users in their various regions. From Brin and Page's elementary scrawl, Google has created some incredibly sophisticated Doodles such as the wildly addictive PacMan tribute of 2010 or last year's epic homage to hip-hop.
Google 4 Doodle's top prize package is pretty sweet: American's top kid doodler gets $30,000 in college tuition money, $50,000 worth of tech equipment for their school, and a private tour of Google's mythic campus in Mountain View, California. But the most thrilling reward may be working with the Google Doodle department to transform the sketch into an interactive feature for the world's most visited website.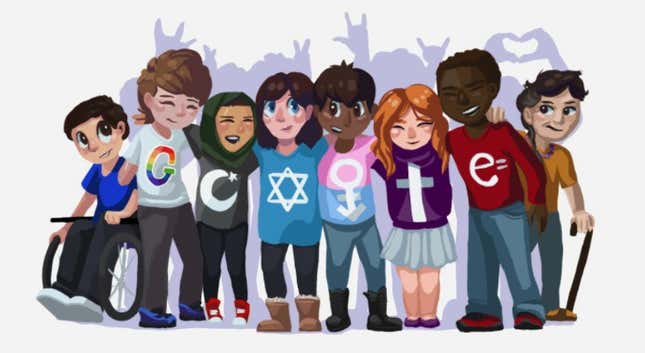 Finalists will be selected by a panel helmed by actor Neil Patrick Harris. (Curiously, no graphic designers or artists are on the celebrity-heavy committee.) The public will vote on the winner from a shortlist of 54 entries. Fifteen-year-old Connecticut student Sarah Harrison bested 140,000 submissions last year with a cheery picture of diversity and acceptance she calls "A Peaceful Future."
Google hosts several region-specific Google 4 Doodle contests around the world. The US competition is open to students enrolled in an educational institution or homeschool based in the US, Puerto Rico or Guam. This year, kids of US military personnel living abroad can enter too.