It's a common sight on Instagram: a low-angle shot of a sneaker with a soft, flexible knit upper that hugs the foot. The shoe style is hugely popular at the moment. When people want to show it off in pictures, they often plant their feet flat, toes pressed down to create a silhouette with a smooth line from the top of the foot to the toe.
That stance was front of mind for the designers of Adidas's newest sneaker, the Deerupt, which releases on March 22. It's a lifestyle shoe with running roots that date back to a 1979 style, the Marathon, one of the last that the company's founder, Adi Dassler, worked on himself. The updated shape of the Deerupt, though, has actually been designed specifically to look good on Instagram.
"We increasingly see Instagram pictures where people shoot their sneakers with their foot planted down, making sure that the toe is pressed down," Adidas's global senior design director for its Originals line, Oddbjorn Stavseng, told the fashion and sneaker site Highsnobiety. "So when you see Deerupt, you'll see this same 'toe-down' effect, which was a purposeful design choice."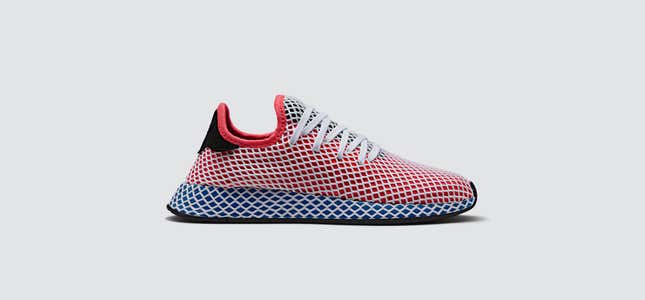 Instagram has become a huge gathering place for sneaker fans. The visual focus makes it ideal for sneaker blogs and individuals to upload an unbroken stream of shoe photos, including plenty of those toe-down shots that inspired the Deerupt:
The Deerupt, which gets its slightly awkward name from the union of "disrupt" and "erupt," has a soft mesh upper, making it a good candidate for these sorts of shots. One of the key features of the shoe is a midsole with a mesh support structure used on the Marathon and on the New York, an early 1980s style.
It makes sense that product designers are taking cues from Instagram trends. The first encounter many of us have with new products now happens through a smartphone screen. And at this stage, Instagram's gravity has a pull that goes far beyond beyond sneakers. The Brooklyn ice cream brand Van Leeuwen told Quartz last year that it had redesigned its packaging to make it "very Instagrammable," and was enjoying a sizable sales bump as a result. Many restaurants now create their interiors with Instagram in mind.
In fashion, Instagram's effect is also noticeable in the recent resurgence of highly visible logos. Demna Gvasalia, the creative director of Balenciaga and part of the collective behind Vetements, has been at the forefront of this revival. "It's a way of communicating that's very adapted to the internet era: you can see immediately where a garment is from if it has a logo," he told Business of Fashion (paywall) last year. "It has a visual immediacy that's easily instagrammable."
Stavseng made a similar point to Highsnobiety. "The digital world is becoming increasingly important," he explained. "For us, it's always a good gut check if the shoe looks good in photographs—changing how we look at design and how we review shoes as well."