Westin's planet-saving plan sounded simple enough: make kids pajamas from old bed sheets. In an effort to reduce the tons of textile waste that go into landfills each year, the 88-year old Marriott-owned hotel chain created Project Rise: ThreadForward, a new initiative to turn old or damaged hotel linens (a.k.a "ragouts" in industry parlance) into sleep wear—and donate them to charity. It's the first large scale textile upcyling program in the hotel industry.
Proposed by a hotel employee through an in-house call for ideas, Westin saw Project Rise as a viable way to contribute to its charity-giving goals—and bolster sustainability efforts while touting its signature sleep-oriented Heavenly Bed program. After six months and a million dollars in R&D, Westin learned that embarking on a pajama-making enterprise wasn't so easy as following a simple sewing pattern.
To meet the safety requirements of the U.S. Consumer Product Safety Commission (CPSC), Westin ended up having to break down its ragout sheets and towels down to its fibers. The threads were then woven into a new breathable jersey knit fabric which became the raw material for the pajamas. "There are laws around cut and fit, as well as flammability," adds Brian Povinelli, Westin's SVP and global brand leader who finally unveiled the pajamas at a press event in New York City last week.
The new unisex pajamas come in colors drawn from Westin's corporate branding palette and feature a whimsical illustration on the long-sleeved shirt. Its cut was very much influenced by US sleepwear safety rules. According to a CPSC safety bulletin, tight-fitting sleep clothes for kids nine month to six years of age aren't required to be made of flame-resistant fabrics because they doesn't ignite or burn as easily, as loose-fitting versions.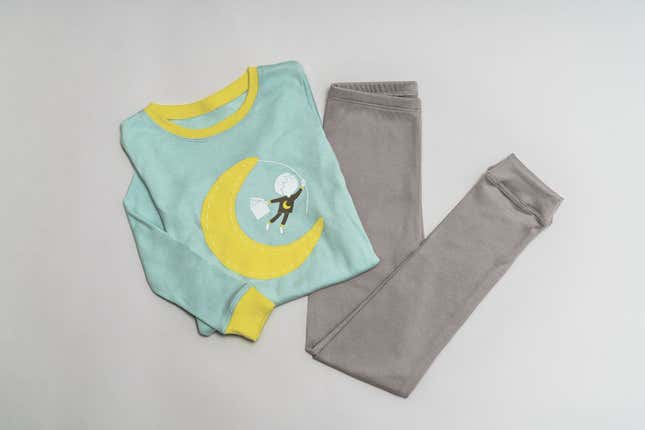 Westin plans to distribute the first 1,500 sets made from the upcycled linens via the product donation platform Delivering Good who will provide them to children's charities in New York City, Cape Town, South Africa, Toronto, Canada, Mexico City and Singapore. A few sets will also be sold for $25 on the Westin's website, with proceeds going back to the upcycling initiative.
Doing good for the planet requires not just imagination, but minding the supply chain and assessing the environmental costs of making and transporting of goods. Povinelli says they're still ironing out aspects of the manufacturing process with sustainability experts from Divergent Energy and Clean the World which is renowned for its hotel soap recycling program. "We are still finessing some of the manufacturing details, as our partners work through whether to manufacture all at once or in smaller batches," he tells Quartz. For now, Westin's pajamas are all made in one factory using 30,000 lbs. of discarded linens sent in by some 50 hotel branches.
It's unclear whether Marriott's other hotel brands will follow the Westin's lead, or if Westin plans to require all its 269 branches around the world to participate in Project Rise. "Our goal, quite simply, is to inspire the industry to think differently about wellness, sustainability and giving back," says Povinelli. Prior to Westin's upcycling scheme, finding a place for discard linens was typically left to individual hotel branches. Most ragout bed linens end up in shelters, disaster relief drives or made into cleaning rags, if not thrown away.