There is perhaps no city more idealized, and more written about, than Paris. And yet, for tourists and travelers embarking on their first visit, there is also no city that's easier to get wrong.
The Louvre, Ladurée, Champ de Mars, the Eiffel Tower—newcomers are often torn between all the sights to be seen and the buttered baguettes to be eaten. But in this mad rush to tick items off a list, visitors—whether stalwart tourists or trendy Instagram geotaggers—often miss how it feels to experience Paris in the un-frenzied way of locals.
Whether it's visiting the neighborhood terrasse for an early evening apéro; eating an impromptu lunch in one of the city's stunning, manicured green spaces; or buying leeks and champignons from a bio vendor on a Saturday morning, Paris is best discovered with an attitude of sensory enjoyment rather than box-ticking achievement.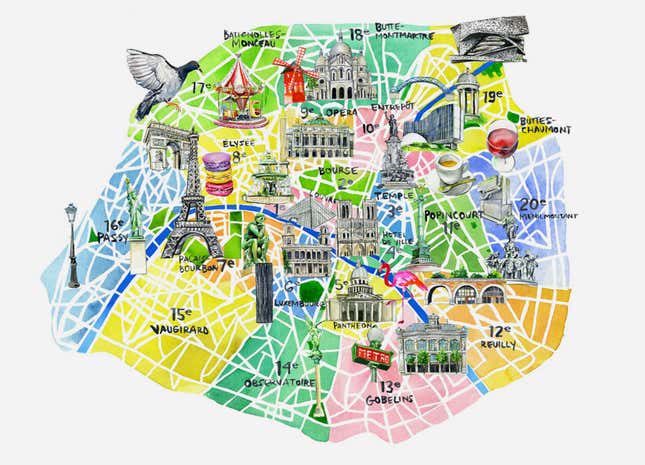 A new book from two long-time expats and Paris insiders revolves around the idea that the best way to see Paris is to do as the locals do and explore it on foot. Paris in Stride is part walking guide, part visual exploration of the city's charms, and part argument that visitors can discover the city with the laid-back curiosity of longtime residents.
Illustrator and co-author Jessie Kanelos Weiner says the book's seven walks are designed to be a starting point for discovery. Rather than listing rigid itineraries, these meanders are inspired by the way she and her co-author Sarah Moroz discovered the city: by getting lost instead of never wandering too far from a metro station, lest you miss the next itinerary item.
"Instead of visiting a city and doing a bunch of Google searches of places to go, with no logical way to connect the dots, we wanted to give readers a sense of how we walk around the city as locals," says Kanelos Weiner, who moved to the city a decade or so ago from Chicago. "We might go to a certain place for lunch, maybe stroll by the Palais Royal afterwards, and then stop to admire a curious store window along the way."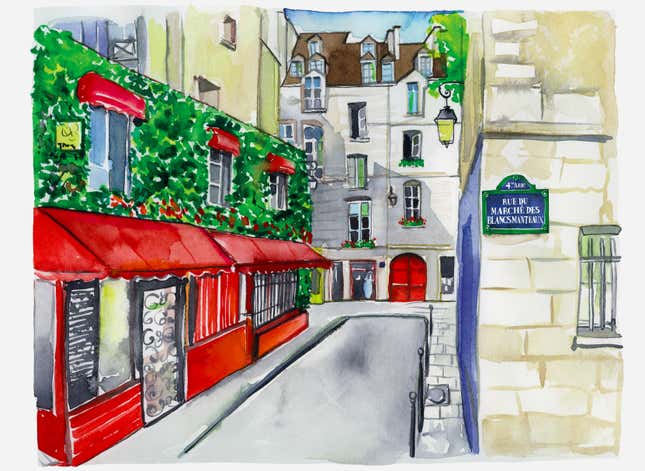 Paris's charm lies in what you see while walking through it—not the attractions you cross off a list while racing around it. In fact, if you decide to skip the long-lined art galleries all together, Paris's Haussmann-style architecture gives even the city's most pedestrian streets a museum-like quality.
As the city famously orients its neighborhoods, or arrondissements, in a spiraling snail shape, this can make following a path set by a conventional guide book all the more infuriating. As the book's introduction puts it, Paris in Stride "is intended to be helpful both in terms of cultural decoding and in terms of ease in circulation …. Suggestions are clustered according to the way one would naturally encounter them on foot, rather than according to the—somewhat arbitrary!—numerical chronology of the arrondissements."
Paris in Stride is hardly the first work to extol the inherent and delightful walkability of a city like Paris. Nineteenth-century French literature fixated on the flâneur, made famous by the French poet and philosopher Charles Baudelaire. The flâneur, which 20th century German philosopher Walter Benjamin would later describe"an amateur detective and investigator of the city," is someone who walks slowly with no fixed agenda, taking in the city's lessons, charms, and quirks. The compressed size of Paris lends itself to its walkability, too: at just six miles (roughly 10 km) wide, it can easily be traversed in a couple of hours.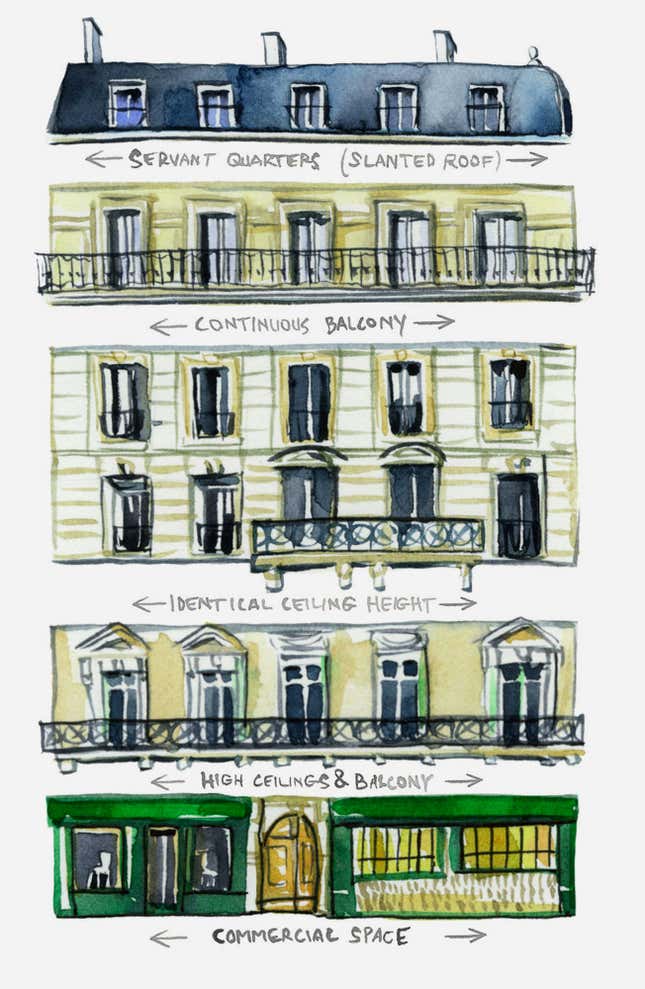 Even Anthony Bourdain, the high priest of off-the-beaten-track travel, has noted that most people get Paris wrong by trying to do too much: "Please, make the most of it by doing as little as possible," he said in a 2012 episode of The Layover. "Walk a little. Get lost a bit. Eat. Catch a breakfast buzz. Have a nap. Try and have sex if you can."
Adopting this laissez faire approach on your first trip to Paris might come with the downside of missing the most famous sights, which for some people may be non-negotiable. But, as Kanelos Weiner puts it, if you want to live in line with a local's view of the City of Light, skipping the queues and crowds in favor of, say, a lunchtime pichet of rosé will give you a more authentic and enjoyable experience.
"Even as someone who has fully integrated here," she says, "I don't live that kind of macaron life, so I'd rather share the things I've seen on the street—not the trends or the tourist attractions, but the timeless Paris and draws people back over and over again."