Subscribe to the Quartzy newsletter to receive this in your inbox each Friday.
Happy Friday!
I spent the end of last week at Baselworld, the annual trade show where makers of the world's most prestigious timepieces—think Rolex, Patek Philippe, and hundreds more—show off their new wares in Basel, Switzerland. (Pro-tip: If you find yourself in Basel, please have a gin and tonic at the bar in Les Trois Rois, the 300-year-old hotel on the Rhine.)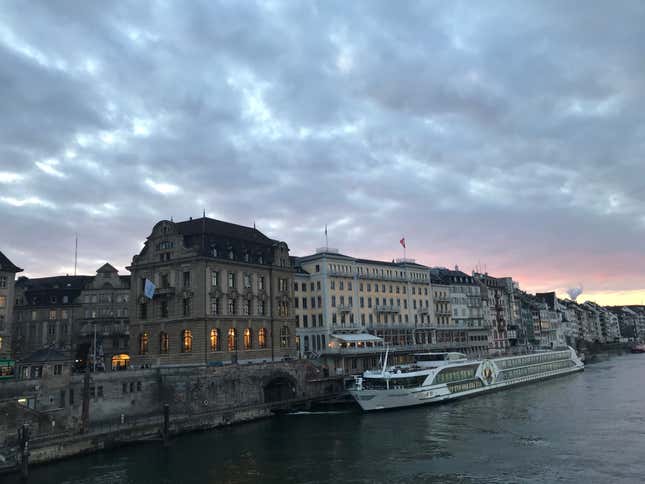 This year's Baselworld—my third—was the first time I saw a solid handful of watches I might actually buy or recommend to a friend, as opposed to a slew of unattainable wonders carrying six-figure price tags. Watch companies are licking their wounds from a dive in Chinese demand, and some estimates show Apple Watches recently outselling the entire Swiss industry. This is bad news for the people who make luxury watches, but good news for anyone interested in buying one on a limited budget, because watchmakers seem suddenly hellbent on attracting millennials. At least in my case, it might work.
I blame Gary Shteyngart
If you're remotely interested in watches and have not yet read Gary Shteyngart's "Confessions of a Watch Geek," get thee to the New Yorker. Shteyngart planted the seed for my horological desires with this 2017 story, in which the writer, who immigrated to the US from Leningrad as seven-year-old, attempt to assuage his pre-election dread by meditating (and spending) on the mechanical wonder and intrinsic value of beautiful watches.
"I remembered all those old Soviet-era Russians humming math problems in their heads or playing twelve hours of competitive chess with themselves," he writes. "In a society hopeless and cruel, the particular and the microscopic were the only things that could still prove reliable."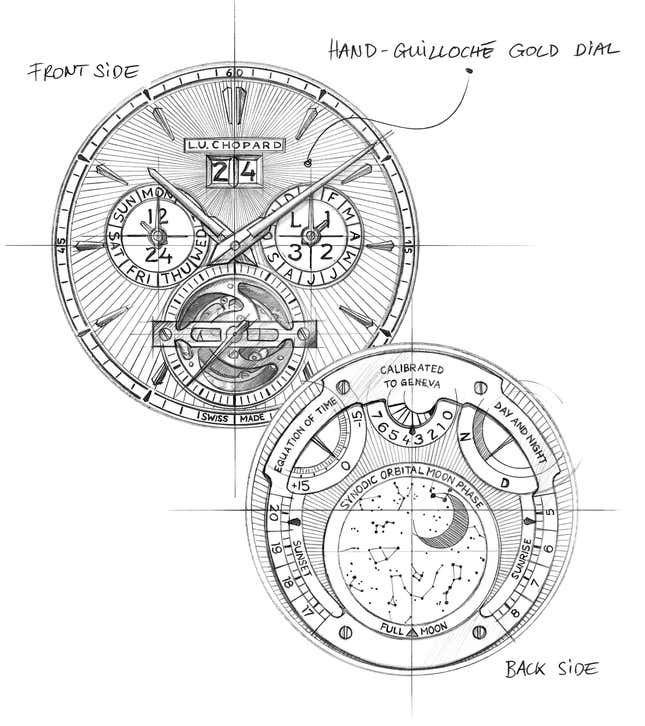 Speaking of reliability
The watches we're discussing are mechanical, powered by hand-winding, and automatic, powered by kinetic energy transferred from the movement of the wearer's wrist, as opposed to battery-powered timepieces, which send an electrical current through a quartz crystal.
Mechanical and automatic watches are actually less accurate than their battery-powered counterparts, but more technically amazing. For example, without access to servers or microchips, some willautomatically correct the date, adjusting for months with less than 31 days and leap years. And it's cool to see centuries-old companies continue to compete for technological "firsts" when it comes to feats of mechanical engineering. Bulgari showed us a carbon watchcontaining the world's thinnest minute repeater, which emits crystalline chimes specifying the hours, quarter-hours, and minutes.
I probably don't need all those features (which watchmakers call "complications"), but my quartz watch has needed a battery change for almost two years now. It's not that hard to swing by a jeweler, but you know what would be easier? Just winding it.
I recently got engaged (personal news!) and have been thinking a watch makes a pretty sweet wedding gift for a groom. Post-Basel, here are three I'd keep an eye out for at Duty Free, all of which clock in under €5,500.
Seiko Prospex 1968 Automatic Diver's Re-creation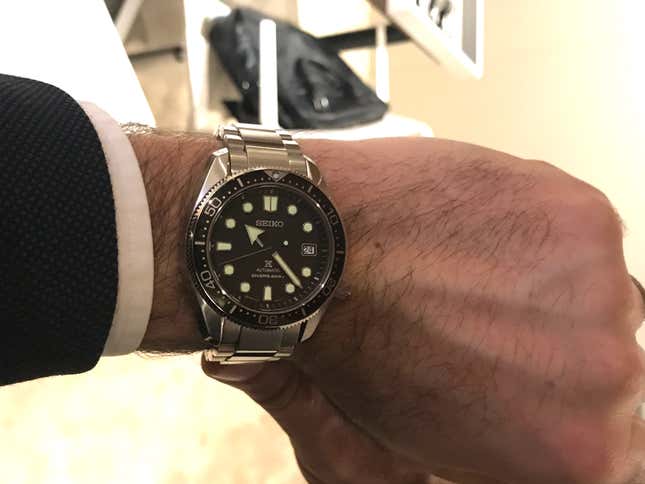 Seiko almost took out the Swiss watch industry when they introduced the quartz battery in the 1970s, but they still had some of the coolest mechanical and automatic watches at Baselworld. This year they redesigned some amazing diver's watches from the '60s and '70s. This one is a little slimmer than the techier Prospex models, which may make it better-suited for everyday life.
Omega Seamaster Railmaster
I was digging clean, sporty men's watches with brushed-steel bracelets both for their versatility and more accessible price points. I really like the Railmaster's mid-century vibe, but there's one caveat: the dial. It's got a sort of reflective, vertically brushed finish that may or may not do it for you. I'm still deciding, but was feeling the men's Omegas overall. Something for everyone there!
Rolex Oyster Perpetual with a white dial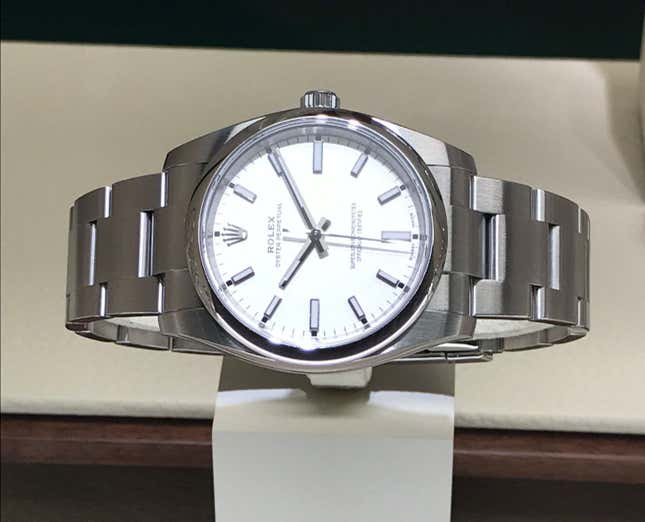 Call me basic but this is pretty crispy. Everyone at Basel was crowded around the "Pepsi" GMT II, which you can see in my roundup of some of the fair's best new watches. That's limited-edition and likelier to appreciate in value, but I'd be likelier to appreciate seeing this on a loved one's wrist for the next several decades.
Beyond bunnies: an Easter menagerie
Inspired by the discovery that the average American who celebrates Easter (it's Sunday!) spends $150 on food, clothing, and gifts for the holiday, Quartz food reporter Annaliese Griffin went shopping for the best easter treats that money could buy.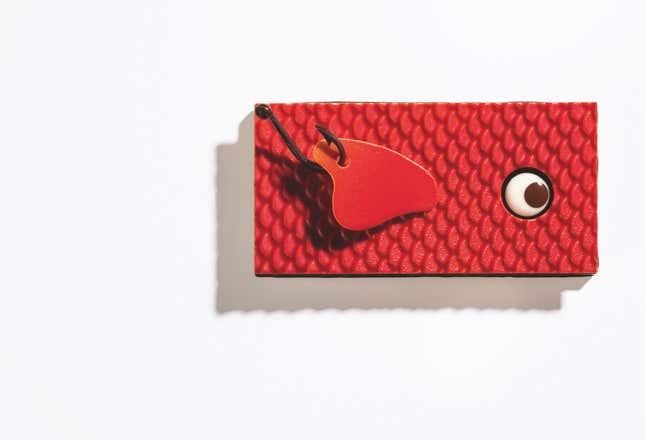 Here's her ideal $150 basket: two Maison du Chocolat fish ($40 each), 16 chocolate mice from L.A. Burdick's ($54), and two chocolate carrots from Lake Champlain chocolates ($7)—but the carrots are sold out online, so she'll just blow the remaining budget on Cadbury's good old candy-coated Mini Eggs, which happen to be are my all-time favorites. And come Monday, they'll be on sale!
Have a great weekend!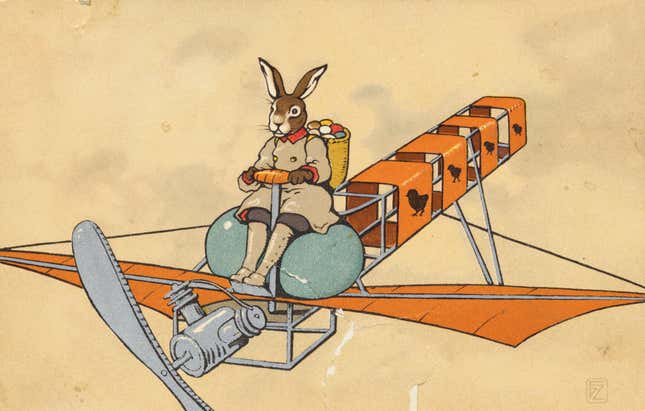 PS: A flourless chocolate cake—or nest
Passover begins tonight too, which means you may have the opportunity to end a seder with a flourless chocolate cake. I recently received a gift of vacuum-packed hazelnuts from Piedmont, Italy (classy!) and I used them in both the batter and topping of this deep, rich cake, from Bon Appétit. Technically the Frangelico wouldn't be Kosher for Passover, but unlike many liquors, its base is not a grain—so assess your crowd to see how strictly they follow the rules. Regardless, this dessert taught me a good lesson when it was cooling and a large can fell out of the cupboard and landed right on top of it: There's not much a dolloped nest of fresh whipped cream can't hide. I topped my cake with chopped hazelnuts. Nigella Lawson tops hers with—wait for it—Cadbury Mini Eggs.