There's no escape from Donald Trump, even at the Frieze. The image of the polarizing US president was all over the annual contemporary art fair held in New York City this week.
We're at an apogee of anti-Trump protest art and the Downtown for Democracy's booth at Frieze offers a great sampler: There's Marilyn Minter's plaque etched with a transcript of Trump's leaked Access Hollywood tape and a wishful print by Guy Richards Smit titled President Resigns (Wednesday, November 7, 2018). And there's Richard Prince's "18 & Stormy," a Photoshop provocation featuring a composite of the 18 women who have accused of Trump sexual misconduct.
Trump also manifests in Chinese artist Miao Ying's quixotic mixed media installation at the Boers-Li Gallery booth. Titled Satie bought seven identical velvet suits complete with matching hats that he wore uninterruptedly for seven years, the piece shows actor Nicholas Cage's face photoshopped on Trump's body.
Arguably the most fascinating anti-Trump piece at Frieze is also the subtlest. Folders is based on a news photo taken at then president-elect Trump's first press conference held on January 11, 2017. Reconstructed in cardboard by German sculptor Thomas Demand, the work which is selling for €95,000 ($114,000) at the Matthew Marks Gallery, features the stacks of manila folders that Trump offered as evidence of his efforts to divest himself from his corporation before being sworn into office. "These papers are just some of the many documents that I've signed turning over complete and total control to my sons," Trump said then, gesturing to the mountain of documents on a table next to him.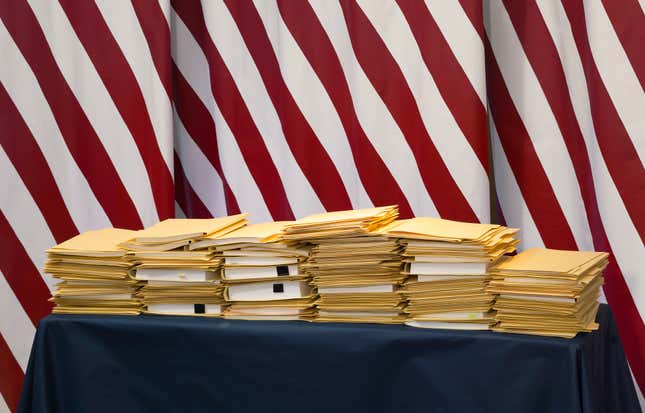 The folders were swiftly taken away after Trump finished leaving some reporters to believe that the papers were totally blank.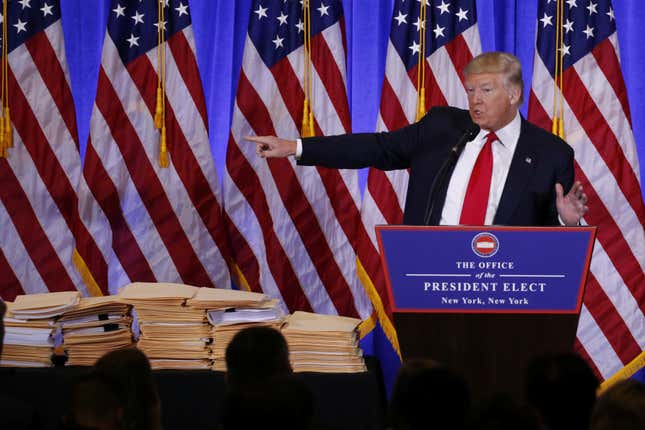 "No one knew how to digest this but I've been talking about fakes for a long time," Demand said to ArtNet. The celebrated 54-year old artist is a master of the constructed image. Mining news photos for inspiration, Demand sculpts life-size scenes and objects in cardboard, and then takes a photograph before destroying the set. Among his celebrated feats is a convincing paper replica of the Obama-era Oval office that he's juxtaposed with Folders at last year's Chicago Architecture Biennale.
It's unclear what type of art collector will vie for works with the face or the aura of today's most overexposed politician. But gallerists are optimistic that aligning Trump with art can at least spur sales. Speaking to ArtNet about a haunting anti-Trump piece priced at $325,000 at last year's Frieze, a representative from Sprüth Magers said, "we could have sold it ten times over."