Marvel is introducing the first batch of Chinese superheroes to its massive universe of more than 7,000 characters.
Yesterday (May 9), Chinese internet gaming giant NetEase released two sets of new comics on its online comic platform, featuring a bunch of original Chinese superheroes co-created with Marvel. These characters are the result of a partnership deal from about a year ago between the two companies. NetEase has since published a dozen Marvel comics including Captain America and Iron Man in China.
One of the new comics is titled 三皇斗战士 (link in Chinese), which translates as "Warriors of Three Sovereigns." It tells the story of an 18-year-old who picks up a legendary sword to fight against an evil creature based on Chiyou, a tyrant who ruled China about two millennia ago. In the first issue that went online yesterday, the protagonist Lin Lie is getting ready to travel to an ancient tomb to find his archaeologist father. Before leaving home, his first fight will be against a zombie disguised as a delivery man.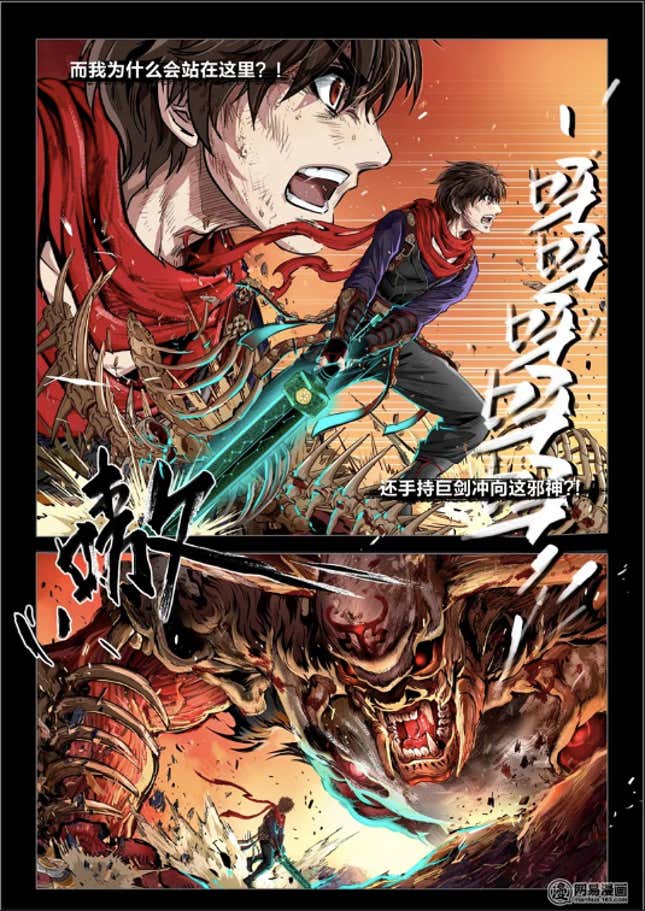 The other comic, titled 气旋, or Cyclone, features a young female architect who can control air currents and unleash turbulence. In the first issue, Lei Ling, as the guardian of an unnamed Eastern financial hub, destroys a building-turned-golem after a mysterious power seized control of the building she designed.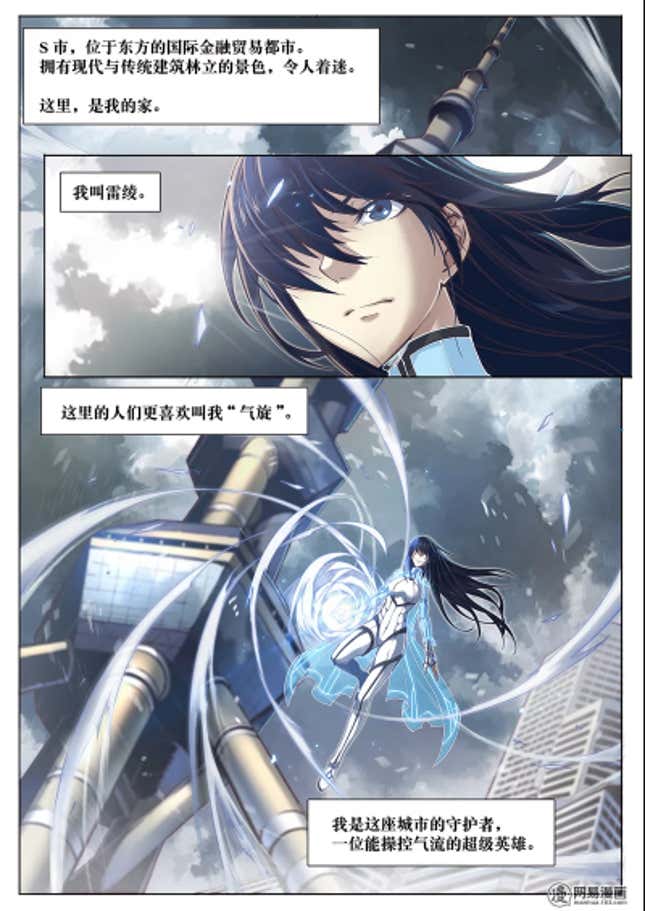 NetEase also released the bios of the main superheroes featured in the two titles: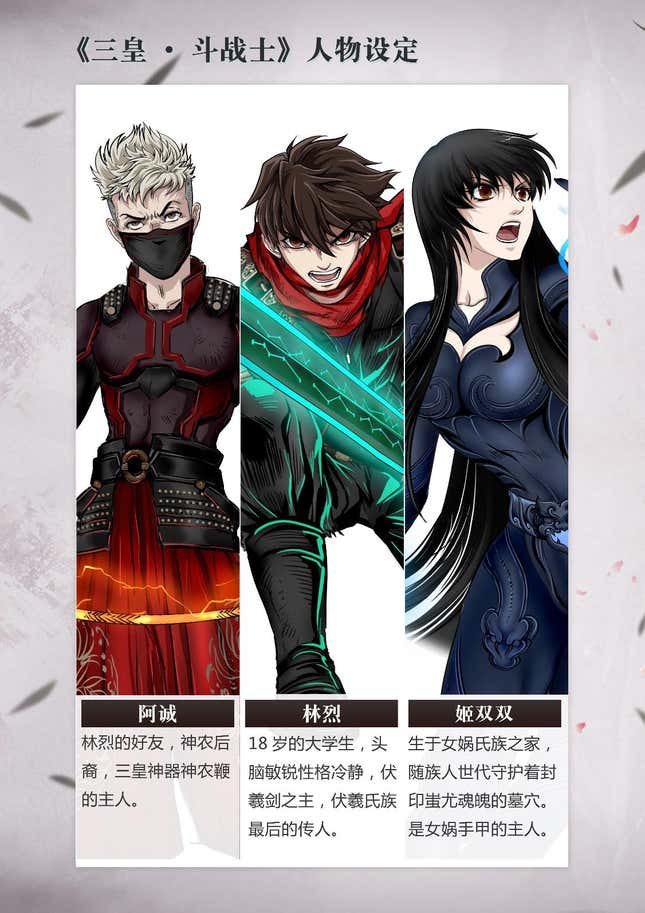 Lin Lie (center): An 18-year-old college student and owner of the Fuxi Sword. He's the last descendant of Fuxi, an ancient Chinese god who created humanity.
Ah Chen (left): Lin's friend, a descendant of Shennong, known as the God of the Five Grains. His weapon is the Shennong Whip.
Ji Shuangshuang: A descendant of Nüwa, a goddess who is Fuxi's sister. Like her ancestors, Ji's mission is to lock the Chiyou monster's soul in a cave to keep him from being reborn. She owns the Nüwa Gauntlet.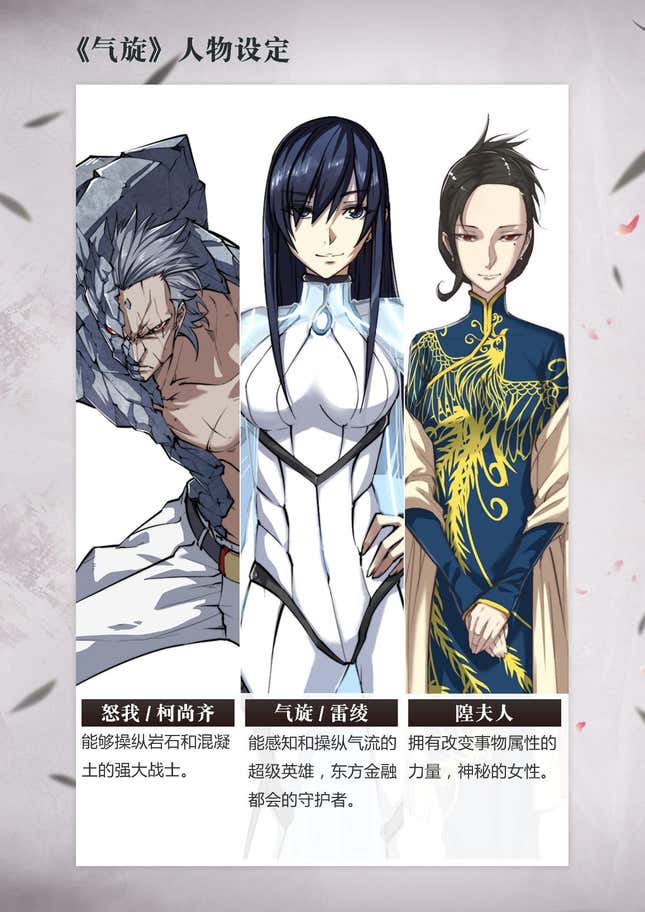 Lei Ling (center): Also known as "Cyclone," guardian of an Eastern financial hub. She can feel and control air currents.
Ke Shangqi (left): Also known as "Furious Me," a mighty warrior who can control rocks and concrete.
Madam Huang: A mysterious woman who, according to NetEase, has the power to "alter the attributes of things."
Marvel has established a huge fan base among China's youth, in large part thanks to its cinematic universe. The latest Avengers instalment just crushed the all-time advance-booking record in China, with nearly $50 million in pre-sales, one day before its local release on May 11. Marvel Studios has more than 3.5 million followers on Weibo, the Chinese equivalent of Twitter. Meanwhile, anime, comics, and games—together known as ACG—is a booming industry in China, with investors pouring millions of dollars into popular comics apps.
According to a NetEase press release cited by Chinese media, the two comics were created by Chinese artists and scriptwriters, and went through revisions by Marvel's editorial team, as per the normal Marvel process. The two titles will be published in the US too, but there's no specific release date. NetEase said the Chinese superheroes will be connected to the Marvel Universe, but didn't say how.
NetEase and Marvel didn't immediately reply to Quartz's requests for comment.
There's also an easter egg in the first issue of Warriors of Three Sovereigns, where an Iron Man mask is spotted in the protagonist's bedroom: