As the International Contemporary Furniture Fair (ICFF) kicked off yesterday, New York City is once again awash with stunning designer chairs. At Vitra's showroom is an altar to one design classic that changed how chairs were produced and sold. Fifty years ago, the Panton chair debuted at the imm Furniture Fair in Cologne, Germany.
Named after its creator Verner Panton, it was heralded as the world's first moulded plastic chair. Its sculptural profile is unmistakable—curvaceous, playful, colorful—it captured the spirit of the swinging '60's and landed on numerous magazine covers and movie sets. "I want to design furniture that grows up out of the floor…to turn the furniture into something organic, which never has four legs," explained the revered Danish designer.
The Panton chair, which retails for $310, is also among the most knocked-off designer chair models today—with lookalikes retailing for a third of its price. But there's an argument for paying $200 more for the original. For one, authentic, vintage design chairs command solid prices at auction. A pair of orange Panton chairs from 1968, for instance, is listed at $1,178 on Ebay and a well-preserved 1973 black Panton is listed at $975 at 1stDibs—or nine times its original retail price.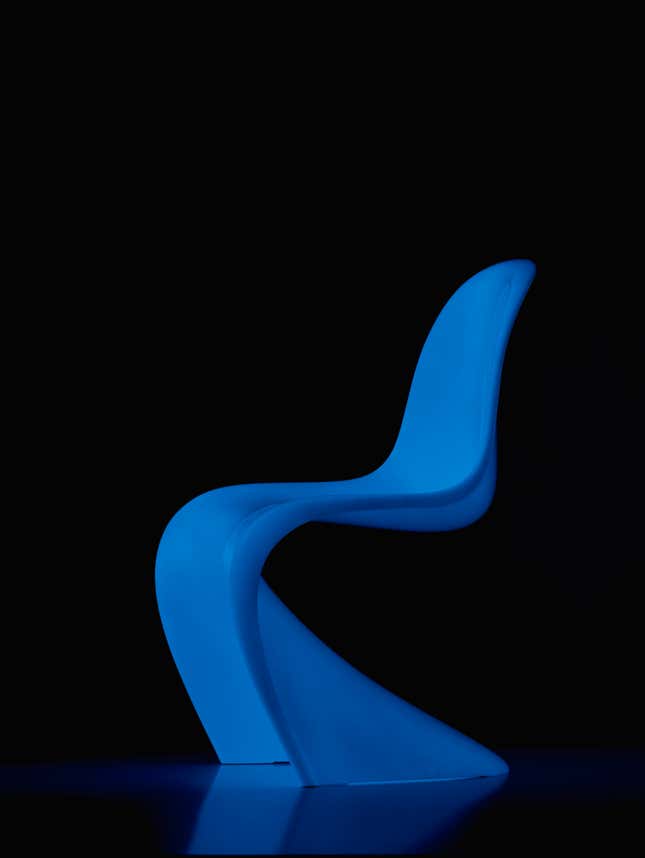 Beyond its resale value, paying for an original Panton recognizes the decades—and small fortune—spent perfecting the engineering required for the gravity-defying, sturdy, stackable and considerably affordable option we know of today.
The Panton chair's manufacturing saga is arguably as thrilling as its shape. Panton, who is remembered as one of Denmark's most influential furniture designers, agonized over how to make the legless design. Building on a concept he drew for a 1956 competition, he and his wife Marianne drove around Europe with a prototype in their car until finally striking a partnership with the Swiss furniture company Vitra.
With the support of Vitra's founder Willi Fehlbaum and technical expert Manfred Diebold, they spent five years testing the materials, process and finishing of the chair. "Fifteen to twenty manufacturers have tried it but have all rejected the project for different reasons," recalls Panton in an interview for Vitra's blog.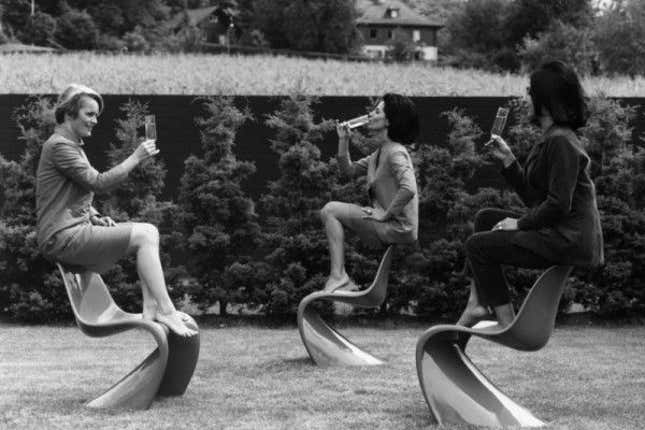 Experimenting with fiberglass, plastic, and polyurethane foam, the chair was an instant hit when it debuted 1967 for $75. To keep up with the demand, Vitra continued to improve its manufacturing process, tooling with an injection moulding machine that yields 18 to 20 units an hour. As a video produced by the Victoria and Albert Museum shows, its thrilling to see hot liquid plastic harden to a stable, gravity-defying chair.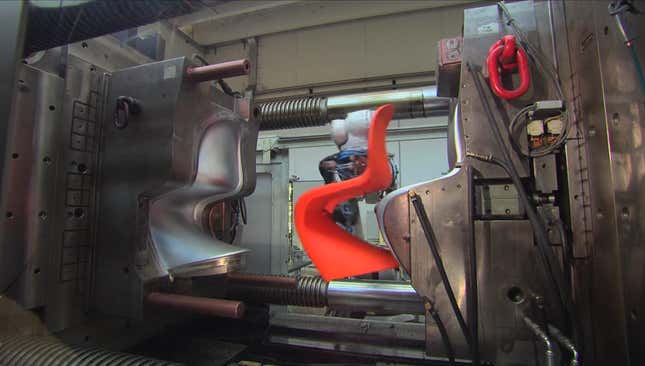 The most time consuming aspect of production is the hand-finishing stage when factory workers skim each chair's surface to smooth out ridges and trim off any extra plastic with a blade. Vitra's attempts to eliminate the human factor a few decades back proved disastrous. They had to halt production in 1979 after receiving numerous complaints that the type of thermoplastic they used snapped. It took 11 years to fix the problem, and they eventually returned to the original polyurethane foam material which requires time-intensive finishing by humans.