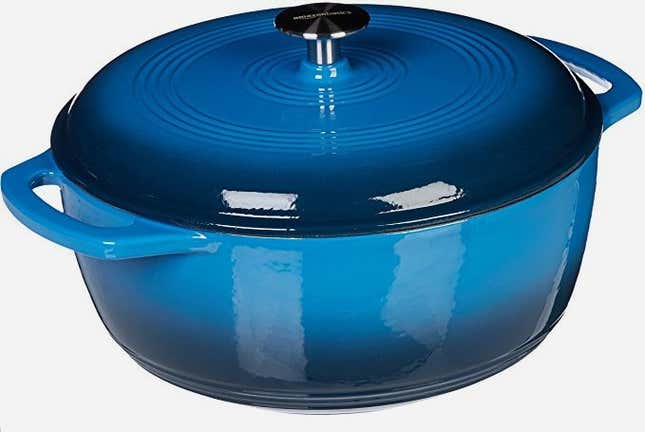 The Le Creuset enameled Dutch oven is a culty piece of kitchen gear. It weighs more than 10 pounds, costs more than $300, and when you see one on the stove, it announces the presence of someone who takes braises and stews seriously, and can afford to indulge that obsession.
It's also the latest consumer product whose market is being disrupted by Amazon. The online retail behemoth now offers three sizes of enameled Dutch oven under its AmazonBasics house label.
Enameled cast iron creates an extremely durable, non-stick cooking surface that can take high temperatures and is easier to care for than uncoated cast iron. The Dutch oven is a versatile item that can be used on a burner or in the oven, for baking, roasting, deep frying and everything in between. With French classics like coq au vin and pot au feu, it's a bit of a chicken and egg proposition—which came first, the recipe for a delicious long-cooked stew, or the pot to cook it in?
Amazon is not Le Creuset's only lower-priced competitor. Lodge, an American company that probably made the cast iron skillet in your cupboard, also sells much more affordable enameled cast iron (and dominates the top ranks of Amazon's cookware bestsellers). Many cooks tout the French classic's thicker, longer lasting enamel layer—Le Creuset comes with a lifetime guarantee—as well as its heat resistant lid knobs and well-designed handles. The Lodge version is slightly more prone to chipping over time with heavy use, but the price tag, starting at about $60 compared to about $320 for the same size Le Creuset, makes it a better choice for anyone who isn't ready to commit several hundred dollars. Staub is another high-end French brand, and you can also find enameled cast iron pots and pans from Cuisinart and a few other brands, including IKEA and Martha Stewart for Macy's.
The new Amazon version looks almost identical to Lodge's version,  but is even cheaper. It comes in three sizes—4.5, 6, and 7 quarts—and ranges from $40 to $60. It only has a few dozen Amazon reviews so far, but they are mostly positive. It's only available in red and blue, lacking the range of colors available especially from Lodge, which offers a dozen (including a fetching emerald green).
Amazon did not reply to a request for more details about their Dutch oven, but reviews indicate that it's labeled as made in China, like much of the cast iron cookware on the market. It seems to be a relatively new addition to the AmazonBasics line, which also includes a cast iron wok and silicone baking mats, with reviews only stretching back to February of 2018.