Every so often, people stumble across an absurd piece of fashion and revel in the joy of calling it out online.
The latest entry in the genre is Balenciaga's "t-shirt shirt," which has Twitter users mystified. It's a cotton t-shirt with a button-up shirt hanging down the front like a necklace. You can wear the t-shirt on your body and have the other shirt droop bib-like down your chest, or you can slide into the button-up part and have the t-shirt draped on your back, like a very feeble cape.
For this, Balenciaga would like you to pay $1,290. (It is currently only available on their website for pre-order.)
The confusion around why a prestigious luxury fashion line would be selling the item is understandable, particularly with that price tag. It's true the shirt—or shirts—are made in Italy, where production costs are high. But it doesn't seem to be made of extraordinarily expensive materials, and it doesn't look like it was an unusually complex garment to put together.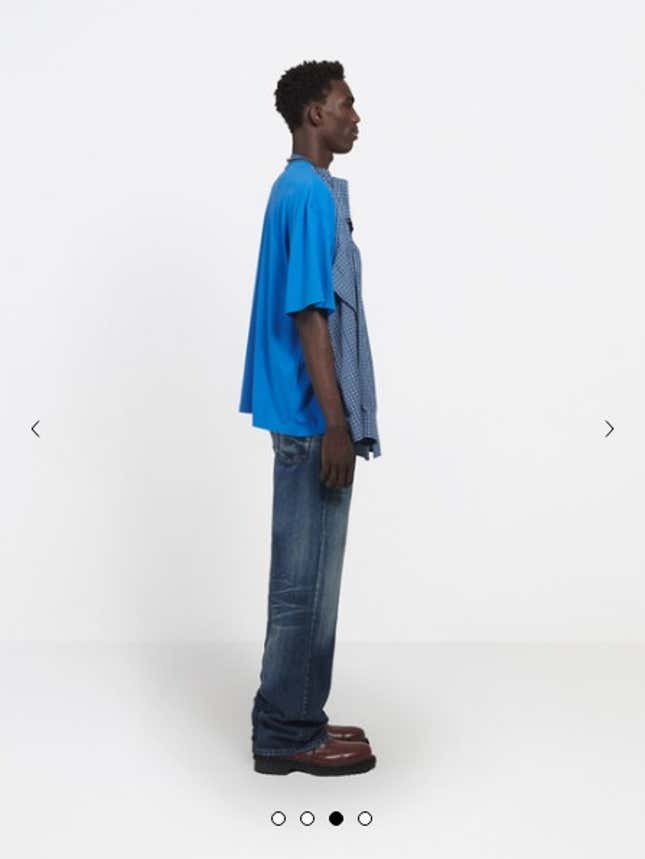 For explanation, maybe it's enough to know that Balenciaga's artistic director, Demna Gvasalia, clearly enjoys toying with people's notions of what fashion, luxury, and beauty should be. He is, after all, the designer behind Balenciaga's $2,145 take on IKEA's ubiquitous blue plastic carryall, and its very successful, very ugly $895 sneakers.
The fashion industry more broadly in recent decades has also been a frequent advocate of weirdness. It's fairly common to see clothes that defy standard notions of what clothing is and how it should make the body look. Rei Kawakubo, founder of Comme des Garçons, has made a successful and highly celebrated career of it. The Belgian designer Martin Margiela, whose company Gvasalia once worked for, loved to upend ideas (paywall) of how clothes should be made, resulting in weird garments such as a top stitched together from gloves.
This Balenciaga shirt could arguably be considered a part of that tradition, though it's a weak addition. A t-shirt and button-up aren't culturally so far apart to create an intriguing tension by crossing them, the way, say, Dries Van Noten did when mashing up rave culture and Renaissance dress in his fall 2014 collection. The tailoring is neither impressive on its own, like the clothing Yohji Yamamoto produces, nor reshapes the body in unexpected ways. Nothing really new is created. Gvasalia does like to explore stereotypes of clothes, but if there was a great deal of thought put into the design in this case—just to give Balenciaga the benefit of believing that was a possibility here—it has been lost in the execution, at least as far as online photos reveal.
Not that these deficits would prevent the shirt from selling. The Balenciaga name, reinvigorated by Gvasalia, carries enough cachet to attract buyers, and the shirt isn't like most of what you see on store racks. That may be enough, Gvasalia recently told the Financial Times (paywall). "The emphasis has gone from quality and craftsmanship into the uniqueness of the product," he said.
The "t-shirt shirt" is at least a success in that the reaction to it has been the subject of several news stories now, like this one. Don't be surprised if you see the shirt pop up in a street-style photo from some fashion-week event around the world.