Rei Kawakubo looks almost exactly the same in every photo. Impassive, sphinx-like, the designer stares out from beneath the black fringe of her razor-edged bob. She is famously unsmiling, which makes her seem intimidating, despite her small frame. By reputation she is, of course, gigantic, among the grandest figures in fashion of the last half century, with her label—Comme des Garçons—casting its singular black shadow across the industry.
It's a testament to this stature that the Costume Institute at the Metropolitan Museum of Art in New York will dedicate its spring exhibition, which opens May 4, entirely to her work. She will also be feted at the Met gala, the Vogue-sponsored event whose red carpet has become American fashion's most important of the year. This marks only the second time the museum has bestowed the honor on a living designer. The other to receive it was Yves Saint Laurent. Maybe you've heard of him.
Unlike Saint Laurent, Kawakubo's influence has mostly exerted itself outside the mainstream. From the time of Comme des Garçons' founding in 1969, Kawakubo, now 74, has flummoxed, surprised, and challenged—especially challenged—fashion with her designs, routinely frustrating the assumptions about clothes that people carry around with them. It has made her deeply beloved among a global coterie of iconoclasts, and cryptic to those outside it.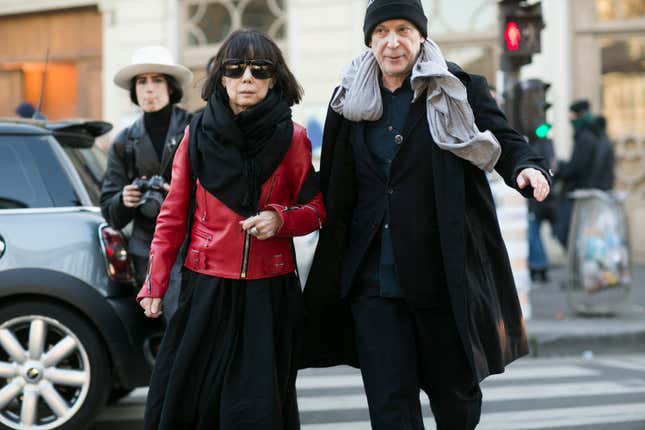 When she showed on the runway in Paris for the first time, with a collection titled "Destroy," the fashion press was lost trying to make sense of it. "Post Hiroshima" is how many critics saw it, figuring there must be some political meaning—there wasn't—to the Japanese designer's black garments in distressed, downmarket fabrics, such as polyester.
That was 1981, while Thierry Mugler, Claude Montana, and Gianni Versace were kicking off a decade of fashion ostentation—bright colors, big shoulders. Comme des Garçons instead offered rumpled, voluminous skirts; drop-shouldered sweaters; and jackets tailored like menswear, in textiles that might have been boiled (polyester again, or wool) into the desired texture. One sweater from 1982 was thoroughly ravaged with holes. Kawakubo dubbed it "Comme des Garçons lace."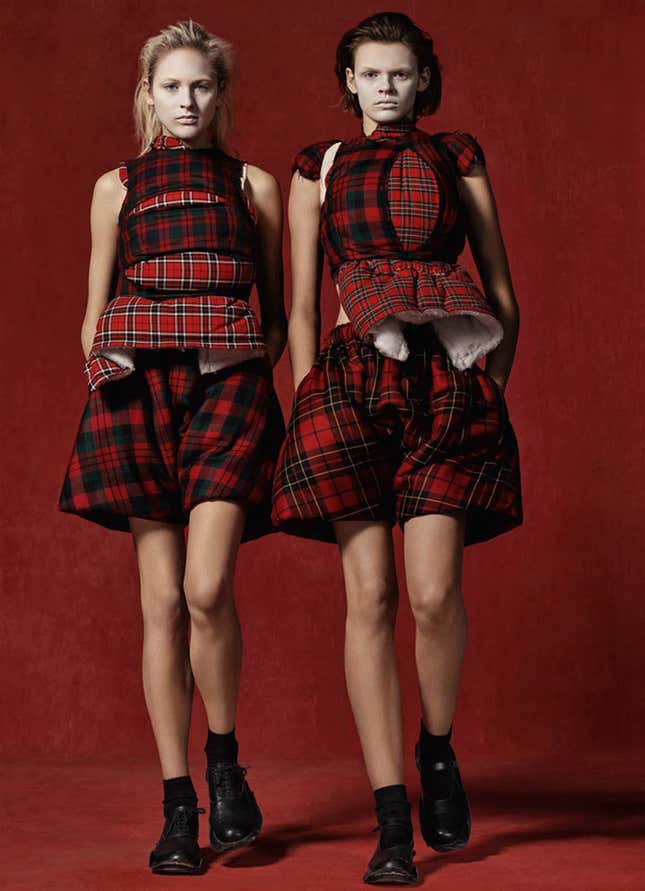 In the decades since, Kawakubo and her husband and longtime business partner, Adrian Joffe, have built an empire spanning numerous lines for men and women and the upscale retail chain Dover Street Market. Meanwhile, Kawakubo's own designs have only become more radical, and increasingly conceptual and abstract. She keeps producing extraordinary looking creations that gleefully overstep boundaries and elude easy categorization. To consider her work seriously over the years is to be forced into wondering what, exactly, we expect fashion to do for us when we wear it—and what we think of as clothing at all.
What do you call a dress that's not a dress?
Despite the many designers and fashion professionals who insist fashion is not art, Kawakubo's runway work certainly strains the distinction. Kawakubo herself objects to her work being labeled art, though it is perhaps telling that she got her degree in the history of aesthetics, focusing on Asian and Western art. She didn't study fashion, which she has said allowed her to dodge any preconceived ideas about how clothes should be made.
It is the job of Andrew Bolton, the curator of the Met's exhibit, to put Kawakubo's work in context for a mass audience. When the museum held its exhibit on designer Alexander McQueen, it drew more than 661,000 people, making it one of the most popular in the museum's history. Those who show up to see Comme des Garçons may or may not be familiar at all with the brand, and could have no idea what to make of a tailored jacket with what appear to be exoskeletal casings over the arms from its fall 2013 "infinity of tailoring" collection.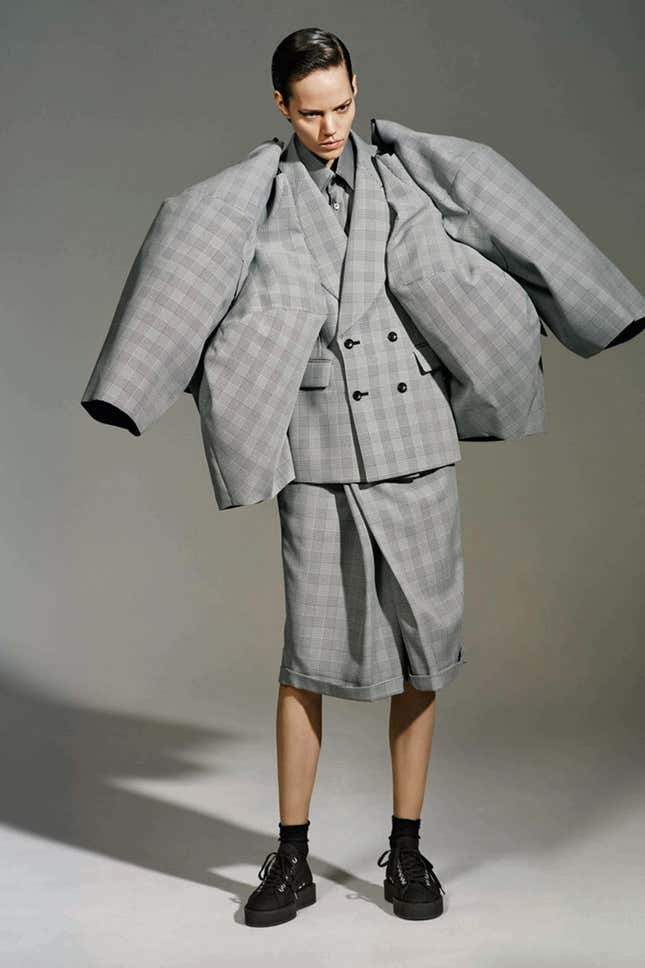 Bolton recently told journalist and critic Diane Pernet, who runs the respected blog A Shaded View of Fashion, that it was difficult to organize the show with Kawakubo, who strenuously resists explanation or interpretation. Kawakubo's least favorite of her collections, he says, were "Broken Bride" (fall 2005) and "White Drama" (spring 2012)—because they were too literal, and too easily understood.
"I've never liked my clothes being interpreted," Kawakubo told Bolton in the interview (paywall) that appears in the Met's exhibition catalogue, "so I was never going to be comfortable with your interpretation, irrespective of its perspective. Nothing you could have come up with would have made me happy. Basically, I've never wanted my work to be understandable."
Her reticence makes it difficult for just about anyone to extract information from her about her creative process or intent, even in interviews on the subject. One entertaining example included the following exchanges in an interview with System Magazine, with Joffe translating her responses to the reporter's questions:
There's an artist who says we can only understand someone if we know what kind of music he or she is listening to. What kind of music do you listen to?
No music.

Silence.
Nothing in particular. All or nothing. What she likes to listen to when she has the choice to listen to something is jazz. She's never said that to me before.

What about dreams? What is your dream of happiness?

She says she doesn't need dreams.

How interesting. A few years ago I spent quite a lot of time with Kazuo Ohno—the dancer—I don't know if you knew him?
No.
…

Rei, you have masterfully always created these new collections. Is there a recipe for how you manage to succeed so successfully and in such an incredible way to create the new?
She'd like to ask you what the recipe is because she struggles every time to find something new. She will not say how she finds something new, but if you have a recipe for how, please tell her, she'd like to know it.

…

Thank you so much.
She expects that none of this was very useful to you.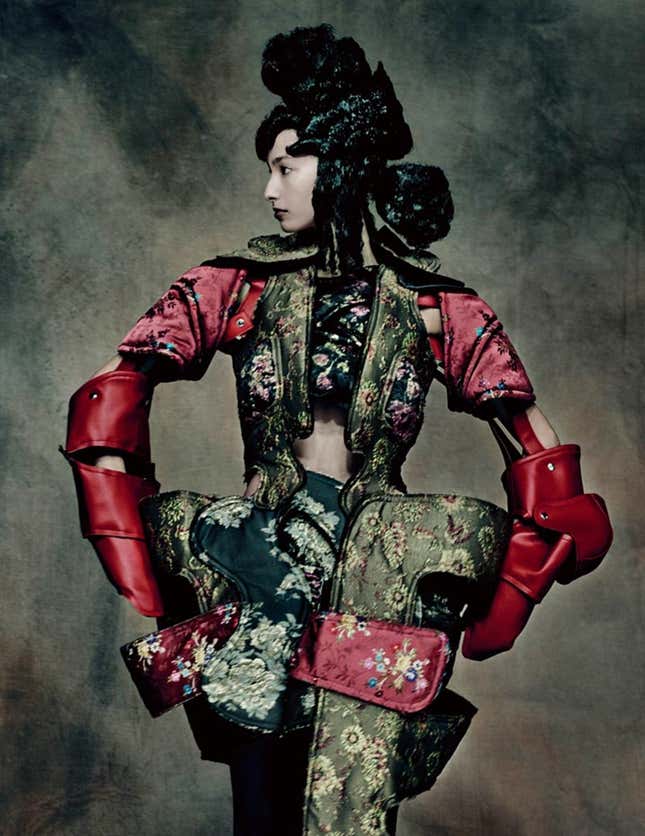 Bolton's job as curator, however, is expressly to interpret her work for visitors. The resulting theme of the exhibit feels like a compromise between Kawakubo and Bolton, a push and pull between opposing forces, which is also how the Met ended up framing things.
It is organized into "eight aesthetic expressions of interstitiality": Fashion/Anti-Fashion, Design/Not Design, Model/Multiple, Then/Now, High/Low, Self/Other, Object/Subject, and Clothes/Not Clothes. "Kawakubo," the Met's site explains, "breaks down the imaginary walls between these dualisms, exposing their artificiality and arbitrariness." Even the Met has trouble classifying Kawakubo's work.
What it effectively makes clear, though, is that there often isn't any hard line between Kawakubo's "clothes" and "not clothes."
Kawakubo first began making clothing when she was working as a stylist and found herself unable to find the exact items she wanted. She was in search of something that didn't yet exist, and so she made it herself. It's what she's still doing today. In her most recent show, to take one example, she offered up an extraordinary creation that looked like a mass of white vents you might spot in a reef, except that it had a belt at the waist—a recognizable belt, at the normal spot where a woman would wear one. But it didn't have arm holes, of course.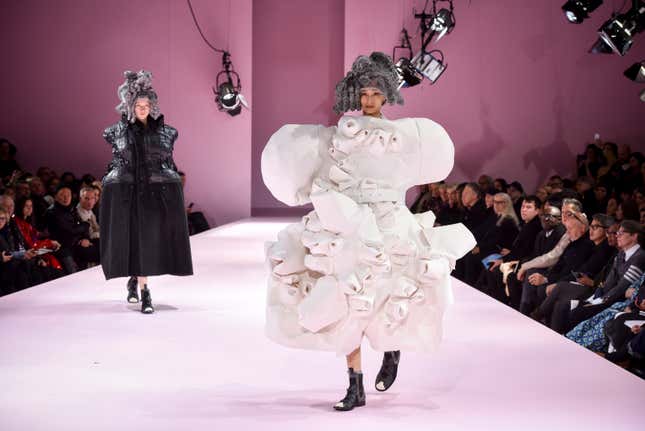 Body meets dress
Fashion includes a lot of different elements, but you could hypothetically boil it down to a covering, usually made of fabric, interacting with the wearer's body. Cut, drape, color placement, and embellishments all frequently play around this point.
Often, proportion and fit work together to emphasize certain body parts, playing up the sex, and sexual attractiveness, of the wearer: broad shoulders for men, nipped waists for women, that sort of thing. Tied up in these conventions are stereotypes about gender, and how men and women should or shouldn't dress.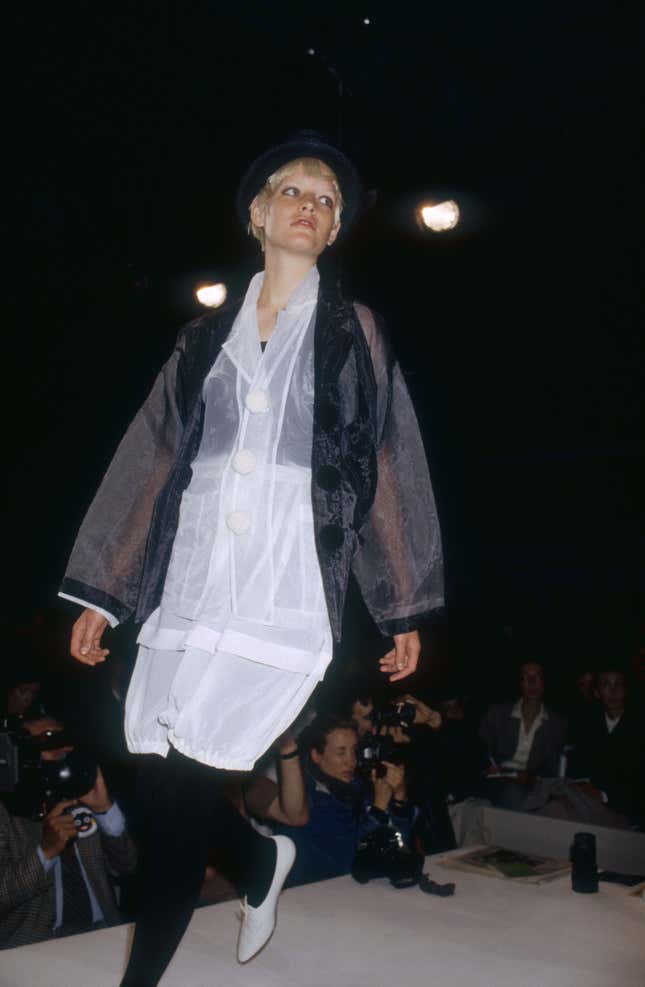 Comme des Garçons' clothes have long toyed with these ideas, or tossed them out the window altogether. Early on, the collections weren't even sized, and never have they seemed intended for one tall, willowy body type. Much of the clothing is designed to emphasize its own silhouette rather than the wearer's.
"I do not find clothes that reveal the body attractive," Kawakubo once told Vogue. The brand has done clothing that shows skin, but even in those instances there tends to be a conceptual reason for it.
For many that love the brand, these sorts of ideas are what entices them. In a 2012 essay, writer Alex Jung described how Comme des Garçons' drop-crotch pants, a perennial style it sells for men and women, forced him to rethink his ideas of how clothes and body interact. The pants, with their truncated legs and roomy, draped crotch, don't bother trying to cup your rear just right, or make you look taller by elongating your legs. They dispatch with the common ideal of creating "flattering" clothing—and even with a wearer's expectation of what the mirror should reflect back when they look at it.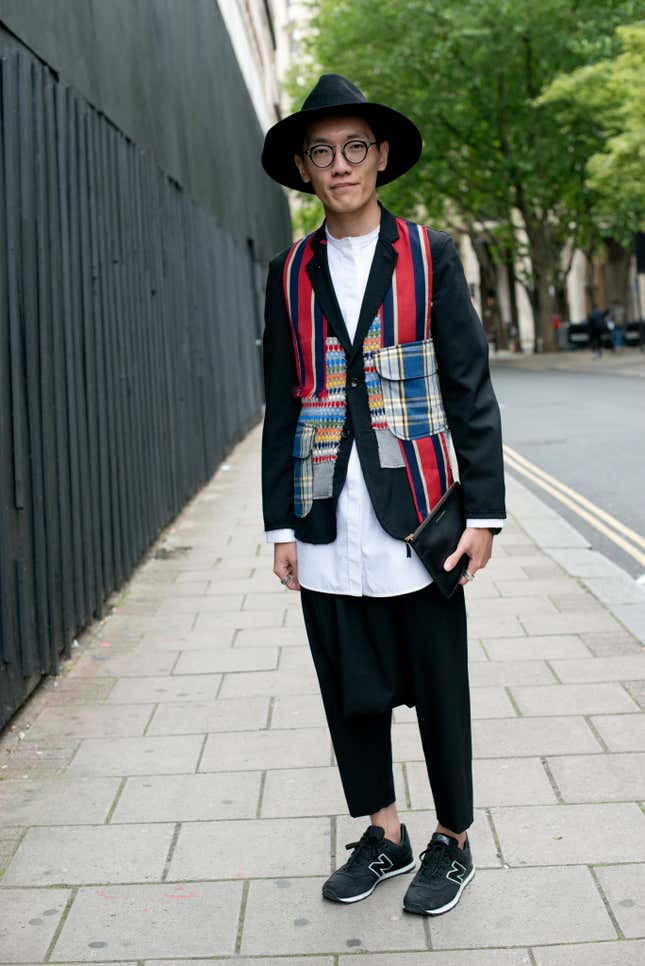 "These clothes didn't require the same attention to fit, and in a very profound way, asked me to look at my body differently," Jung wrote. "As someone who always wanted to be thinner and smaller, I had to accept my body for what it was. Imperfections and inconsistencies were all just part of the style."
Kawakubo's clothes had started to hit conceptual new heights by the mid-1990s. The "Body Meets Dress, Dress Meets Body" collection from spring 1997 is often held up as one of Kawakubo's best, and also her most confounding. The clothes, in cheerful ginghams, were stuffed with wadding to create unusual lumps that many likened to tumors. (Today it's almost always referred to as Lumps and Bumps, recalling Georgina Godley's 1986 collection of that name, which also used padding to create unusual bulges.)
Again, people weren't sure what to make of it. The clothes, by most conventional standards, were far from figure-flattering. Some thought it a tribute to deformity, or a comment on the cult of physical perfection. Kawakubo herself wouldn't exactly explain, though she later said she "thought she couldn't do new clothes, so she did new bodies." The dress and body became unified, in a sense.
She took the opposite tack for fall 2012, her "flat" collection. The nearly two-dimensional garments sought to ignore the three-dimensional body as much as possible.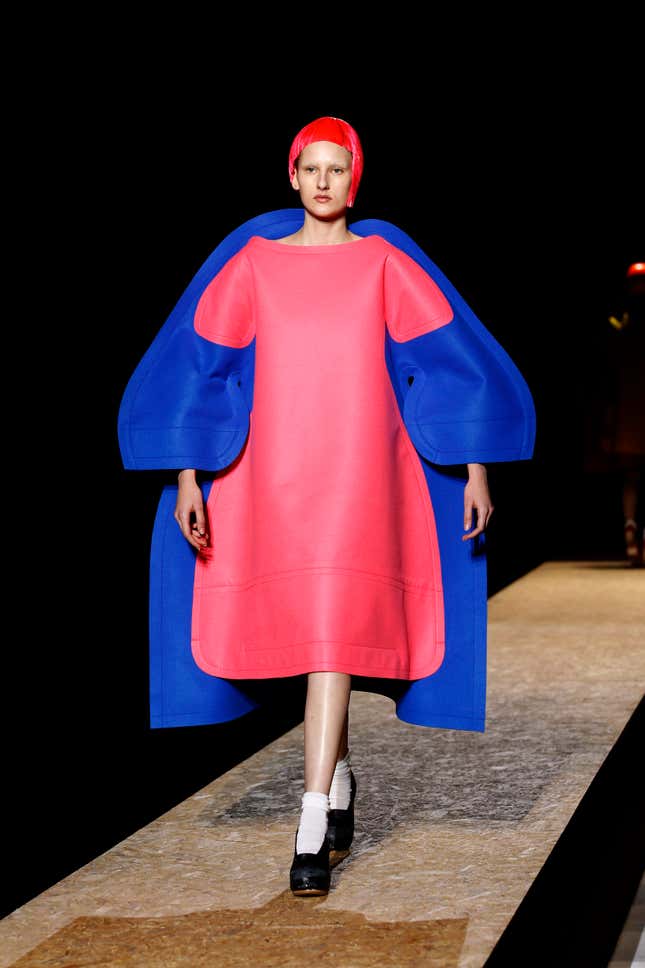 Since then, her work has grown still more radical. The opening looks at the label's runway show in Paris on March 4 were bulbous white forms that, as Vogue pointed out, exaggerated a woman's breasts and hips in the manner of the Venus of Willendorf. Anatomical they were not, however: Again, no arm holes.
The theme continued in more outsized shapes, including several that abandoned any obvious relation to the body, and many made of unidentifiable materials. None could be realistically worn on the street, let alone to work. ("Comme des Garçons' Paris Fashion Week show?" read the LA Times headline. "It's a riddle wrapped in packing peanuts and topped with steel wool.")
If you can't really wear an item of clothing, is it still clothing? According to Kawakubo, what she's been making in recent years aren't clothes at all. What, then, is she showing us?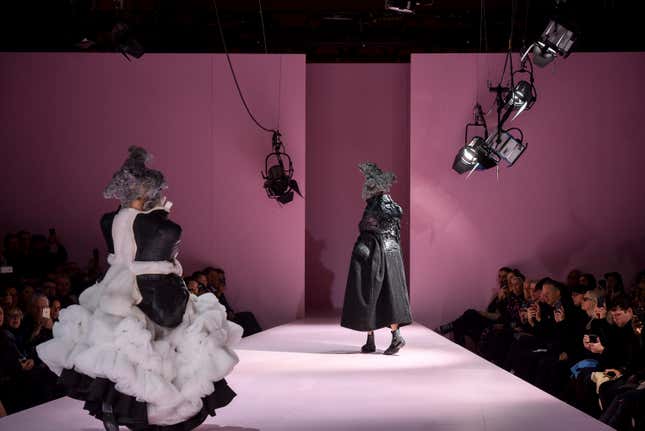 Anything but clothes
When Bolton saw the garments from Lumps and Bumps in person, he was surprised they weren't nicer. "I was expecting something a bit more refined, to be honest, in terms of the construction," he explained in his interview with A Shaded View of Fashion. "But it didn't really matter because it was about an idea, so the materials were almost irrelevant."
Brands that sell expensive, designer fashion usually function on almost the exact opposite premise, or at least claim to. The look may be intentionally frayed and unfinished but the craftsmanship and materials—vicuña! Mongolian cashmere!—are paramount to how they convince shoppers to buy. The humble stretch nylon of Lumps and Bumps is not commonly a material of choice.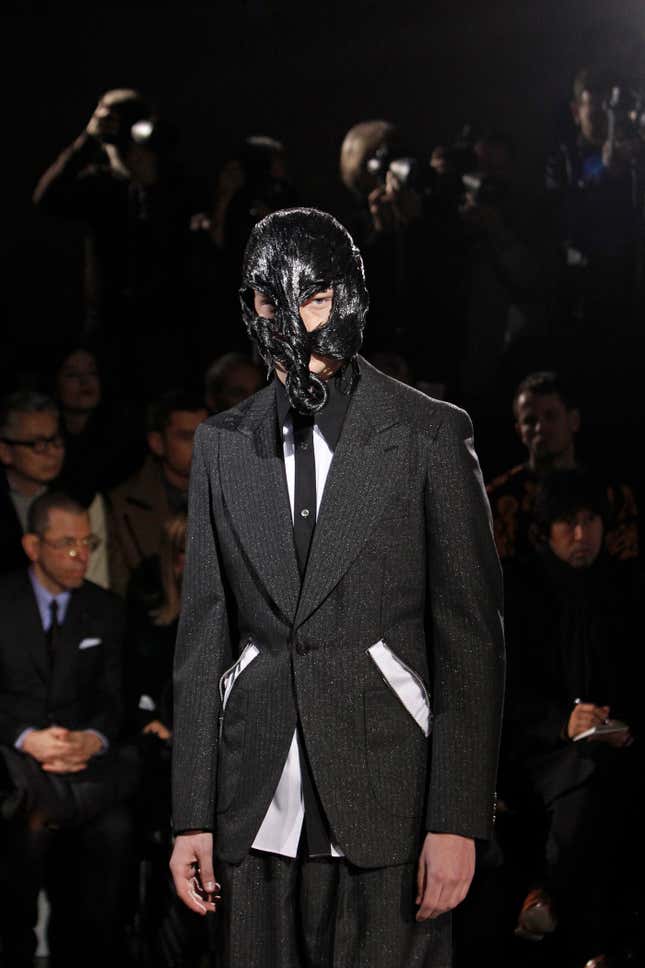 Kawakubo has also shown an affinity for clothes that look like they've been partially deconstructed, or are still in the process of being completed, akin to the work of Belgian designer Martin Margiela.
The brand is certainly capable of offering luxurious clothes. It sells plenty of them, for men and women, wholesale and through its own retail operations, including Dover Street Market, which has outposts in top fashion markets around the world. You'll find items like tiered, ruffled shorts for women that cost $900, blazers for both sexes with innovative constructions and price tags well over $1,000, and more—much of it in black or gray wool, or the brand's beloved polyester. There are sometimes tinges of Victorian influence, but always tempered with punk attitude.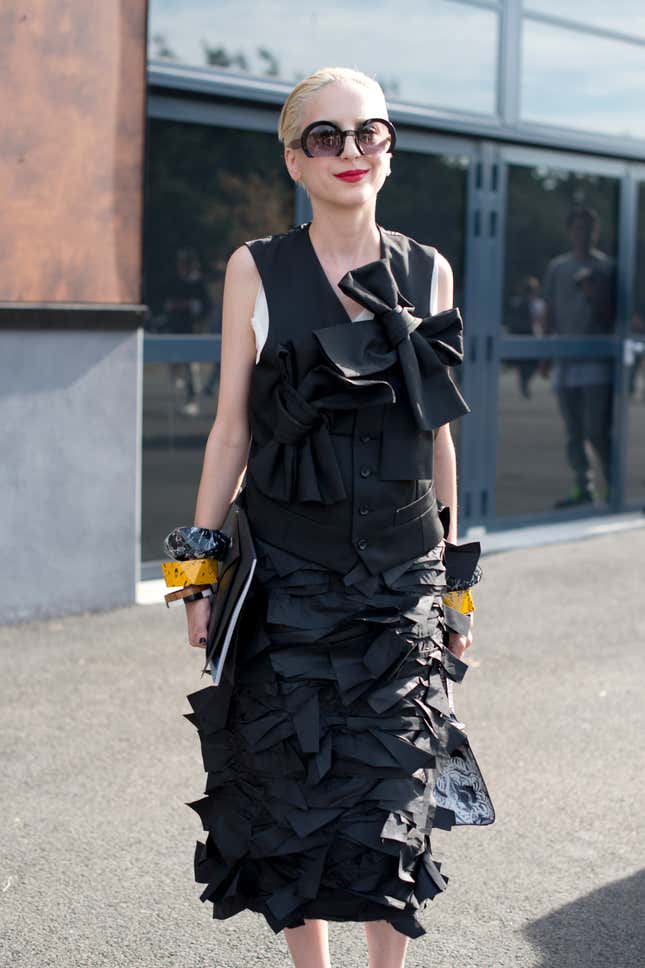 At this point the most commercial clothes appear among its constellation of subsidiary lines, which number more than a dozen, including: Comme des Garçons Comme des Garçons, the doubly named, inventive women's line that resembles the look the brand started with; Comme des Garçons Homme Plus, for men; Comme des Garçons Shirt, which centers on staples, such as button-up shirts; Comme des Garçons Play, comprised of basics such as t-shirts, sweaters, and Converse sneakers bearing the logo of a heart with eyes. And then there are affiliate brands such as Junya Watanabe, produced and distributed by Comme des Garçons, and a host of collaborations with labels including Nike and Supreme.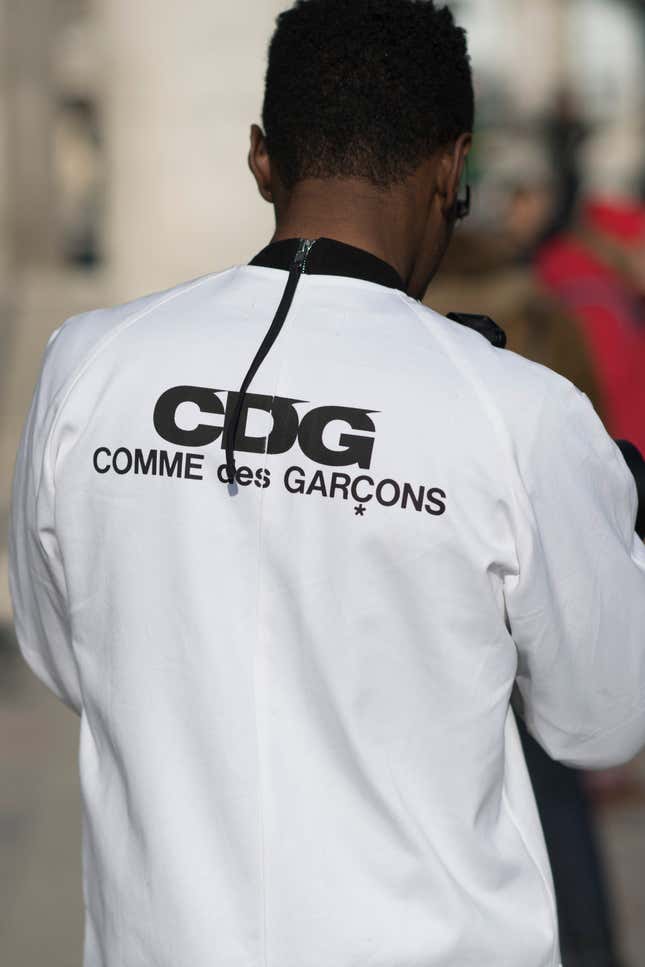 (Incidentally, the label's name, which is French for "like boys," was lifted from the song "Tous les garçons et les filles" by Francoise Hardy. Kawakubo reportedly just liked the sound of it.)
Kawakubo and Joffe, who is president of Comme des Garçons and has been instrumental in building out its retail operations over the years, have astute business minds. They have distilled the brand's rebellious spirit into a small empire that generates sales upwards of $280 million a year, Business of Fashion recently reported (paywall). "We've been growing so quickly the last few years," Joffe said. "The only way to grow is horizontally, because Rei is very aware that the market is limited for the main line."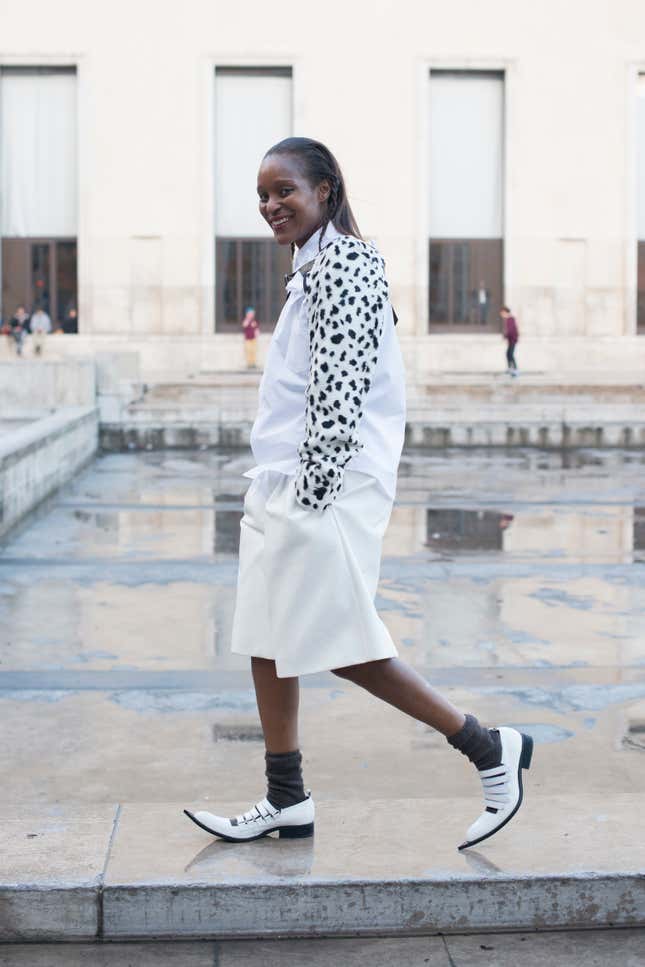 The main line, Comme des Garçons proper, remains the peak expression of the brand, its first platform for Kawakubo's ideas. That emphasis extends to how the garments are conceived in the first place. Kawakubo doesn't sketch completed looks beforehand. She gives her team a concept, and has them work from scratch to create the patterns for the final product. As is evident with each new collection, she is constantly pushing into uncharted territory, a process she describes as painful and emotionally taxing. But she is uncompromising about it, and boring clothes can apparently elicit intense emotions in her. Joffe told the New Yorker that her Lumps and Bumps outing was provoked by her "anger at seeing a Gap window filled with banal black clothes."
Her work has never strayed from the cerebral, with a few exceptions here and there. For spring 2004, she did only variations of skirts—and nothing else. (At least on the runway, revealing the body isn't much of a problem apparently.) Spring 2009 showed garments with intricately cut geometries, but only in black.
These are still recognizable as clothes. But more recently, after more than four decades in the business, Kawakubo has evidently become so exhausted with mere "clothing" that she has stopped making it altogether. "My intention is not to make clothes," she said in a 2012 interview (paywall).
She reiterated the point after her spring 2014 show—literally titled "Not Making Clothing"—describing the unusual looks, each of which was accompanied by its own piece of music, as "anything but clothes."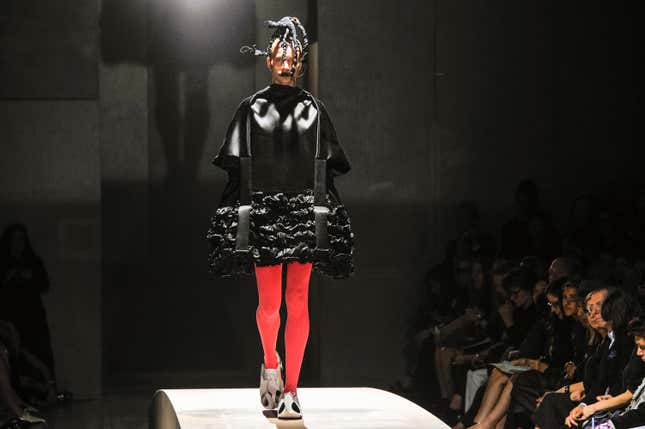 Weird, and wonderful
At times these pieces can appear goofy, paradigms of the fashion world oddity that people mock as out of touch with reality. Kawakubo does, at least, have a self-aware sense of humor in her design, as when she put poofy, candy floss-like wigs on the models in her multicolored spring 1996 show, which made them look literally like clowns.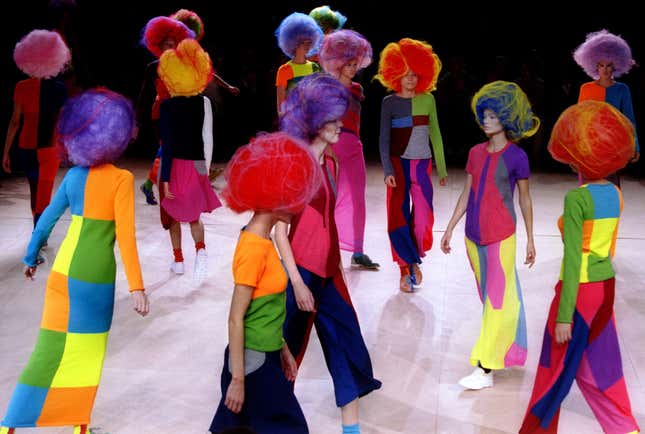 But then she is also capable of producing runway shows that are profoundly emotional in a way few fashion designers achieve. Her wonderful fall 2015 show was about the "ceremony of separation," and rendered all the trappings of mourning in 18 intricately detailed looks that leaned heavily on lace to achieve a somber, otherworldly delicacy. The show, set to a mix of pieces by composer Max Richter, selected by Comme des Garçons collaborator Frédéric Sanchez, started off peculiar and unnerving, but turned so exquisitely mournful that some in the audience, such as fashion blogger Susie Bubble, were brought to tears.
Kawakubo's goals for what clothes should or shouldn't do just don't always align with what the rest of us are thinking. They are unique interplays of body and fabric with purposes Kawakubo is reluctant to unravel that often have nothing to do with how we want others to see us. "Comme des Garçons is a gift to oneself, not something to appeal to or attract the opposite sex," she told Vogue in 1995.
That's always the point with Comme des Garçons. There are no rules—except the ones we make for ourselves.