There are two basic types of veggie burger—the kind that would like you to believe that you are actually eating meat and the kind that DGAF. The former has been dominating headlines lately with the "bleeding" Impossible Burger and the Beyond Burger, which some vegetarians have described as too meaty to enjoy. Burgers made from grains, beans, or veggies and don't even pretend to moo or bleed are about to have a new moment, though thanks to Superiority Burger Cookbook, by Brooks Headley, out on June 5.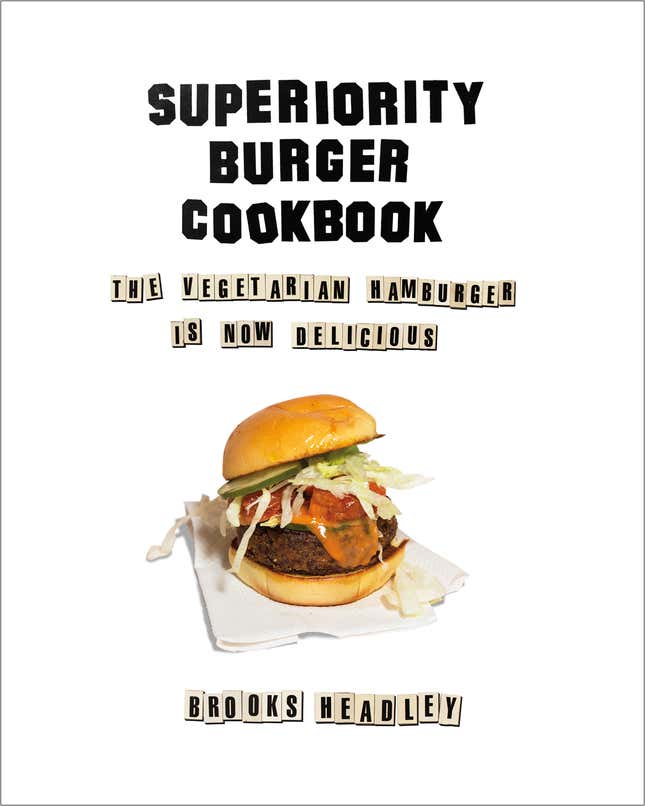 Superiority Burger, Headley's tiny restaurant in Manhattan's East Village, serves a vegetarian and mostly-vegan menu of sandwiches, salads, sides, and desserts. The signature burger doesn't taste beefy or have a meaty mouthfeel, and that is by design. In the recipe's headnotes, Headley writes, "These are our namesake, they are absolutely recognizable as food, and are meant to be a Luddite response to the modern gaggle of vegetable patties that bleed and squirt and ape." Snap.
That burger, a mix of quinoa, chickpeas, carrots, walnuts, and spices, requires dedication to make at home—there are a lot of steps and 13 ingredients to incorporate. But none of the individual elements are difficult and all of the ingredients are things you probably already buy—with the likely exception of potato starch, which is used here as a binder (look for it with the Bob's Red Mill products at the grocery store). It's a time consuming recipe, so I plan on tripling the recipe (as written it makes about eight burgers) and freezing the mix in patties.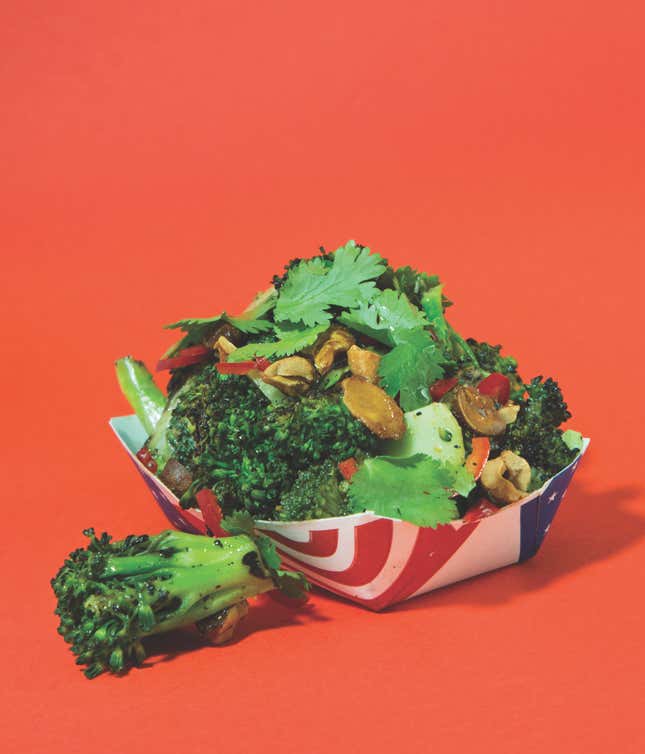 What does it taste like? A lot of veggie burgers—and as a former vegetarian who's still is not wild about ground beef I've tried them all—are very one-note. They're a pile of mashed black beans on a bun, too quinoa-y, underseasoned, or have a vague veg-all undertone. A Superiority Burger is much more complex, as you would expect from an award-winning chef who used to head up the pastry department at uber-fancy Del Posto in Manhattan. There is a lot of toasted fennel in this recipe, and that combined with roasted carrots create an of earthy richness that is highlighted by a little heat (not spicy, just a hint of warmth), and some bright acidity from lemon juice and vinegar. The texture is soft and squishy—make them in a pan, not on a grill—and very, very satisfying. They're the best veggie burger I've ever had, and I say that as someone who doesn't particularly like quinoa.
This is not a book for everyone, but if it is for you, you're going to love making charred broccoli, tahini ranch dressing, hard roasted okra—along with all the other ways Headley gets deliciously weird with vegetables, grains, and beans. To sample the burgers before committing to the whole book—or without a trip to New York—The Washington Post adapted it a bit for home cooks, simplifying and more fully explaining some directions like, "toast fennel seeds."