Not long ago, slides were relegated to idling about the pool, the locker room, or the yard. Now pretty much every luxury brand has its own high-end version of the floppy sandals—usually a wide, arching band attached to a sole, often crafted from rubber or another semi-spongy material.
But whether they come from Gucci or from a sports brand like Adidas or Nike, they're selling.
Right now slides are in the running for summer's biggest shoe trend. That's what fashion site Fashionista already proclaimed them last summer, based on data culled by Lyst—a search platform that aggregates product listings from a wide range of e-commerce sites into one marketplace. And if slides were popular a year ago, they're even more so now.
"Looking at the data slides are set to be even bigger this summer," a spokesperson for Lyst said in an email. "They are already the most searched flat sandal (looking at data April – June) and searches are up 28% if we do a year on year comparison."
As a general rule, slides haven't traditionally been something you'd wear out like other sandals or a pair of sneakers. But formality's grip on dress codes keeps slipping, and the widespread desire for comfort—which set the stage for the rise of stretch pants and other athleisure—has helped the slide become one of the footwear market's hottest sellers, no matter the gender and however it's used.
In the 12 months through April, US sales of men's sport slides grew 34%, according to new data from research firm NPD Group. Behind only sneakers, "it was this style that contributed the most dollars gained to the men's market," the firm said. In women's, fashion slides saw double-digit growth in the US during the 12-month period, and were among the styles, again second only to sneakers, that contributed the most dollars gained.
Comfort, NPD pointed out, was clearly a top priority for US shoppers. The sneakers that performed best were non-performance, athletic-inspired "leisure sneakers." A pair of slides has a similar leisurely appeal.
The proliferation of high-end slides, which routinely approach $300—though they can also reach well above that—also reflects broader changes happening in the luxury industry. Brands are responding to wardrobes becoming more casual and the growing importance of millennials as luxury buyers. As a result, said Federica Levato, a partner at consultancy Bain & Company, earlier this year, "[w]e have seen strong growth in casual apparel, for example luxury t-shirts, sneakers and rubber slides."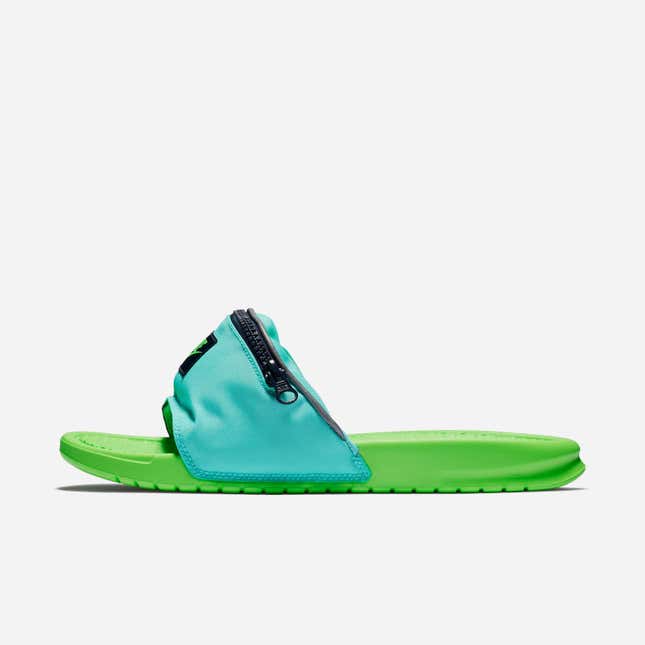 In Lyst's recent data, luxury slides accounted for most of the top 10 searches. Gucci's Blooms slides and its Supreme Tiger slides were numbers one and two, respectively—though slides by brands such as Vans and Nike also made the list.
One of Nike's more talked-about recent releases is a pair of slides that adapts the strap into a zippered nylon fanny pack, playing off the accessory's current popularity in fashion (paywall). Compared to the luxury versions, they're on the less expensive side, costing $50 when they released to North America and Europe on June 1, just ahead of summer. As of this writing, all colors are sold out on Nike's site.