Culver City, CA
Cannabis has been steadily marching into the realm of high-end wellness culture. On Saturday, Gwyneth Paltrow placed it squarely there.
Paltrow's lifestyle brand, Goop, has grown into a wellness juggernaut, touting advice and accessories for alternative healing with its newsletters, e-commerce website, and events—and its seal of approval can catapult a wellness trend into widespread consciousness. (See: Reiki, Yoni eggs.) At the "In Goop Health" conference in Los Angeles on June 9, attendees who bought tickets for $650 or more could indulge in aerial yoga and LED light eye-masks, along with seminars on autoimmune disorders and postnatal depletion.
And this year's agenda had a new addition: the future of cannabis.
"I love this subject," said Paltrow. "It really has the potential to shift old patterns of thought and change lives, and I feel like we really could be on the precipice of something a lot bigger than we realize, scientifically." Paltrow invited a panel moderated by the actress, director, and writer Lake Bell—whose husband is the cofounder of Beboe, a Los Angeles-based company that manufactures rose-gold vaporizers and low-dosage cannabis candies—to the stage.
"Welcome to the weed panel you guys!" said Bell, who was joined by scientists Jeff Chen and Samantha Miller; Cindy Capobianco of Lord Jones, which makes high-end cannabis lotions and candies; and Kimberly Dillon, a marketing executive at Papa & Barkley, a cannabis company that specializes in pain relief.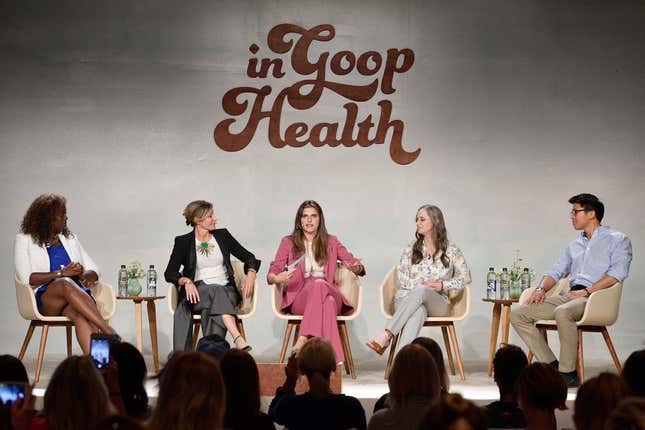 What followed was a 40-minute cannabis crash course, with panelists outlining the differences between the cannabinoids THC and CBD, and between the indica and sativa strains, and providing tips for the uninitiated: "Start slow and low," said Capobianco. "You can always consume more, but you can't consume less." Also: try a full-spectrum plant or extract (as opposed to a chemical isolate), don't mix it with alcohol, and do it in a safe place. Dillon espoused the myriad methods of consuming cannabis: topicals, tinctures, vaping, even suppositories and tampons for easing cramps.
The panelists also discussed the very serious medical benefits of cannabis for children who suffer from seizures and people dependent on prescription drugs with major side effects. "We have patients who are addicted to Ambien, or addicted to Ativan," said Capobianco. "Now they take a gumdrop an hour before they get on a flight, or they put a sublingual tincture under their tongue an hour before sleep."
As guests filed out, they received red zippered pouches from MedMen, a Los Angeles-based chain of dispensaries. Inside were pink Kush Queen CBD bath bombs, Papa & Barkley pain "releaf" patches, and cards announcing that a "Goop-curated edit" of products would be available at MedMen's new location, on Venice's swanky Abbot Kinney Boulevard. Among those products: Défoncé matcha chocolate bars, Kikiko Tranquili-Tea, and Beboe's Sativa vape pen.
Goop has already developed its own lines of vitamins supplements, skincare, and bath soaks. It's easy to imagine such items designed to include the benefits of CBD and THC—Goop, with ganja. When I floated the idea of Goop CBD products to Ashley Lewis, who oversees development of the company's wellness products, she lit up.
"I hope so," she said. "We're excited about it, and think it's an important conversation to have."