White men dominate Hollywood productions both on-screen and off. The same is true for critics reviewing the films.
A recent analysis by the University of Southern California's Annenberg Inclusion Initiative looked at the gender and race of the authors behind every Rotten Tomatoes review of 2017's 100 highest-grossing films. Of the 19,559 reviews, the report found that 77.8% were written by men and 82% by white critics.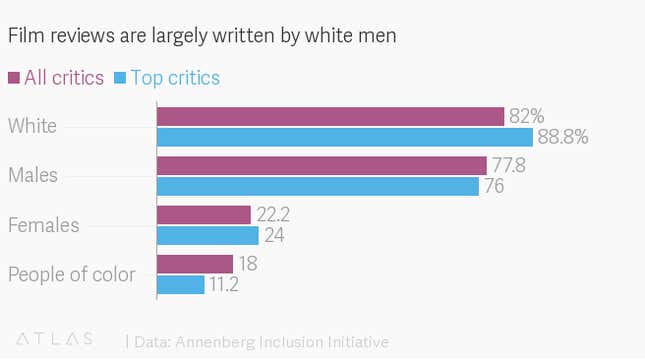 Overall, nearly two-thirds (63.9%) of all film reviews for the top 100 movies that year were written by white male critics. White women wrote 18.1% of the reviews, while men of color penned 13.8%, and women of color wrote just 4.1%.
Researchers found a similar disparity when they focused on reviewers whom Rotten Tomatoes had designated as "top critics." Of the 3,359 reviews by top critics, 76% were written by men and 24% by women. People of color wrote 11.2% of the reviews, compared to the 88.8% that were written by white critics. Among top critics, the ratio of white male reviewers to women of color was nearly 27 to 1.
"The consequences of this skewed representation must be considered—what are the ramifications of having cultural storytelling produced and evaluated largely by individuals from the same demographic group?" the researchers ask in their report. "How does this perpetuate a worldview that may not be shared by the more diverse ticket-buying audience at the box office?"
Even for women-focused films, there was no gender parity among reviewers. The study found that of the 36 female-driven stories in the sample of 100 movies, not one featured proportional representation of women across all reviews. The same was true for films with people of color in the leads; for the 24 films in this category, 80% of the reviews were written by white critics.
The lack of diversity among film critics points to a wider issue for journalists. Across the US, for example, newsrooms are struggling to reflect the diversity of the communities they serve.