The urge to devour cute things, whether or not they're actually edible, is so universal that there's a name for it—cute aggression. Now there's a movie based on the impulse.
Bao will play before the much anticipated Incredibles II, which opens today (June 15). The eight-minute short depicts an unbelievably adorable dumpling that magically comes to life, delighting the empty-nester who gladly becomes a dumpling foster parent. It's easy to fall in love with this chubby bao—a type of Chinese soup dumpling—that avoids a bath in soy sauce, and instead transforms into a cooing, anthropomorphic snack.
Yale researchers, who coined the term "cute aggression" suggest that it may be hard-wired into human brains as a way of moderating intense emotion. Some primatologists connect the phenomenon to social nibbling and biting behavior that many mammals engage in.
Domee Shi, who wrote and directed the film, the first woman to direct a Pixar short in the company's 32-year history, told NPR that the film was inspired by her own mother.
[G]rowing up, my mom would often hold me close and be like, "Oh, I wish I could put you back in my stomach so I knew exactly where you were at all times." And like, "Oh, mom, that's creepy, but sweet." … I just want to explore that feeling more — like, why does she want to do that to me?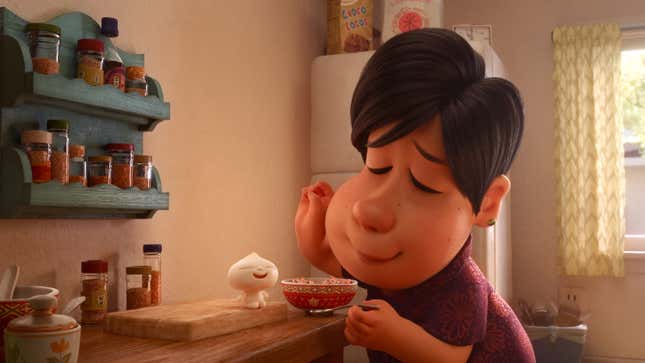 Shi told Eater that the story was also inspired by her life as an only child.
I found that they always treated me like this precious little dumpling, always making sure I was safe and never wandered too far. And when it was time for me to leave the nest, it was hard for them to let go. I wanted to kind of explore that in an allegorical, modern-day-fairytale way with this short.
Incredibles II grapples with similar questions about how close to keep children as they become more independent. As a pair, the movies explore the challenges of parenting, the tedium of trying to make sure your adorable bundle stays alive, with or without superpowers, and then the longing for those days when, in the blink of a sleep deprived eye, they're over.
Shi also shared her mom's dumpling recipe, a perfect, an appropriate place to unleash all that cute aggression Bao may inspire.